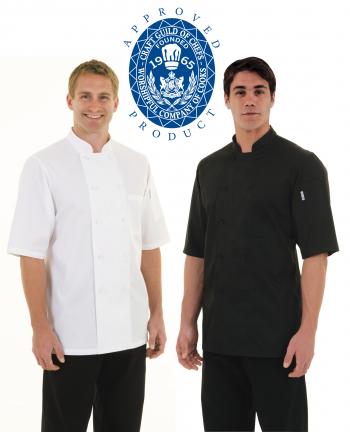 Nisbets Chef Works jacket
Working in a hot kitchen environment can be tough, so when it comes to choosing the right kit, chefs shouldn't just focus on their cooking equipment. Deciding on the appropriate uniform is just as important.
No company understands the demands of the kitchen more than leading catering equipment supplier, Nisbets, who in addition to offering a full range of products, exclusively supply Chef Works' culinary uniforms in the UK and Ireland.  Following extensive testing, the Chef Works Cool Vent jacket has been awarded 'Approved Product' status by the Craft Guild of Chefs.
Andrew Green, director of operations of The Craft Guild of Chefs, said: "Jackets are iconic to a chef's appearance, and are arguably the most essential garment in their working wardrobe.  With this in mind, a jacket which exudes the qualities of their profession; one which offers comfort, style and exact fit; and which aids temperature control, is vital to today's chefs. 
"The Chef Works Cool Vent Chefs Jackets more than satisfy the requirements expected by Craft Guild of Chefs members, and so it is with great pleasure that I'm able to announce that they have exceeded the pass mark for our coveted 'Approved Product' status. This allows chefs to choose products which have been recognised as being excellent within the industry and which have been tested by their peers, giving them confidence in their purchase."
The Craft Guild of Chefs members commented on how the Jackets were "considerably lighter than the jackets they currently wear", whilst adding they were "also very comfortable".  Described as "first class" and "a perfect fit", chefs commented how they were impressed that "they allowed them to move freely and without restriction".  Chefs liked the Jackets' great quality and appearance, which they deemed "very appealing"; made with a material that "felt good and strong".
The heat of a bustling kitchen is a key consideration when choosing which jacket to wear and the Craft Guild Chefs were particularly impressed with the Chef Works Cool Vent Chefs Jackets' ventilation.  The large back vent, designed to draw moisture away from the skin just like sportswear, provides "noticeably more airflow", giving excellent ventilation.
Of course once a jacket has been worn, it needs cleaning.  Testers all commented on how well the Chef Works Cool Vent Chefs Jackets washed and were impressed that they retained size, shape and colour. "Often jackets can feel tighter once washed, but this wasn't the case with Chef Works Cool Vent Chefs Jacket".
Featuring buttons instead of poppers, chefs commented on how these make the Chef Works Cool Vent Chefs Jackets look "more classic in style", giving the Jackets a premium feel.
Chefs concluded that the Chef Works Cool Vent Chefs Jacket is an impressive, lightweight garment, of good quality; which they would happily wear instead of their current jacket and which they would recommend to colleagues.
Chefs tested the Chef Works 'Montreal' Cool Vent Unisex Jacket, which is available in either white or black (A914/B054).
For more information and/or to view the huge range of kitchen equipment available from Nisbets, please visit www.nisbets.co.uk.  Alternatively, please call 0845 140 5555 or head to your nearest store.
Read more