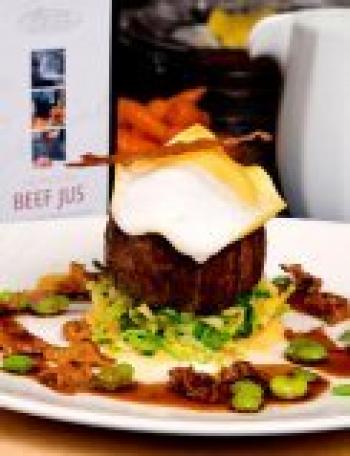 Essential Cuisine
Company:
Essential Cuisine
Essential Cuisine, creator of kitchen-made tasting stocks, jus, demi-glace and gravy, has had a number of its products approved by the Craft Guild of Chefs' endorsement scheme.
These includes its signature beef jus, premier jus and stock mix range.
Each now proudly displays the coveted Product Endorsement logo on its label, reassuring professional chefs of their superior quality and taste, and that they are 'fit for purpose'.
Managing director of Essential Cuisine, Nigel Crane, said: "We are not the biggest, most prolific brand out there in foodservice, which is why this endorsement is so important, demonstrating to professional chefs just how good we are.
"Over the past year, we've spent a lot of time in commercial kitchens, showing chefs the difference between what we do and what our competitors do and they have been genuinely surprised and impressed, resulting in many a coup for us in what has been an amazing year."
While all three ranges received the stamp of approval, there were particular areas of sparkling praise for each. Essential Beef Stock, for example, was commended for its 'excellent colour and taste, almost like consomme', while the range's colour coded packaging benefit in a busy kitchen was 'good'.
Premier Jus in lamb, veal and chicken was meanwhile 'above expectation', according to the high ranked judges. "They boiled without skimming or lumping and maintained flavour and consistency even after being cooled and refrigerated and then re-boiled for the next service, with excellent results," they concluded. "It is an exceptional product," said one.
Essential's Signature Beef Jus was also praised for its "full body, strong flavour and nice, thick consistency". Due to its liquid form, the taste would also be consistent "time after time".
The Craft Guild of Chefs' Endorsement Programme enables food manufacturers to test existing products and those under development using leading chefs from across the hospitality industry - establishing whether products are 'fit for purpose'.
Full list of Essential Cuisine approved products is as below:
For more information, call 0870 050 1133, e-mail [email protected] or visit www.essentialcuisine.com
Read more