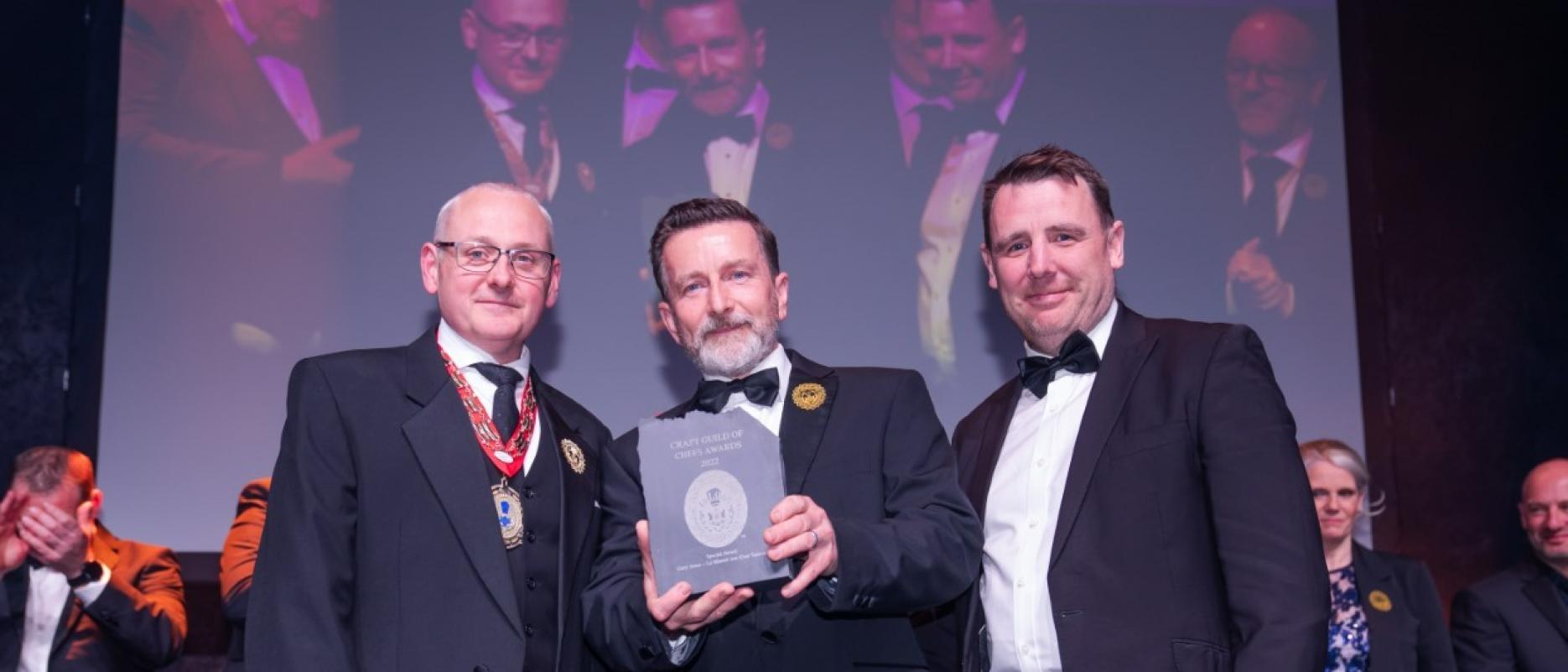 Craft Guild of Chefs Awards open for entries
The leading chef association in the UK the Craft Guild of Chefs has today launched nominations for its annual awards, taking place 1st June 2023.
The event, which will be held at the Park Plaza Westminster Bridge in London, celebrates culinary excellence across the UK and beyond. To mark the event, the Craft Guild of Chefs has introduced a brand-new award for 2023, the Accredited College Restaurant of the Year Award.
Nominations are not required for this category, however all college restaurants who have been awarded the Craft Guild of Chefs College Accreditation will be eligible to win this award. A shortlist of colleges will be created by the Craft Guild of Chefs Education Committee and each establishment on the shortlist will be visited and judged to find the winner.
Steve Munkley, vice president of the Craft Guild of Chefs, said: "Championing and nurturing talent is at the heart of the Craft Guild of Chefs ethos, and what better way to inspire and encourage chef talent then by having them recognised by their peers. From those just starting out, to Michelin-starred restaurant chefs, the awards are a fantastic accolade, and I would urge as many people as possible to nominate colleagues."
A total of 18 awards will be presented on the night, of which 14 are now open for entry, including the popular restaurant chef, apprentice chef and pastry chef categories. The Chefs' Favourite Branded Restaurant Award will be voted for by the public. A shortlist will be created by a panel from the Craft Guild of Chefs and the public vote will open at the end of April 2023.
In addition, the Craft Guild of Chefs will present two awards on the night which don't require any nominations, these are New Restaurant of the Year Award and the Special Award.
The Craft Guild of Chefs Special Award is reserved for one very special person who the Craft Guild of Chefs believes has made an outstanding contribution to the industry, and is in recognition of a career which has had major impact and influence on the British chef scene.
Recent winners include Gary Jones in 2022, who was executive head chef at Le Manoir aux Quat'Saisons for 23 years, Michael Caines in 2019 and Angela Hartnett MBE in 2018.
Nominations will be judged by a panel of leading industry ambassadors and each of the 14 awards is open to chefs both within and outside of the UK and they don't have to be a member to entry or nominate.
The full list of categories is:
Accredited College Restaurant of The Year Award
Apprentice Chef Award
Armed Forces Chef Award
Banqueting & Event Chef Award
Chef Lecturer Award
Chefs' Favourite Branded Restaurant
Competition Chef Award
Contract Catering Chef Award
Culinary Hero Award
Development Chef Award
Pastry Chef Award
Pub Restaurant Chef Award
Public Sector Chef Award
Restaurant Chef Award
Sustainability Excellence Award
Young Chef Award
New Restaurant of the Year Award
Special Award
For more information and to enter, visit here.
Watch the highlights from the 2022 event: