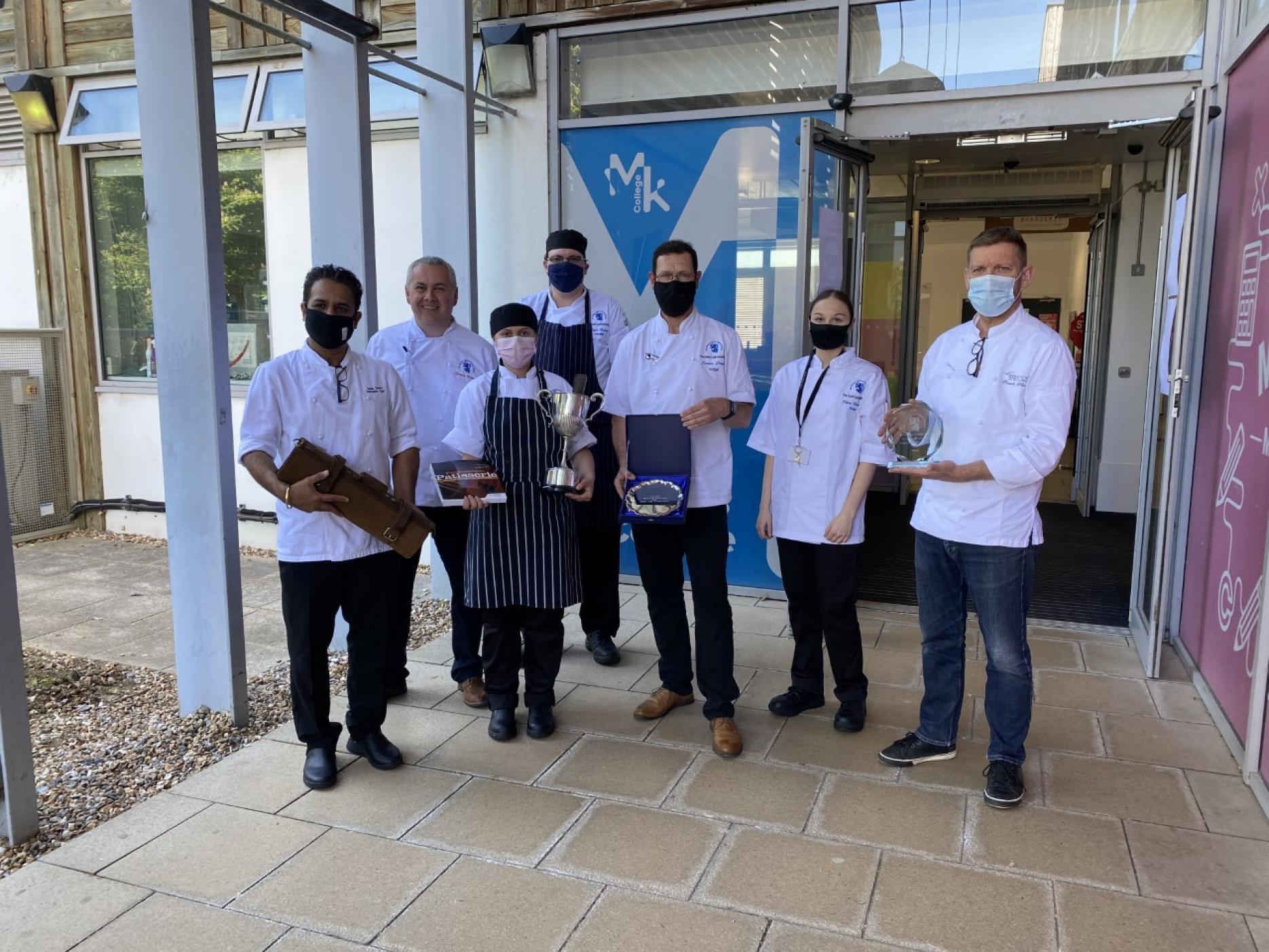 8th June 2021
Young Pastry Chef of the Year 2020/21 crowns winner
After a delay of 14 months and on the fourth attempt the Young Pastry Chef of the Year 2020/21 has crowned Caitlin Kemp-Powell from Farnborough College as the overall winner.
She created a white chocolate bavarois with lemon puree, crisp lemon sponge, dill, pickled cucumber served in a decorated white chocolate shell and Rye meringue.
Due to Covid-19 only 3 finalists attended and the competition was reduced to 2 hours, focussing on just the dessert. The other two finalists were Mark Barnes from Grand Hotel Eastbourne and Chloe Hammond from Milton Keynes College.
The three finalists competed under the watchful eye of the judges Benoit Blin chef pâtissier at Le Manoir aux Quat Saisons, Jerome Dreux of Town and Country Fine Foods and Jasbir Dawar executive head chef Hilton T5.
Each Finalist had to produce a plated restaurant dessert for 4 CV's, a moulded flavoured ganache petit fours, Pate de fruits (using capfruit puree's) and Florentine Biscuits making 18 of each in total and small chocolate centre piece to accompany the petit fours - no higher than 20 cm using felchlin Chocolate.
Blin said: "This is a fantastic competition that helps promote and develop young pastry chef in the industry and we really had excellent standards in the final this year."
Kemp-Powell received The David Lyell Scholarship Trophy, Special Glass Trophy from The Mater Chefs of Great Britain, Engraved silver salver, £250 cash prize and Chefi knife case roll.
Murray Chapman from the Master Chefs of Great Britain, added: "Planning and executing the competition at The Claire Clark Academy at MK College has been a fantastic experience which will hopefully inspire many more Young Pastry Chefs of the future."