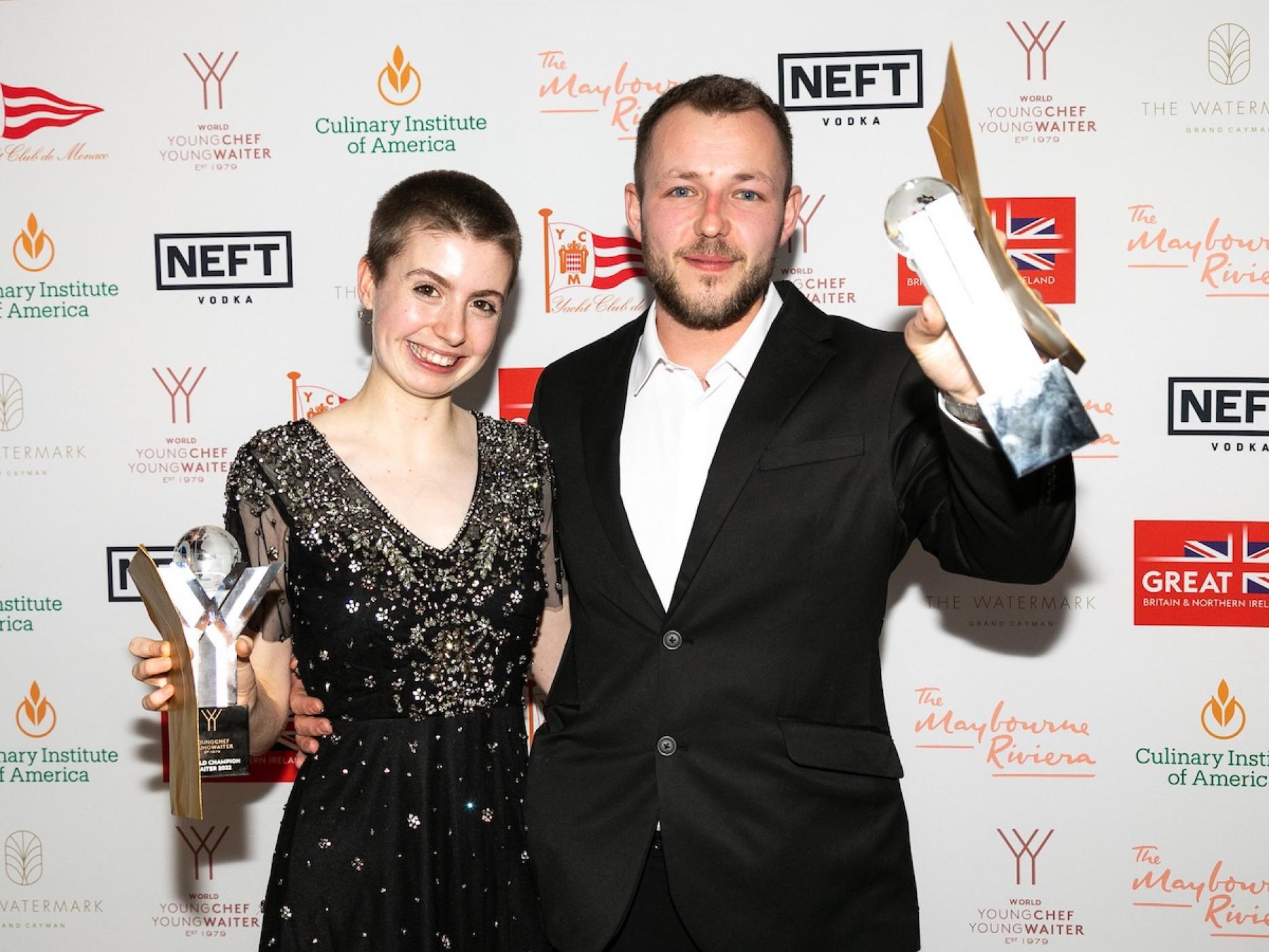 21st November 2022
World Young Chef Young Waiter reveals Welsh winners
The winners of the World Young Chef Young Waiter (World YCYW) Competition 2022 were announced at a special awards dinner in Monaco on Wednesday night, 16 November, at the Maybourne Riviera Hotel.
The winners of the competition were both from Wales. The Young Chef winner was Ali Halbert from Heaney's Cardiff and the Young Waiter winner was Tilly Morris from Grove of Narberth.  
The World Champions were chosen from seven chef and seven waiter finalists from England, Cayman Islands, Ireland, Macao, Wales, Singapore and Canada. The winners were selected by head chef judge Adam Handing and head waiter judge Simon King.
Originally from Shropshire, Ali Halbert has lived and worked in Switzerland, France, Denmark and Portugal. He now lives and works in Cardiff, Wales at Heaney's. Ali said: "This competition is so incredible and really helps push the confidence of any young hospitality worker."
His winning menu was called 'A little bit of Wales in Monaco' and included:
Starter: Turbot, Clams, Grape, Beurre Blanc & Laverbread
Main Course: Venison, Artichoke, Plum, Pine & Black Garlic
Dessert: Acorn, Cremeux, Walnut, White Chocolate & Cep with Blackberries
Handing commented: "What a world final! It was incredible to see the talent that was involved this year - they were really some of the best. Ali made Wales very proud - he was consistently good with all his dishes, which is a difficult thing to achieve but consistency is key. You could tell he was really gunning for that title. So, very well done.
"With sustainability at the heart of my ethos, it really is about investing in the future generation and making the future of this industry an exciting place to be. It is a real honour to be involved in a young person's competition, to help mentor them, progress them and give them a spotlight to shine.
"Having competed in this competition many moons ago and seeing the doors that it opens for its competitors; I would definitely encourage the young talent of this industry to get involved. They will make lifelong bonds, connecting with winners from the other countries."
Tilly studied hospitality at Exeter before working at the Michelin starred Adare Manor in Ireland. Tilly now lives and works in Wales having joined the Grove as Chef de Rang, before being promoted to head waitress. Tilly said: "In the next 5 years I see myself developing my strength of knowledge and expertise and progressing up to restaurant manager."
Head waiter Judge Simon King added:  "I've been fortunate enough to be involved in the World Young Chef Young Waiter competition for many years now and to see it transformed into a global competition is so exciting. As a previous winner I know how impactful it can be to your career, knowledge and network.
"Tilly shone out from the crowd with her relentless warmth, engagement and positivity. She consistently demonstrated her knowledge and passion in every task, showed willingness to help other competitors and commitment to hospitality."
In second place was Singapore with chef Aiken Low from Cure and waiter Terry Wong from Jaan by Kirk Westaway. In third place was England with chef Miltan Masha from The Monarch Theatre and waiter Elisa Doisneau from Kitchen Table.