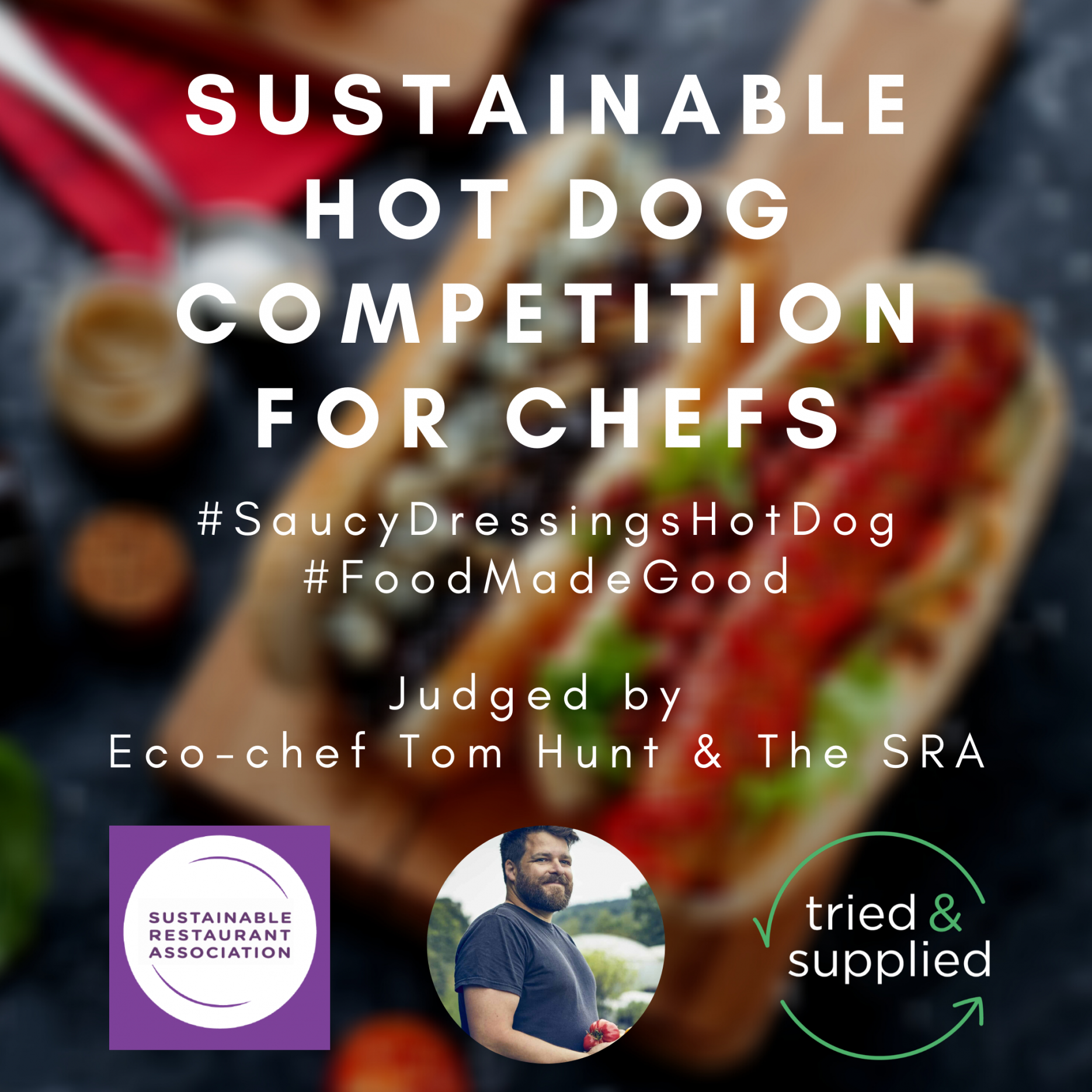 31st July 2020
Transforming the hot dog into something healthy and sustainable
Hot Dogs are a classic fast food dish. Popular at BBQs, beachside kiosks and fast food restaurants, they are affordable, simple to make, easy to eat, go down well with kids and have a flavour most people enjoy. But nearly all hot dogs are made with ultra-processed food, which is bad for people and planet.
The Tried and Supplied Sustainable Hot Dog Competition is encouraging chefs to rethink the hot dog and show that even the most unlikely of dishes can be made both healthy and sustainable without sacrificing on flavour. With the government now urging the nation to lose weight and introducing regulation to curb unhealthy food on menus, the competition will provide inspiration for chefs across the country to adapt their most popular dishes.
Chefs can play a leading role in educating the public on how to eat more sustainably and healthily, which is why entries to this competition will be submitted publicly on Instagram. The more chefs who get involved, the bigger the impact we will have.
Judging the competition will be eco-chef Tom Hunt and the Sustainable Restaurant Association, who have years of experience working with restaurants to make their menus more healthy and sustainable. Tom runs the sustainable Poco Tapas Bar in Bristol, is creator of The Pulp Fiction Burger, a plant-based burger that uses up leftover juice pulp and has recently published a book - Eating for Pleasure, People & Planet. Between them they will be judging entries based on sustainability, healthiness, perceived taste and creativity.
From a sustainability and health perspective some of the things chefs could consider are locally-sourced, pasture-fed, made from game, organic, plant-based, wholegrain, allergen-free, low-calories, but this list is by no means exclusive. For more ideas, take a look at the Tried and Supplied sustainable supplier search. There is plenty of scope for chefs to get inventive and show us what they think makes a sustainable and healthy hot dog customers will enjoy.
The competition is open for entries until 16th August. Details on how to enter can be found here.