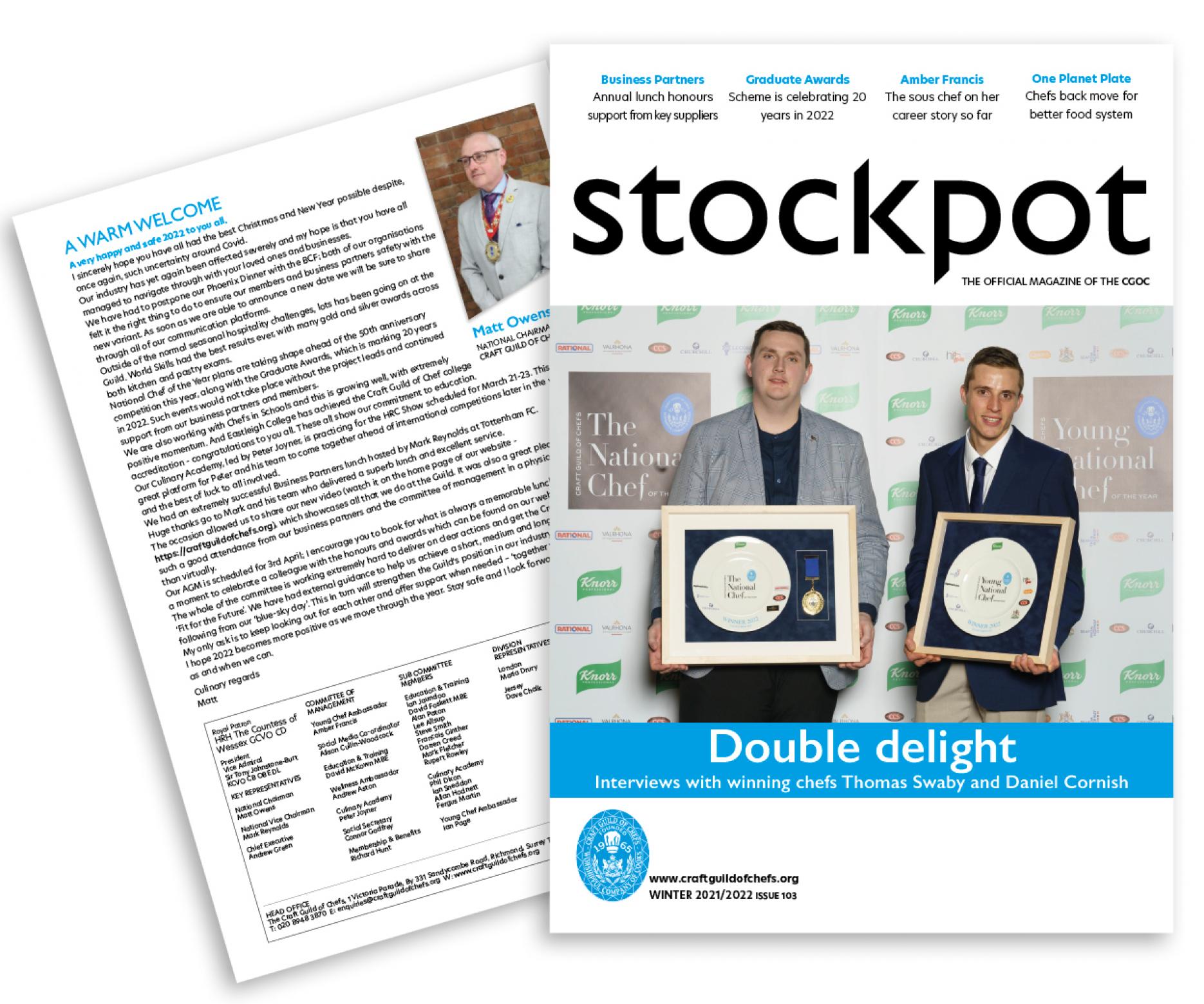 26th January 2022
Stockpot Winter Magazine available to read online
The Craft Guild of Chefs has announced that their Stockpot Winter edition is now available to read online.
Matt Owens, chairman of the Craft Guild of Chefs, said in the foreword: "I sincerely hope you have all had the best Christmas and New Year possible despite, once again, such uncertainty around Covid. Our industry has yet again been affected severely and my hope is that you have all managed to navigate through with your loved ones and businesses.

"We have had to postpone our Phoenix Dinner with the BCF; both of our organisations felt it the right thing to do to ensure our members and business partners safety with the new variant. As soon as we are able to announce a new date we will be sure to share through all of our communication platforms.

"Outside of the normal seasonal hospitality challenges, lots has been going on at the Guild. World Skills had the best results ever, with many gold and silver awards across both kitchen and pastry exams. National Chef of the Year plans are taking shape ahead of the 50th anniversary competition this year, along with the Graduate Awards, which is marking 20 years in 2022. Such events would not take place without the project leads and continued support from our business partners and members."
Stockpot Winter Magazine includes:
6. Chef News
A round-up of chef-focused updates, including the Phoenix Dinner, Michel Roux Jnr's HRC role and Adam Smith inspiring young chefs.
10. Careers in Hospitality
An insight into the world of a young and inspiring senior sous chef with an interview with Amber Francis at the Bermondsey Larder.
16. Thomas Swaby
In an exclusive interview for Stockpot, winner of the latest National Chef of the Year Thomas Swaby talks about his 'obsessive focus on flavour'.
22. Daniel Cornish
A couple of months on from being announced as winner of the Young National Chef of the Year, Daniel Cornish tells Stockpot about his path to the title.
33. Chefs in Schools
Chefs, students and the Craft Guild of Chefs worked together to put on a fund-raising pop-up supper club with a difference - serving school lunch to the diners,
44. Grande Cuisine Academy
A new, free online learning resource for student chefs, apprentices and chef lecturers has been launched with backing from the Guild.
45. Graduate Awards
Entries for the 20th annual Graduate Awards will open in February, so make sure you spread the word with the chefs in your brigade.
46. Business Partners
The Craft Guild's Business Partners were invited to the impressive Tottenham Hotspur Stadium in London where senior members hosted them at a special lunch to say 'thank you'.
48. One Planet Plate
Industry colleagues are urged to serve up a better food future 'one plate at a time' as part of a Sustainable Restaurant Association initiative.