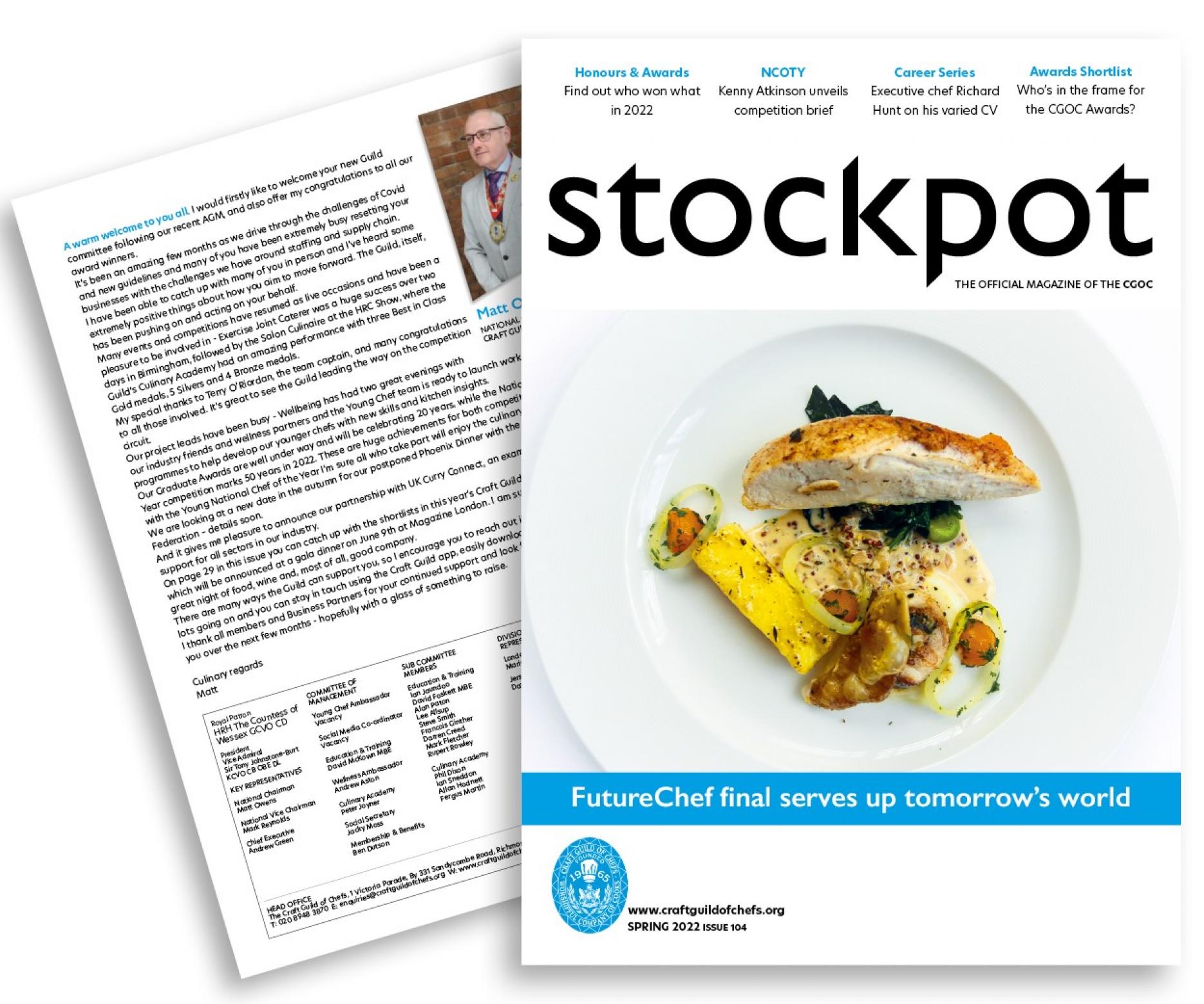 4th May 2022
Stockpot Spring Magazine available to read online
The Craft Guild of Chefs has announced that their Stockpot Spring edition is now available to read online.
Matt Owens, chairman of the Craft Guild of Chefs, said in the foreword: "I would firstly like to welcome your new Guild committee following our recent AGM, and also offer my congratulations to all our award winners. It's been an amazing few months as we drive through the challenges of Covid and new guidelines and many of you have been extremely busy resetting your businesses with the challenges we have around staffing and supply chain.
"I have been able to catch up with many of you in person and I've heard some extremely positive things about how you aim to move forward. The Guild, itself, has been pushing on and acting on your behalf.
Many events and competitions have resumed as live occasions and have been a pleasure to be involved in - Exercise Joint Caterer was a huge success over two days in Birmingham, followed by the Salon Culinaire at the HRC Show, where the Guild's Culinary Academy had an amazing performance with three Best in Class Gold medals, 5 Silvers and 4 Bronze medals.
"Our Graduate Awards are well under way and will be celebrating 20 years, while the National Chef of the Year competition marks 50 years in 2022. These are huge achievements for both competitions. Together with the Young National Chef of the Year I'm sure all who take part will enjoy the culinary journey. And it gives me pleasure to announce our partnership with UK Curry Connect, an example of diversity and support for all sectors in our industry."
The Stockpot Spring Magazine includes:
6. Chef News
A round-up of what chefs are doing, including Paul Ainsworth at Skills for Chefs, Mark Sargeant in Folkestone and Ruth Hansom at BaxterStorey
10. Careers in hospitality In the latest in our series, Richard Hunt, executive chef at Courtyard by Marriott Exeter recounts his varied career, including his time at Wentworth Golf Club
16. Honours & Awards The Craft Guild of Chefs Honours and Awards were announced at the Annual General Meeting at Victory Services Club in Hyde Park on April 3rd
20. Round Table
Dairy expert Lakeland Dairies recently partnered with the Craft Guild of Chefs at Westminster Kingsway College to discuss dairy products from the island of Ireland
24 UK Curry Connect
The Craft Guild of Chefs has agreed a new partnership with the membership group for Indian food providers UK Curry Connect (UKCC)
28 Operations Corner
Chief Executive Andrew Green's update on Guild news, including a special limited member offer on  Awards Night tickets
29. Awards Shortlists
The Craft Guild of Chefs 2022 Awards shortlists have been revealed, with the winners to be announced on June 9 at Magazine London
30. Graduate Awards
The Craft Guild of Chefs is celebrating 20 years of the Graduate Awards in 2022 – find out what is going to happen this year
32. NCOTY
Who will be crowned the National Chef of the Year in the 50th anniversary of the competition? The Guild celebrates half a century of its prestigious industry event
38. Eastleigh College
Students at Eastleigh College recently had the chance of a 'behind the scenes' visit to prestigious Pennyhill Park to broaden their experience
34. FutureChef
15-year-old Phoebe Lawson came through as the winner of a national competition designed to find the UK and Ireland's next generation of culinary talent
47. Vegan & Veg
Take a look at all the meat-free ideas and products that are available to help you meet the increasingly popular demand for more plant-based dishes
58. Diary
Your round-up of Guild and other industry events, competitions etc