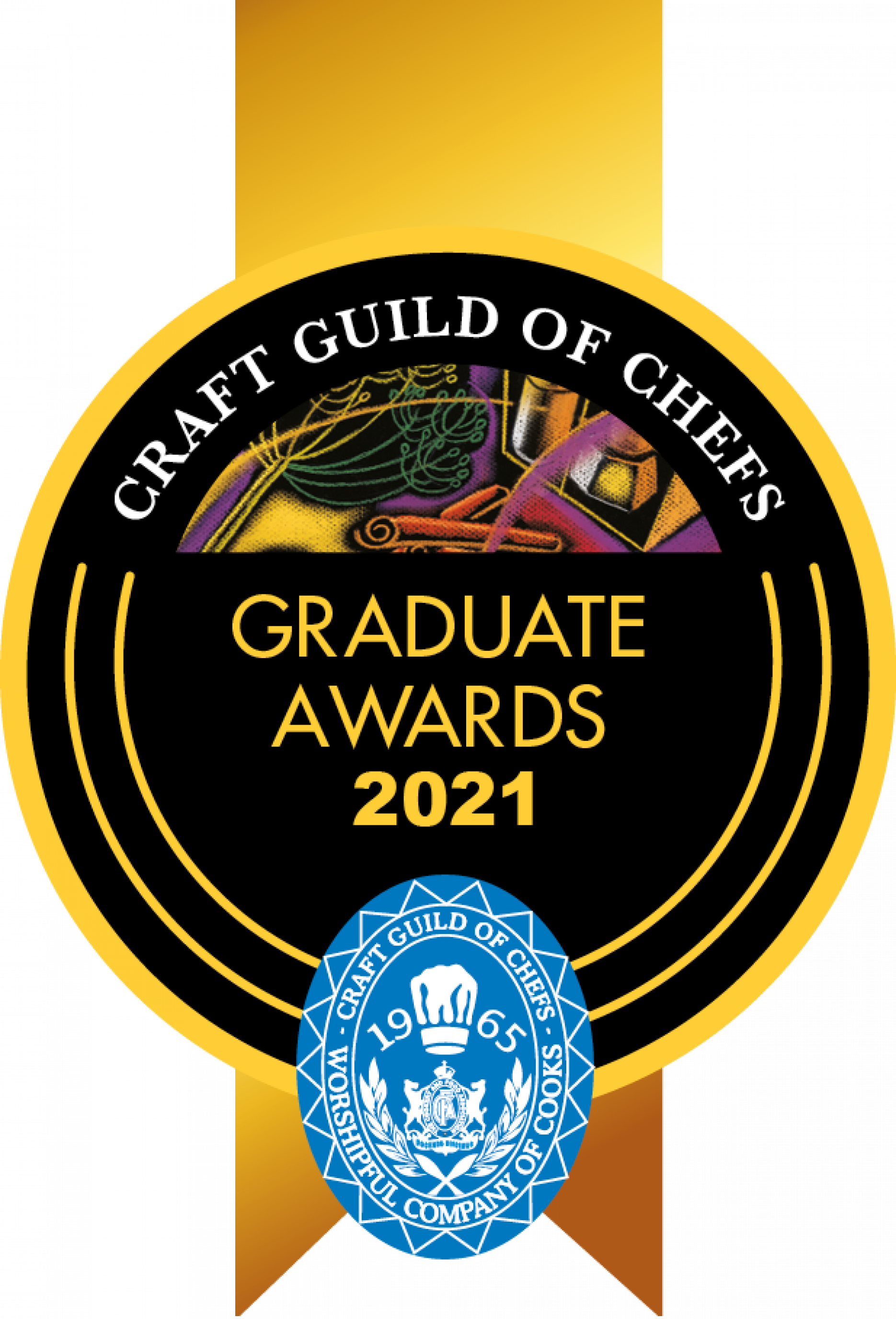 15th September 2021
Spotlight on Graduate Awards finalist George Baldwin-Edie
With the Graduate Awards final fast approaching we wanted to put the spotlight on our finalists.
These chefs have worked so hard to get to the final and we know they are putting in lots of work behind the scenes to try and achieve this challenging award. You will be able to follow the action from the final by watching the hashtag #CGCGradAwards on Twitter and Instagram.
Where are you working at the moment and where did you do your training?
I am currently working for Marks and Spencer as a member of the chef product development team. My culinary training was completed at Bournemouth and Poole College on the Royal Academy of Culinary Arts course.
What do you love most about being a chef?
I love the adrenaline a successful service gives you but most importantly, I really enjoy the level of happiness food brings people.
Did you always want to be a chef?
I have always found myself in a kitchen and cooking from a very young age, however growing up I was heavily involved in sports and for a while I considered going into sports psychology. This all changed when I was lucky enough to do two weeks of work experience at The Ritz hotel when I was 16 and absolutely loved it.
Who has inspired you the most in your career so far?
I have taken inspiration from all the chefs I have had the opportunity to work with so it's difficult to say who has been the most inspirational. However, Ruth Hansom and Amber Francis have spurred me on to enter more competitions and continue to better my craft. They encouraged me to explore the competition side of cooking.
What do you like most about the Graduate Awards?
I like the level of support you get throughout the whole process, through the mentorship calls, educational training videos etc. It's also a competition where you can just focus on yourself as everyone who enters has the opportunity to gain the award. This means you can just focus on your dishes and executing them to the best of your ability without the added pressure of there only being one winner.
What is your favourite dish to cook?
My favourite thing to make and cook is definitely fresh pasta. It's so therapeutic, skilful and simplicity is always best with it. A lovely pasta dish I've made loads of times is Agnolotti filled with classic Bolognese and ricotta, glazed in brown butter – it's an easy winner.
How do you feel to be a finalist in the Graduate Awards?
To be a finalist in the Graduate awards fills me with pride as it has been a goal of mine for the past three years. It's something I have wanted to prove to myself I could achieve.
What advice would you give to those considering entering in 2022?
Don't hesitate to enter! It's a brilliant opportunity to test yourself, put your knowledge to the test and hopefully learn lots along the way. The beauty of the Graduate Awards is that you're only competing against yourself so you can focus on you and learn from everyone around you. The whole community is so supportive.
How has this event helped you during the pandemic?
It has definitely given me something to strive towards and given me focus during a whirlwind pandemic. This event has been the most welcomed distraction.
What positives can you take away from the pandemic?
These challenging times have definitely put a lot of things into perspective, and I am sure that is the case for almost everyone. Obviously with ample free time, it's enabled me the time to focus on my health, reading and practising areas of my weaker skill set in the kitchen.