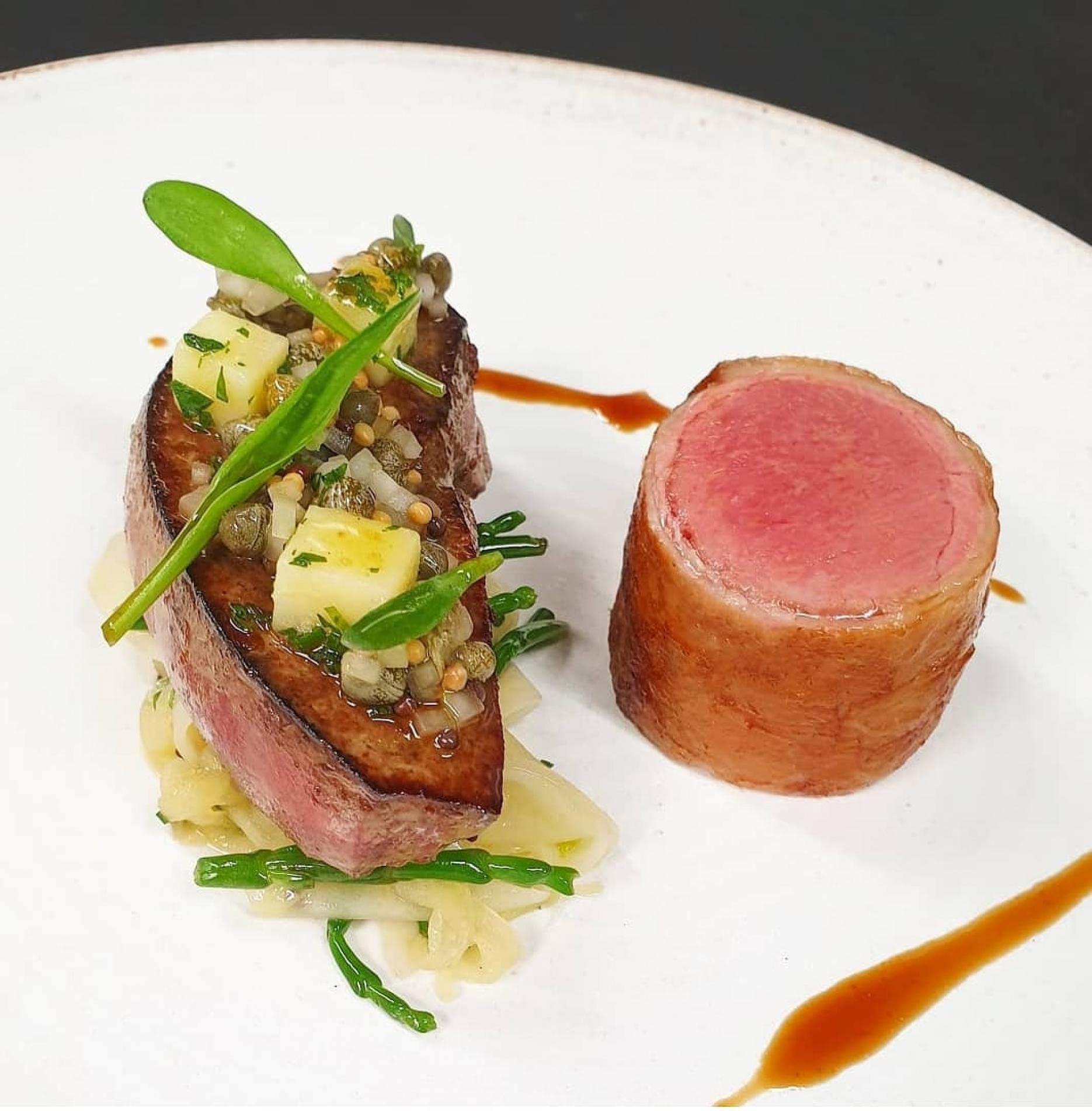 6th April 2021
Nick Smith unveils NCOTY winning recipe
Nick Smith, current winner of the National Chef of the Year competition, has released his Romney Marsh lamb, roe ravigote, fennel, samphire & aster recipe that he cooked as his main course during the NCOTY competition.
We all love a traditional lamb roast, but sometimes we might feel like cooking something sophisticated and unique. We have the perfect lamb recipe to show off your culinary skills during the Easter period.
Main ingredients:
Romney Marsh Lamb Cannon / Wrapped in Lamb Fat x 350gr
Romney Marsh Lambs Liver x 200gr
Romney Marsh Lamb Stock x 250ml
Rye Bay Scallop Roes x 2
Maris Potato x 1
Fennel Bulb x 1
Banana Shallot x 2
Samphire x 50gr
Sea Aster Leaves x 6
Lilliput Capers x 10gr
Cornichons x 10gr
Flat Leaf Parsley Sprigs x 4
Chives Sprigs x 6
Chervil Sprigs x 4
Thyme Sprig x 1
Mustard Seed x 2.5gr
Dijon Mustard x 2.5gr
Moscatel Vinegar x 15ml
Rapeseed Oil x 80ml
Unsalted Butter x 100gr
Red Wine x 100ml
Maldon Sea Salt to Taste
Method:
1. Sous vide lamb cannon at 60C for 40 minutes.
2. Slice shallots and sweat one. Add thyme sprig and deglaze with red wine, reduce by 1/2 and add lamb stock. Leave to simmer gently.
3. Whip butter and scallop roes in a blender until smooth. Season and chill
4. Finely dice one layer of fennel and cornichons, shave the remaining fennel and reserve till service.
5. Cut Parmentier potato, poach in seasoned water, refresh and set aside.
6. Pick and cut herbs. Toast mustard seeds. Combine with diced fennel, capers and cornichon.
7. Remove lamb cannon and season. Colour in a pan till golden brown and rest.
8. Pan fry liver till medium rare, remove, rest and season. Foam scallop roe butter, add Parmentier and ravigote garnish, deglaze with Moscatel vinegar and mustard, correct seasoning.
9. Sweat remaining shallot, fennel and samphire, correct seasoning. Warm plates and passed lamb stock.
10. Plate wilted fennel, top with lamb's liver, dress liver with roe ravigote dressing and garnish with sea aster. Cut noisette, sauce and serve.