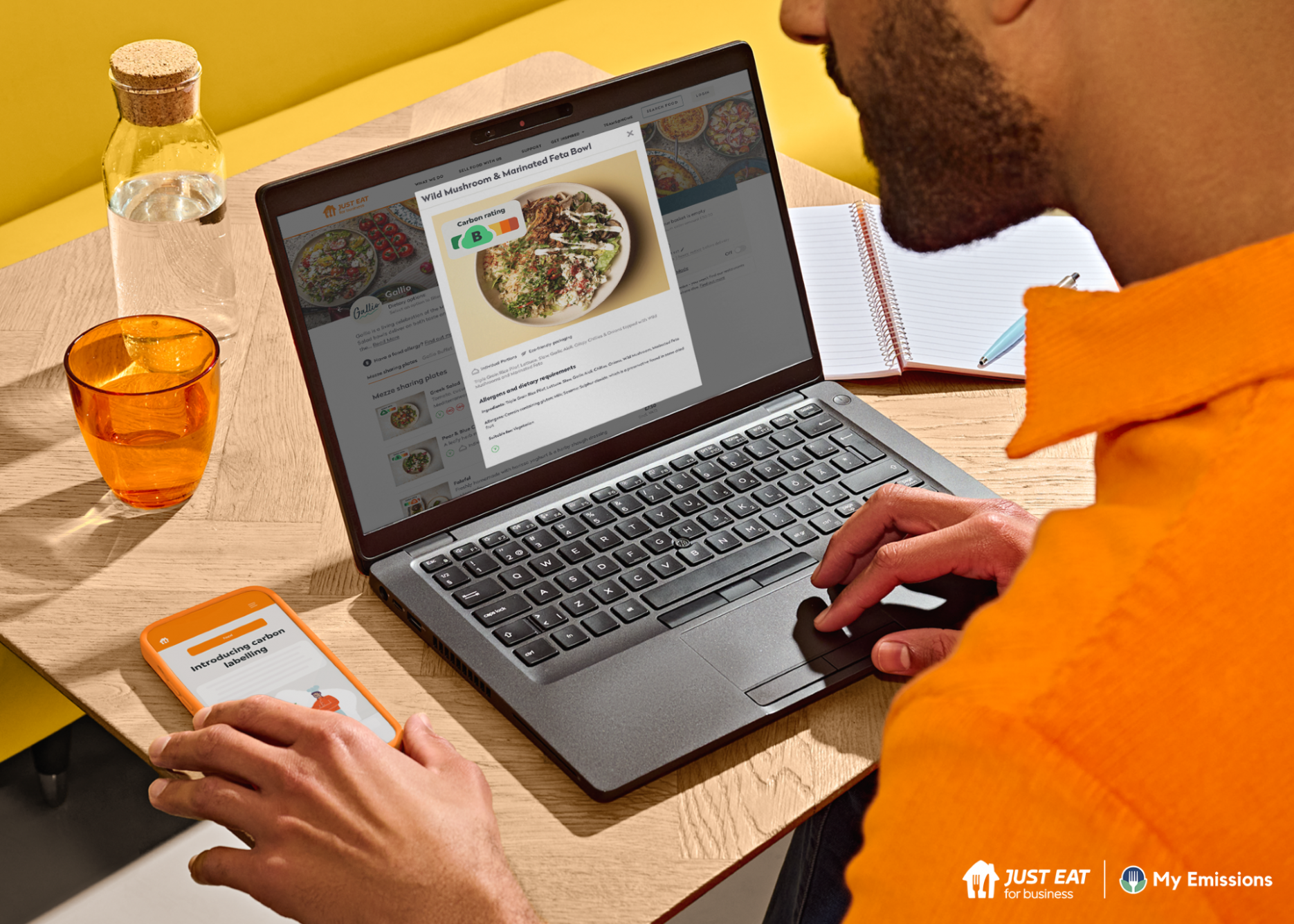 14th September 2023
Just Eat for Business introduces carbon labelling trial
Flexible workplace food solutions company Just Eat for Business has announced the start of its carbon labelling trial that will calculate the carbon emissions of main menu dishes to help drive sustainable food choices.
Just Eat for Business has worked with and funded the trial for 12 independent restaurant partners, including Urban Greens, Atcha, Choppaluna and Hala Wala. The three month trial will build on Just Eat's previous carbon labelling trial and will be in partnership with My Emissions.
My Emissions calculations will be used to display a carbon label, informing customers and businesses on food related carbon emissions that will support them in making more climate conscious food choices. An A rating means a very low carbon impact and an E rating means a very high carbon impact.
The ratings take into account the farming, production, transport and packaging of the dishes. Based on the products assessed during the carbon labelling trials, a typical beef burger (E-rated) produces four times more emissions than a typical chicken burger (C-rated). 
Matt Ephgrave, managing director at Just Eat for Business, said: "Exploring ways to minimise our environmental impact remains an important topic for us, and we believe extending this to also support our independent restaurant partners on their sustainability journey is key.
"Through this carbon labelling trial, we aim to help our restaurant partners better understand the carbon impact that their food options have whilst also empowering workers to make more climate conscious food decisions. We're excited to be part of the journey to making the food delivery industry more environmentally friendly and are looking forward to seeing more and more businesses adopt the same approach."
A recent Just Eat for Business survey found 91% of respondents said that their business' values play an important part in their employee wellbeing. Nearly half of respondents also said that they consider the environmental impact of the food they're ordering into the office. 
Aadit Shankar, founder & director of Atcha, added: "We're really pleased to be involved in this project to learn more about the carbon impact of the ingredients in our food as well as supporting our customers in making more climate conscious food choices. It will also help us gain insights into the preferences of our customers, as we know that they value transparency when it comes to sustainability."