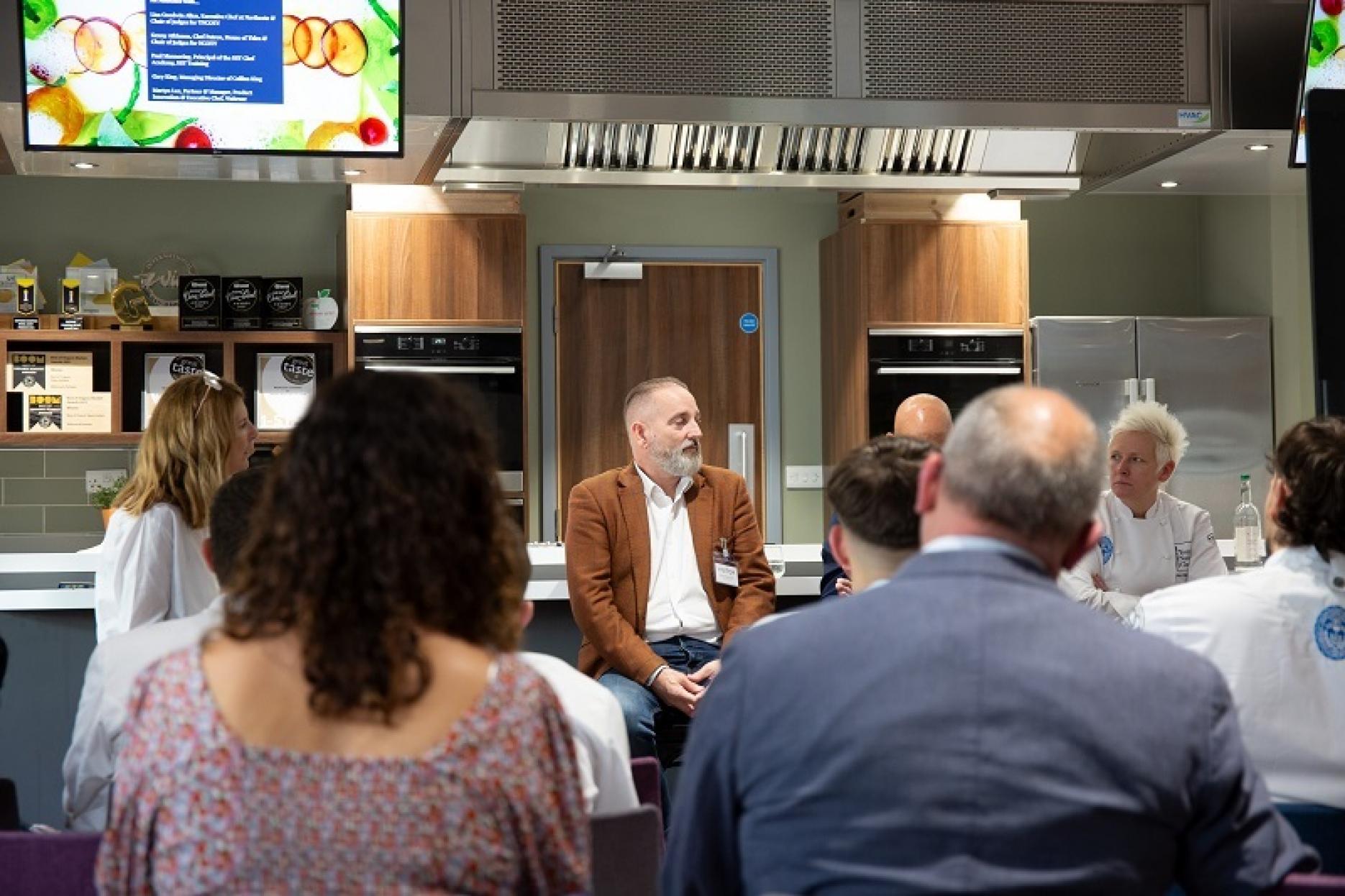 26th September 2023
How chefs can tackle imposter syndrome in and out of the kitchen
Paul Mannering, principal of the HIT Training Chef Academy, discusses how chefs can tackle imposter syndrome inside and outside of the kitchen. HIT Training are one of the sponsors for the Young National Chef of the Year competition (YNCOTY).
Am I good enough?
A familiar question to the majority, if not all chefs, who have worked in the high-pressure environment of a professional kitchen. While a professional kitchen might not be the first environment that comes to mind when you hear the term 'imposter syndrome', this will be of little surprise to anyone working in hospitality. The intensity of a chef's workload can often lead to them questioning their own abilities.
Being a professional chef takes a huge amount of passion and ambition, but these driving factors can quickly lead to burn out. The long hours and lack of holidays often fuel feelings of anxiety and low-self-esteem, which spill out of the kitchen and are taken home after the end of a shift.
HIT Training this year are launching a campaign to raise awareness around the issues of imposter syndrome. Taking a look at the common symptoms and how widespread it is, we are looking to share our insight into how businesses can support their workforce in developing both their skillsets and confidence. Acknowledging the issues of imposter syndrome, here are our top pieces of advice for tackling any challenges it presents head on.
Flexible training
One of the biggest triggers of imposter syndrome can be a sudden change in your working environment or responsibilities. Anyone who works in a kitchen will be all too familiar with the term 'accidental management'. As senior team members move on, a vacuum is left. Unlike other professions where recruitment can be a lengthy process to find suitable candidates, a kitchen needs a leader, which means an existing team member is often pulled into a more senior position, whether they are ready or not.
This can be seen as one of the benefits of the hospitality industry, with opportunities to progress quickly. However, it means that individuals can find themselves in senior positions without sufficient training and support. There is a huge difference in skills between a manager and a leader and training is a fantastic way to bridge the gap.
Organisations need to create an environment that not only offers training for when individuals are promoted, but throughout their career journey. It's important to remember that apprenticeships aren't just for beginners and go right up to senior level roles. They are a fantastic option for professional chefs looking to learn on the job and have mentors outside of their organisation who are committed to their development. Investing in training develops skills and prepares chefs for the next step in their career.
Running a kitchen is a team game
Another common attribute of ambitious chefs is the desire to handle everything by themselves. Chef managers in particular can end up being a jack of all trades; overseeing marketing, compliance, cooking and more. This only increases their burden and makes effectively managing their teams more difficult.
The art of delegation is a necessity in every kitchen. Critically, it will develop more junior members of the team, helping them grow their own skillsets and prepare them for future responsibilities. For more senior members, the wellbeing benefits are even more obvious. Being able to delegate and trust in your team means a lighter workload, allowing chefs to be focused on a tighter remit. This allows chefs to maximise what they deliver and develop new ideas, rather than constantly juggling priorities. It also means that they can take a holiday without the kitchen collapsing on itself.
Another benefit of working more closely is a team is creating a space for clear communication. Hearing other team members aspirations allows more experienced members to either mentor them directly or point them in the direction of training that will help them get there. Communication is also a silver bullet against imposter syndrome.
Creating a space for teams to reflect on how they feel things could improve provides valuable insight for managers. Maybe a chef feels that they are not up to scratch in a certain skillset as they don't receive any recognition for the work they do, when in reality the team knows they are excellent. Communication is the only way that individuals can evaluate if how they feel is how they are seen.
Wellbeing is the best retention tool
Recent HIT Training research found that 85.8% of employees would be more likely to leave a job if there was no obvious support for employee wellbeing and similar numbers are more attracted to working at an organisation with a progressive company culture.
The hospitality industry has faced an extremely difficult few years, which has resulted in a heightened focus on wellbeing and benefits packages. These are now (and rightly so) an expectation for employees.
When asked what more their workplace could offer to enhance its benefits package, responses from employees included training in areas such as diversity and inclusion of ethnic minorities within the workplace (19.8%), LGBTQ+ inclusion (17.6%) and understanding the impact of menopause (19.4%) – vital topics that the businesses surveyed would also consider delivering training to their teams in.
In the fast-paced world that chefs find themselves in, inclusion training needs to be a crucial part of any organisations training plan that ensures that everyone is supported. It needs to be much more than a tick box exercise, with everyone in a team engaged and asked what training they feel they could benefit from in the future.
Anyone who has worked in the hospitality industry knows it can be a fantastic place to work. Whether you are an apprentice or a top-level chef, your learning never stops. The friendships you form are some of the strongest across any industry, with constant opportunities to learn from each other. By engaging in a thorough training programme, chefs can push past their imposter syndrome, work in a progressive team and follow their ambitions in a fulfilling career.
David Mulcahy, vice president of the Craft Guild of Chefs interviewed Paul on Instagram Live, watch here.