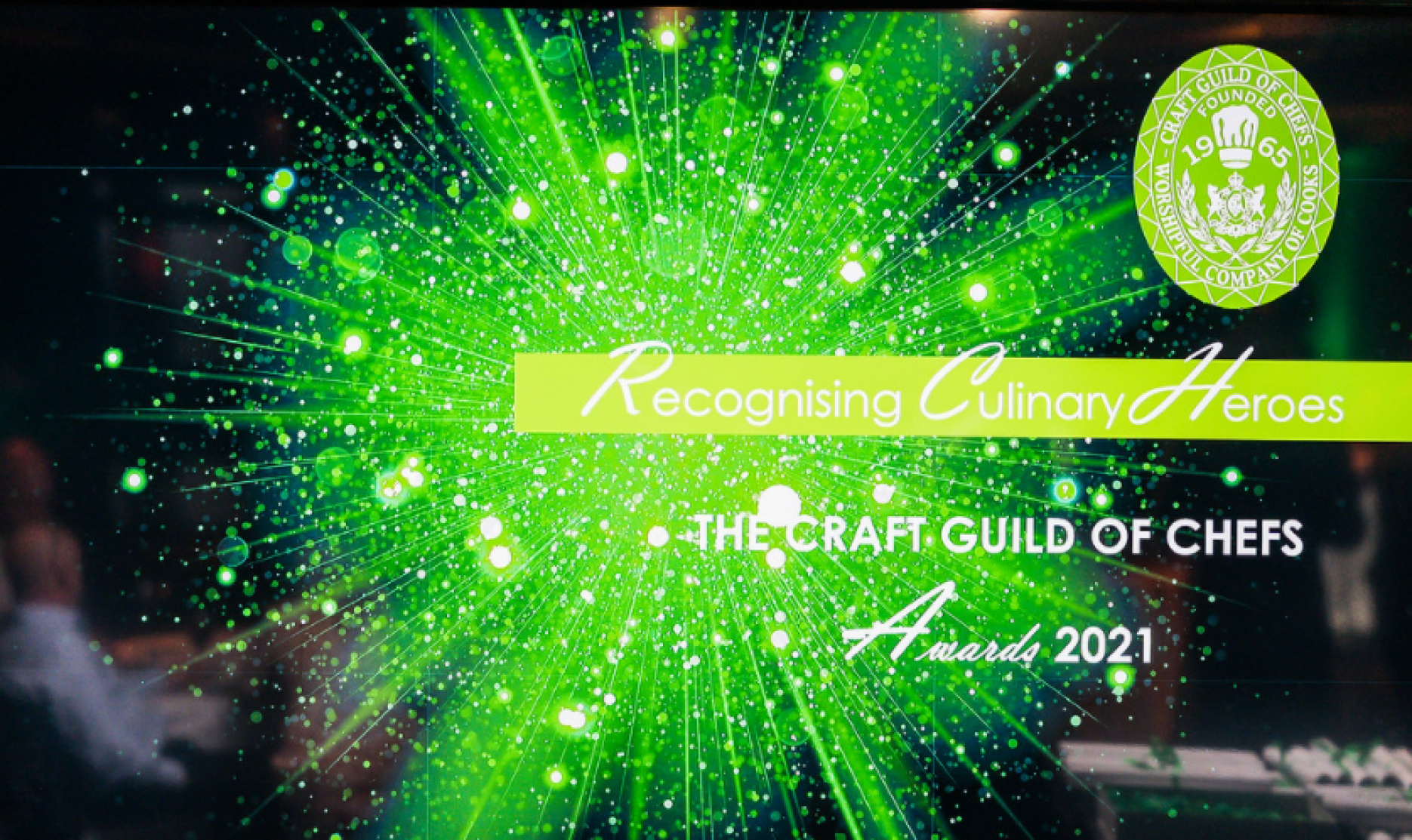 24th September 2021
Craft Guild of Chefs reveals Culinary Heroes at awards ceremony
At a special one-off celebration, the Craft Guild of Chefs recognised over 40 Culinary Heroes who have gone above and beyond during the pandemic.
The chefs were nominated by their peers and selected as winners by a panel of judges. The awards ceremony took place on Thursday 23 September at the renowned Landing Forty Two, the Leadenhall Building in London.
The Craft Guild of Chefs chose specifically to rename their annual awards for this year, to recognise the work of chefs across the country who have worked tirelessly to put people and their community first.
David Mulcahy, vice president of the Craft Guild of Chefs and co-director of the event, said: "The last year has brought unprecedented challenges and adversity for the entire country. Yet we have seen heroes across the country from all walks of life who exemplify everything that is great and caring about our society, and we're delighted to honour the chefs among them."
The Craft Guild of Chefs asked people to nominate chefs who volunteered or refocused their business to support the public or essential workers, or worked with charities and food banks to feed key workers and the vulnerable, or those who spearheaded fundraising efforts and chefs who supported colleagues in overcoming mental health and wellbeing issues.
His fellow co-director of the awards, Steve Munkley vice president of the Craft Guild of Chefs added: "We are increasingly aware of great self-sacrifice and community spirit our chefs have demonstrated. Landing Forty Two is the UK's highest events space, with stunning views across the Thames and London skyline from 500ft above the City. I can think of no better place to celebrate the heights these chefs have reached in service to the community."
The winning chefs, who work in many different settings across the industry, were awarded a special badge of recognition and a three-year membership to the Craft Guild of Chefs. The traditional Craft Guild of Chefs Awards will return in June 2022.
The Culinary Heroes include:
Adriano Carvalho, Sunrise of Sonning - Sunrise Senior Living
Alan Thomas, Sodexo
Amber Francis, Brawn Restaurant
Andrew Bradley, Bradleys Catering Services
Anthony Gascoigne, North Hertfordshire College
Anthony Hart, BaxterStorey
Bronwyn Jones, RAF Club
Charlie Taylor, Aulis, Simon Rogan
Chris Mapp, The Tickled Trout
Damian Broom, Ryan Haines and Alan Vass,  Seaham Hall Hotel
Danny Francomb, New City College
Darren Marshall, Thomas Franks
David Croft, Haven for Others
David Hearn, ESS Offshore
Dean Collins, Thomas Franks
Debbie Talbot, Gourmet Classic Limited
Diana Covelli Cuellar, Lexington Catering
Enzo Oliveri, Enzo's Kitchen
Ernest Oparoacha, Compassion London
Floriberto Sánchez Caicedo, Lexington Catering
Gavin Tarbox, Thomas Franks
Graham Mitchell, The Newmachar Hotel
Holly East, The Old White Hart @ Lyddington
James Eaves, University of Warwick
James Pate, Thomas Franks
Jomon Kuriakose, The Lalit London
Junior Menezes, Chef Jr Menezes
Louise Wagstaffe, Delicious by Design
Martyn Nail, Claridges Hotel
Miranda Godfrey, Westminster Kingsway College
Neil Tyson, HMP Wandsworth
Omar Allibhoy, Tapas Revolution
Paul Obrien, The London Clinic
Peter McKenna, The Gannet, Glasgow
Phil Jones, Pop-up Picnics, Chester
Rebecca Marshman Rondeau, Nutfield Priory Hotel and Spa
Sean Noonan, The Mere, Cheshire
Simon McKinnon-Brahams, The Clink Restaurant at HMP Brixton
Simon Turton, Lexington Catering
Stephen Betts, HMPPS, HMP North Sea Camp
Stephen Reidie, Thomas Franks
Steven Cross, Park Community School
Stuart Howard, Thomas Franks
Sudha Saha, Entouraj Restaurant, Droitwich
Tom Aikens, Only A Pavement Away