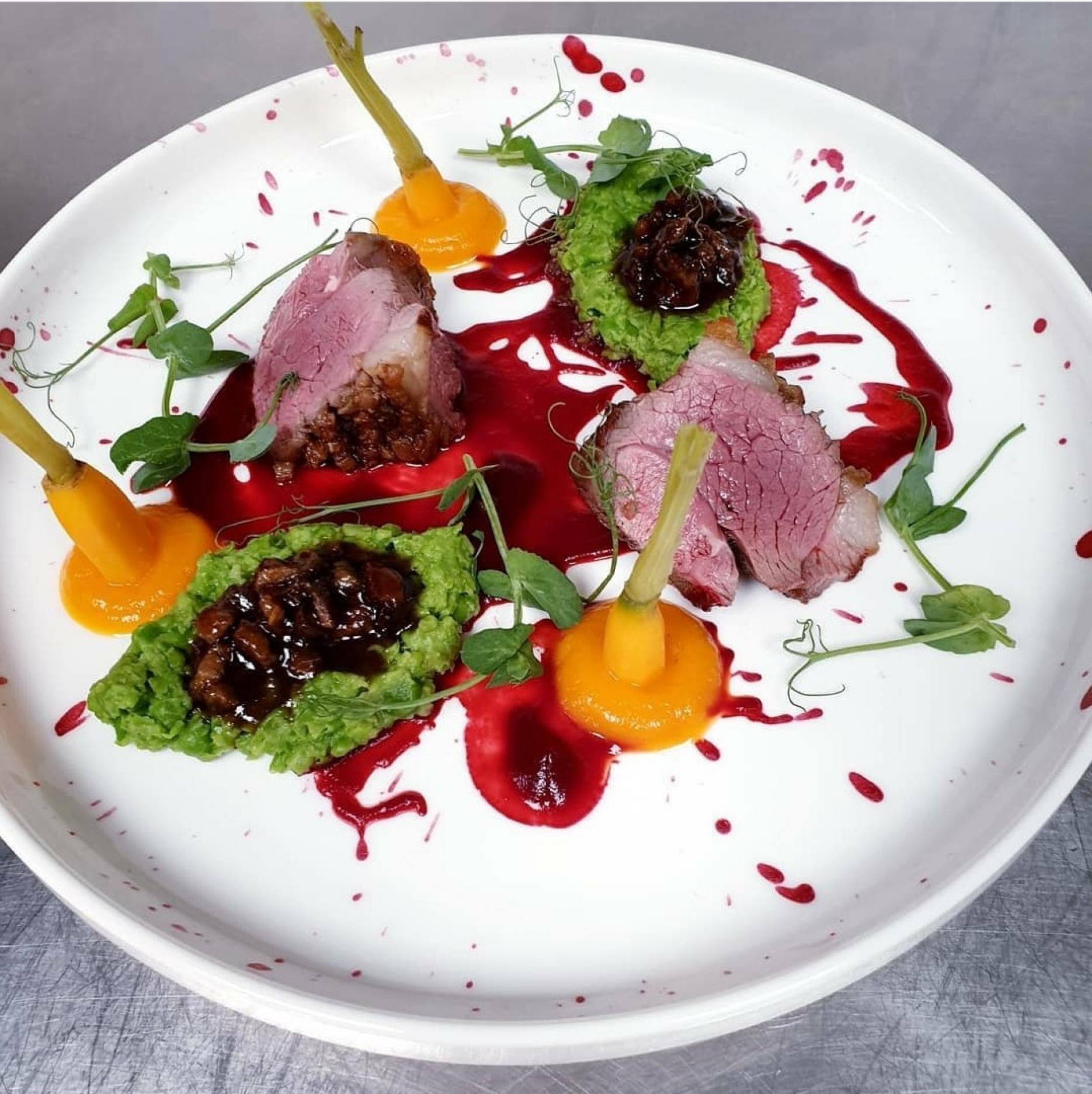 24th November 2020
Chefs in the lockdown spotlight – Clyde Wernli
Our latest chef spotlight is on Clyde Wernli, a sous chef at a hotel in central London, who has shared his recipe of pan roasted lamb rump.
Starting his career in South Africa, he has been working as a chef for over 12 years.
Pan roasted lamb rump- 10pax
Ingredients:
10 8oz lamb rumps

200g diced carrots

10g vegetable bouillon

30 baby carrots

250g raw diced beetroot

1 red onion diced

2 sprigs of rosemary

30ml balsamic vinegar

500g peas

50g butter

Salt and pepper for seasoning

300ml demi-glace

1 punnet of pea-shoots
Beetroot puree method:
In a saucepan, place the beetroot and rosemary and red onion.

Cover with water and boil until the beetroot is cooked.

Once the beetroot is cooked, take out the beetroot and rosemary and onion.

Leave the beetroot stock on and reduce.

Peel and place the beetroot and balsamic into a blender and puree till it is smooth. Use the beetroot reduction to get the consistency you require.

Season as needed.
Carrot puree method:
Place diced carrots and vegetable bouillon with 30ml water into vacuum bag.

Seal and steam for 40min.

Once steamed and soft, puree until smooth.

Season as needed.
Baby carrots method:
Place pot of water on stove and bring to boil.

Peel and clean the carrots.

Put carrots into water, when water comes to boil again, cook the baby carrots for 3 to 4 minutes.

Remove from water and keep warm.
Crushed peas method:
Place the peas in a saucepan, add a little water, enough to fill about 1cm on pan base.

Bring the water to boil and keep stirring the peas. As soon as the peas are cooked, add the butter and use a stick blender to crush the peas.

Season as needed.
Pan roasted lamb method:
Season the lamb and seal off in a hot pan.

Remove the lamb from the pan (keep pan on the side) and place the lamb on tray and cook for 3 minutes at 180c then turn over and cook for a further 3 minutes.

Once the lamb is cooked, place on the side and let rest for 3 minutes.

Carve off the sides of lamb and leave to rest.

Finely chop the lamb off cuts and fry in the same pan used to seal the lamb.

Fry the lamb till crispy. Now add the demi-glace and infuse.

Once the demi-glace is at the right consistency, remove from the stove.