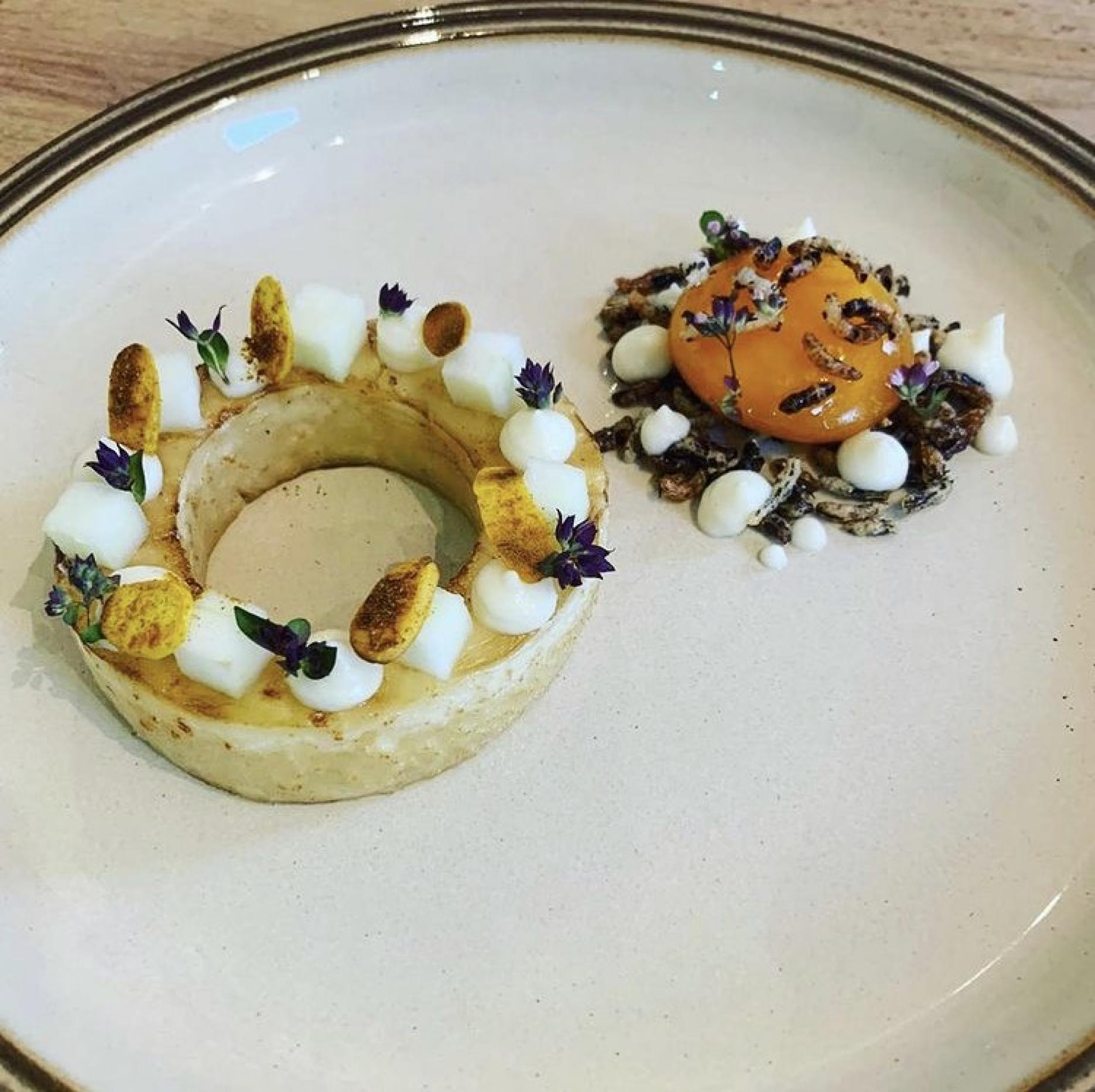 19th November 2020
Chefs in the lockdown spotlight – Ali Halbert
Ali Halbert, junior sous chef at Hencote Estate and Vineyard, is the latest chef to feature in the Craft Guild of Chefs spotlight campaign.
Halbert focusses on seasonal and local ingredients in his recipes and he is looking forward to competing in chef competitions when events return to normal.
Halbert sent us a vegetarian dish of braised celeriac with curry cured egg yolk and leek velouté that he has been working on during lockdown. You can follow him via @chefalihalbert on Twitter and Instagram.
Braised celeriac with curry cured egg yolk and leek velouté
Celeriac stock- ingredients:
Celeriac off cuts and peels from one large celeriac

The green end of your leeks


2 tsp of French mustard


White wine to deglaze 


Pinch of cumin seeds


2 tsp of Worcestershire Sauce 


3 bay leaves 


850ml of water
Method:
Start by making your celeriac stock, by prepping your celeriac ready for braising in your liquid. Top and tail your large celeriac retaining all your offcuts to one side. Proceed to peel the celeriac saving all peeling, nothing goes to waste. Cut two to three slices into your celeriac around an inch thick, this will be for your celeriac "fondant". Keep to one side. Now with all your offcuts and peels add to a really hot casserole dish.

The heat of the dish is crucial in giving your stock colour and the flavour of smokey char, which will come through in your final dish. Once to heat, add your peels and offcuts to the dish allowing it to char. Once charred with colour, add a splash of white wine to deglaze. Reduce and add your mustard cumin, bay leaves, Worcestershire sauce and green ends of leek. Finally add your water and allow to simmer for around 45 mins. 


Once reduced, your final result of stock should be 500ml.

Reserve this stock ready to braise the celeriac you put to one side.
Celeriac fondants- ingredients:
Your celeriac rings


500ml of celeriac stock previously prepared

Vegetable oil

Method:
Preheat oven to 180 degrees. Start by putting a heavy deep pan on the heat. Add a small amount of oil to begin to fry your celeriac rings. Once coloured on one side flip the ring for repeating the colouring. 


Once happy with the colour add your celeriac stock.

Put your fondants into the preheated oven and cook for 18 minutes until tender. 


Baste in butter in pan to serve (you can reserve the stock for future recipes if you wish).
Curry cure duck egg yolk-ingredients:
1 duck egg yolk 


50% salt

50% sugar

1tbsp of turmeric

1tbsp of ground cumin

1tsp of ground coriander

1 tsp of ground chilli
Method:
Mix all the seasonings together, then mix your salt and sugar, ensuring all mixed thoroughly and evenly. 


In an airtight container fill half with your cure mix and then add your yolk, cover completely with the rest of your cure mix. 


Refrigerate and cure for two hours

Remove carefully and wash off cure gently to serve.
Leek velouté- ingredients:
300g of the white end of the leek 


2 small garlic cloves


Pinch salt

90ml /3oz of milk from the celeriac puree or plain milk 


4 tbsp of water
Method:
Start by prepping down your vegetables and add a saucepan to medium heat. Once hot add your leek and garlic to the pan. Allow to sweat off but do not colour.

Once sweated down add the milk, water and salt.


Allow to simmer again until consistency required, around 2 to 3 minutes.

Once reached, blitz for 5 mins until super smooth and pass through a sieve if needed but be sure to press through as much as you can. We want the velouté to be smooth and silky but still have body. 


Leave to one side ready to split with the dill oil to serve. 

Dill oil- ingredients:
200g of dill herbs 


300g of rapeseed oil
Method:
Blitz together your dill and rapeseed oil and proceed to heat to 100 degrees

Pass through fine cloth or muslin cloth and reserve the oil for your velouté sauce.
Puffed rice- ingredients:
17g of wild black rice

300ml of oil 


Salt to taste
Method:
Add to a dry pan your turmeric to toast off gently and lightly.

Add your almonds to coat and toast also.


You will smell when your almonds are ready, fry lightly, season and rest ready to serve.
Compressed apple- ingredients:
Method:
Dice your apple into equal cubes, you will only need around 6 to 10 pieces for the dish.


With the remaining apple put through a juicer and reserve the juice to compress your apple cubes. 


Once you have your juice, cover your apple dices in a tub and proceed to vacuum pack your cubes compressing the juice into them, enhancing the flavour strongly. We want the acidic Granny Smiths to be super punchy for the dish. 


Reserve ready to serve. 

Serve and present:
Proceed to baste your celeriac fondant in butter ensuring it is hot in the middle and cooked throughout, with nice colour all over. Remove from the pan and drain on a jay cloth. At the same time, heat your leek velouté ready to add your dill oil. Mix slightly then decant into a sauce jug.


Have all other garnish ready to plate once your celeriac and sauce are up to heat. 


Once your hot elements are ready proceed to plate up.

If you so wish, you can add flowers and herbs to garnish.


Add your apple almonds puree and herbs on top of the celeriac fondant ring. Place your cured egg yolk on top of the puffed rice and pour your sauce over and simply enjoy an amazing vegetarian dish.