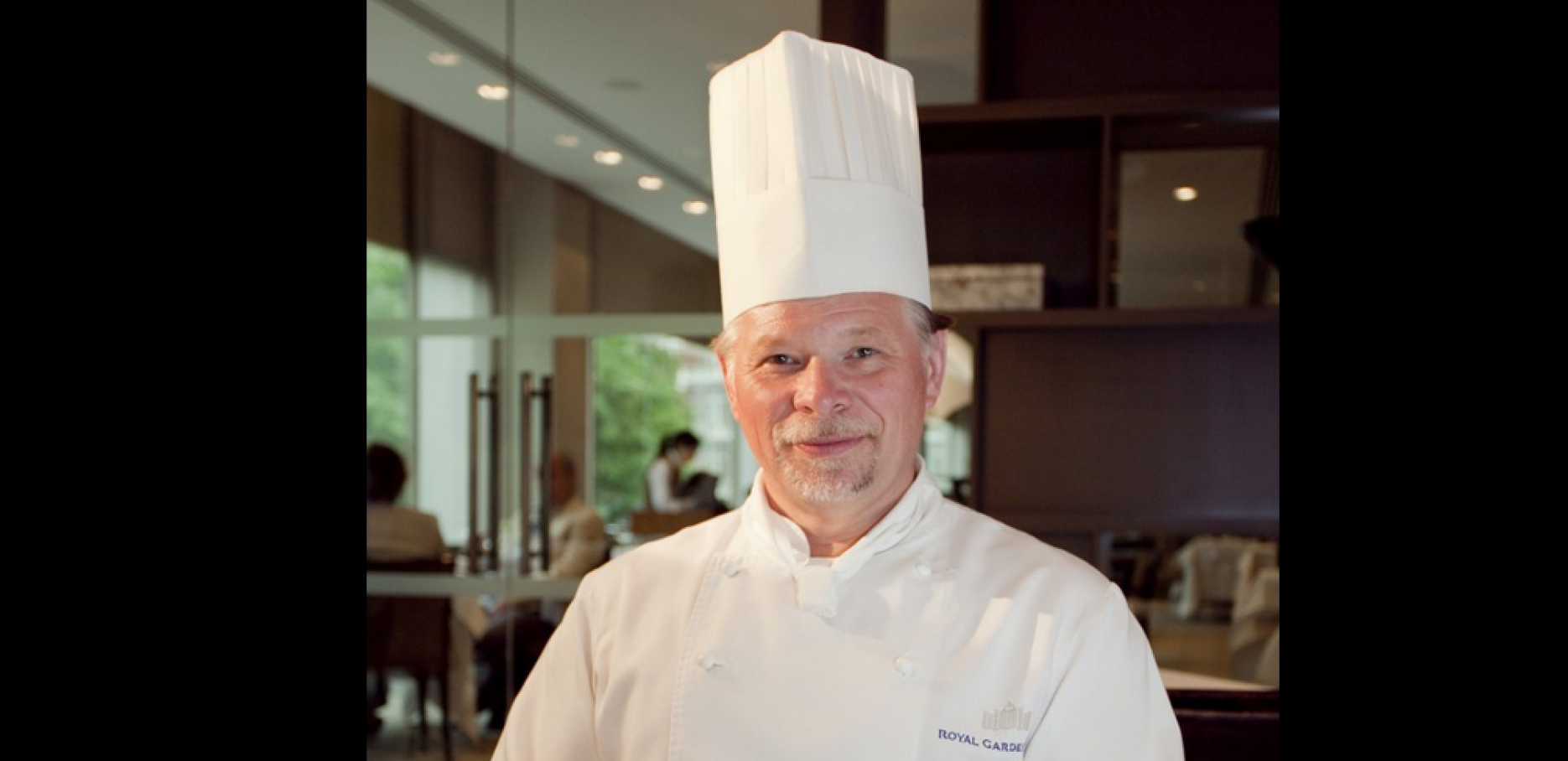 20th October 2020
Careers in hospitality – a new series
2. Executive Head Chef of a five-star hotel

There are numerous different roles in hospitality, which is why the Craft Guild of Chefs is launching a new series exploring them and how some of our members have trained to secure their current position.

The hope is very much that it will be informative for new chefs entering the industry or for those looking to retrain.
Steve Munkley is executive head chef at the five-star Royal Garden Hotel in Kensington, London and vice president of the Craft Guild of Chefs.
"I go from fine dining to making pizzas. But it's a bloody good pizza."
Key job attributes: 
Being organised

Good at delegating

Being a people person

Good at planning

A bloody good cook
Q: What does it take to become a professional chef?
A: Respect for ingredients and love for cooking.
Q: How many years have you held the position of executive head chef?
A: I have held this position at the Royal Garden Hotel for 26 years now. Prior to this, I was also executive head chef at the London Kensington Hilton for five years.
Q: What does your role as executive head chef involve?
A: My role as executive head chef in a hotel as big as this is as much organisation and planning as it is cooking. The next eight weeks (before we open our doors on 1st November following the Covid-19 outbreak) for me, will all be about looking at risk assessments, methods of work and putting in procedures to keep my team socially distanced and safe.
Q: Is managing people a big part of your role?
A: Yes, a huge part. Pre-Covid I had a team of more than 60 chefs which is a substantial responsibility. Not only have you got the responsibility of the food you are delivering to the guests, but you are also responsible for every one of those chefs and their livelihoods, wellbeing and training. It's so important that you find an employer who really understands and gives you these skills.
Q: How important is experience, qualifications and training courses when considering a career as an executive head chef?
A: Experience is where I learnt most of my trade but I've got to say, management training courses are also absolutely essential. I will always rate the Marriott highly as a good employer for management training. If I am honest, I absolutely detest management courses, but looking back to when I was a junior sous chef working for Marriott, I learnt a lot on their training courses. We learnt from each other as much as we did the trainers.
A: Going back to my earlier years, I completed my 'O levels' and then went off to Ealing technical college, now known as the University of West London. I did my two years full time there and since then, have never looked back. I landed my first job when I was 18 (thanks to David Foskett, my first lecturer when I was at college), at a business hotel at Heathrow. This had put me in good stead for the rest of my culinary career.
Q: If you were recruiting for an executive head chef role, what would you be looking for?
A: Other than being a bloody good cook, I would look for someone who had good management skills including people management (the toughest one to nail), good at planning and organising, good at delegating but still supplying support and has a motivational personality.
Q: What kind of service do you run at the hotel and how do you run it?
A: We cater for many different areas within the hotel. The rooms (all 400 of them) are the biggest part of it and we serve breakfast to the majority of our guests who stay overnight. I'd say we pick up 68-70% of the people who stay for breakfast. Room service is also 24/7 and post Covid we are expecting this to be even busier, with more guests opting to eat in their rooms rather than mixing with people. I also oversee and manage the Park Terrace, an all day dining restaurant (of which we also operate a successful afternoon tea business from), Min Jiang, a Chinese restaurant located on the tenth floor, as well as the Piano Bar where we serve great pizzas. So, I literally go from fine dining to making pizzas. But it's a bloody good pizza. Simple food done well is just as good as elaborate food.
Q: What are your favourite types of ingredients to work with?
A: I am all about fresh, simple, quality food. I probably prefer fish over meat. But we are so lucky that we constantly have a larder that is overflowing with wonderful ingredients. That's the beauty of working in London - we have access to any ingredient from anywhere in the world. We operate in an eclectic market.
Q: Are there any foods you don't like cooking with?
A: I'm not a great lover of tripe and personally I don't like oysters.
Q: If money was no object, what dish would you cook?
A: I have access to all the caviars, lobsters and truffles, for example, but if I am honest, I don't tend to use expensive ingredients. I am much happier dealing with the simpler foods. Give me a lovely piece of turbot or some wonderful fresh prawns and scallops and I'd be happy.
Q: Identify some of the challenges and opportunities you have been faced with in this role
A: Covid-19 tops the list, for sure. Nobody has ever experienced anything like this before. It's new to all of us. Hospitality is going to get hit hard over the next 12-15 months, along with other industries such as airline, holiday, entertainment. But prior to this, I'd say staffing has always been a big issue, particularly over the last 10-15 years.
A: In terms of opportunities going forward, I feel that we are all going to have to take a deep breath for the next 6-12 months and consolidate, spend time in getting procedures in place and even re-evaluate our working lives. I, for one, would like to get my team back into a better working routine. As long as we can survive the next 12 months, I believe we will come out of this on the other side, even stronger.
Q: What would be the best piece of advice you would give to someone looking to do a similar role to yours?
A: I would say make sure you have sat down and had some mentoring from someone you respect and look up to - especially someone who manages a good team. Any chef who has got to an executive sous chef level can cook. But one thing in his armoury that he may not have is that skill in management as a global picture.
Q: What's your involvement with the Craft Guild of Chefs?
A: Along with David Mulcahy, I run our annual Craft Guild of Chefs Awards and I am also heavily involved in NCOTY, LACA Finishing Touches, Tilda Young Chef of the Year and FutureChef. But ultimately, The Graduate Awards is my baby. The kitchen and larder semi-finals took place at the Royal Garden Hotel on 16th September and the pastry graduates went to Lakefield Hospitality College, London, during the same week. As a sitting vice president, I am also involved in advising the existing committee on what to get involved in next. Over the years I have sat on many different steering groups for education, trying to ensure apprenticeships stay on top of their agendas.
Q: Are you involved in any industry events coming up?
A: For now, the HRC Show is planning to go ahead in March next year, so that's positive. It gives us all something to look forward to and something for the chefs to get their teeth into. So chefs, get your competition hats ready!
If you'd like to be considered for a future focus, please send an email to gail@opendoorpr.co.uk with your name, where you work and your job role.