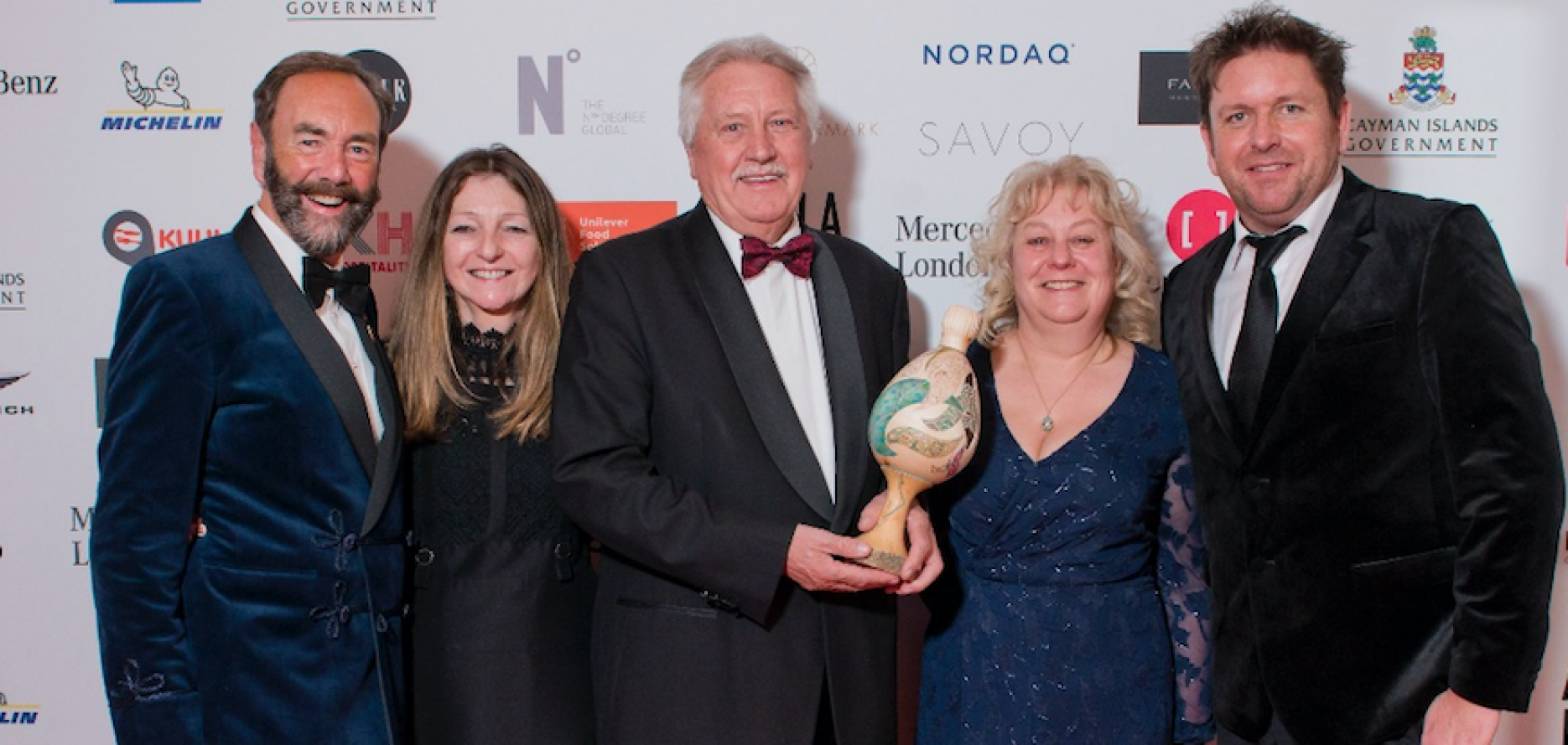 27th February 2020
Award celebrates Brian Turner's service to hospitality industry
Brian Turner, CBE, received an award for his services to the hospitality industry at The Restaurant Association Awards on 24 February 2020.
The award ceremony, hosted by UKHospitality and The Nth Degree Global, raised £25,000 for industry charity Hospitality Action. 
Turner said: "It has just been such an exciting night and what a privilege to hold this award. I hold this award for lots of people; it is all about the hospitality industry and looking after people with food and drink. 
"I've had such a good time in the industry and I can't tell you how lucky I've been. Thank you to everyone at the Restaurant Association for the award for Services to Hospitality and to my friend James for coming to present it."
Chefs including Tom Aikens, Antony Worrall Thompson and Ruth Hanson attended the third annual awards ceremony. 
James Martin, who presented the award, added: "If anybody knows service, it's Brian. I actually first met Brian Turner when I was nine years old in a kitchen. Brian was doing a dinner at a place called The Mallyan Spout in Goathland. 
"As a young nine-year-old chef, keen as mustard, with a brand new starch jacket on, that's when I walked into a professional kitchen for the very first time. He's taught me a lot about life ever since then and he deserves this award for Services to Hospitality big time."
The thousands raised, through a live auction and entry payments from guests, for Hospitality Action will go towards providing hospitality workers with financial, physical and psychological support to help them overcome adversity. 
Mark Lewis, chief executive for Hospitality Action, commented: "We are honoured to be the nominated charity of this year's glorious Restaurant Association Gala Dinner. Behind their smiles and slick service hospitality workers can fall upon hard times just like anybody else. 
"As everyone here tonight knows ours is a stressful industry, with long hours, high-pressure environments and physically demanding work. Injuries, mental health problems and addiction are sadly a feature of modern life in the hospitality trade. That's where Hospitality Action steps in." 
The 'unique', egg shaped trophy was designed by Sarah Fabergé and it featured references and illustrations to Turner's interests and achievements. 
It was also announced that the awards for Young Chef Young Waiter 2020 would be held in the UK Pavilion at Expo 2020 in Dubai in November.