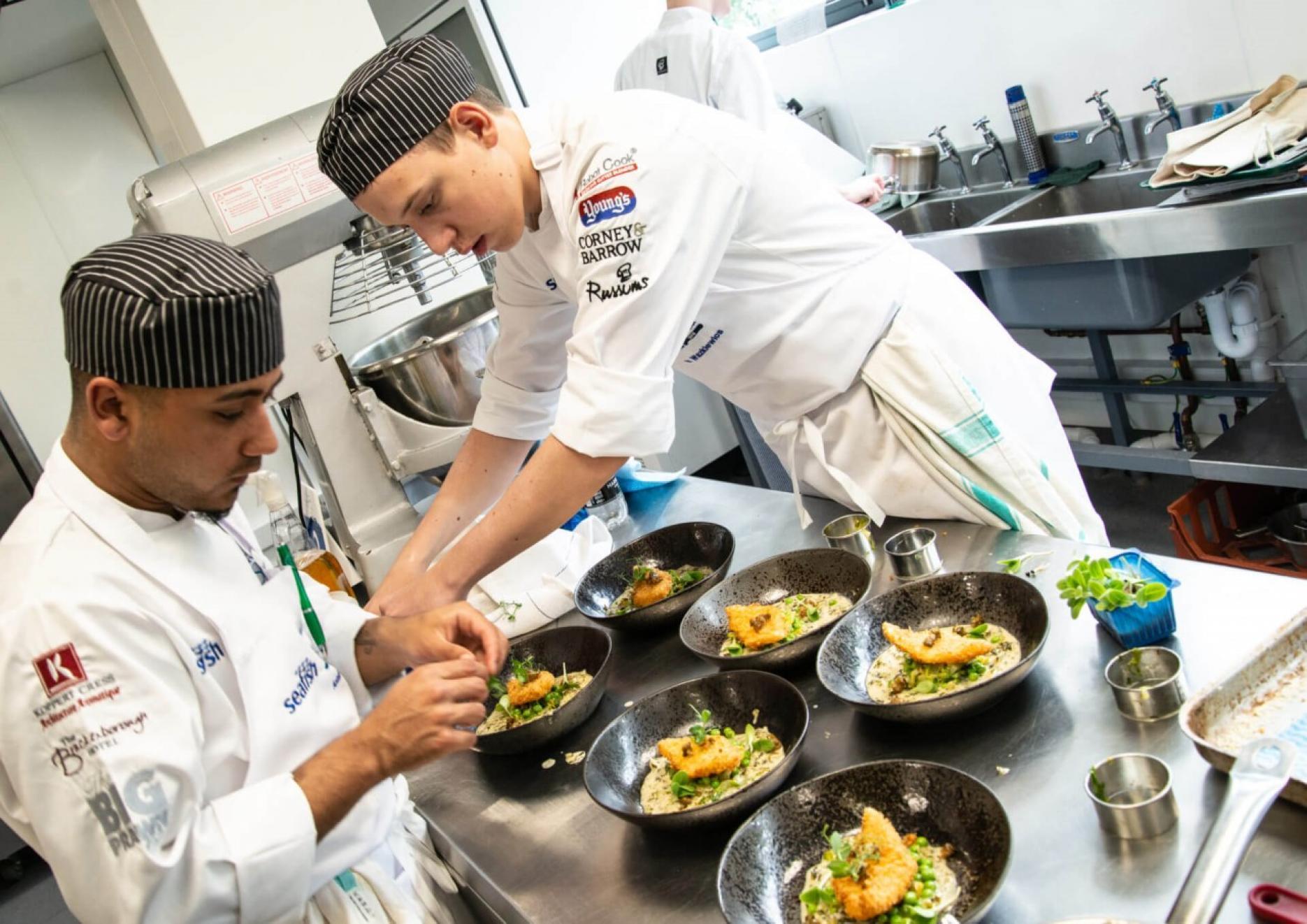 11th March 2022
The search is on for the UK Seafood Chef of the Year 2022
Run by the Grimsby Institute and sponsored by Young's Seafood, the annual UK Seafood Chef of the Year competition is celebrating its 25th anniversary.
This year's competition promises competitors the best line up of judges to date, with Rick Stein, Mitch Tonks, Mark Hix and Nathan Outlaw confirmed to judge the much-anticipated final on the 10th June 2022.
The annual seafood event is one of a kind and inspires young chefs in training whilst encouraging their creativity and developing their skills and confidence in the kitchen.
The competition, which is open to all full-time and college-based modern apprentice chefs not only gives them a chance to demonstrate their talent, but it gives them valuable industry experience and a platform to demonstrate their flair, understanding and ability.
Paul Robinson, Grimsby Institute associate principal, said: "We are so excited for this year's competition, the line-up of judges and support through sponsors is incredible. We are lucky enough within the UK to have so much love and support for the seafood industry and this event is giving the opportunity to so many young chefs to showcase their skills on a national stage whilst promoting the use of seafood within the dishes we create."
The young chefs, who are all 25 years old and under, will compete in one of three regional heats to be held at City College, Norwich, Sunderland College and Coleg Llandeilo Cymru, North Wales in May. Teams of two will work to produce a three-course seafood menu using sustainably sourced seafood.
Nine teams will progress to the Grand Final at the Grimsby Institute on Friday 9th June where they will cook a three-course menu that will include an innovation test. The test will challenge the finalists with a surprise recipe which requires them to produce an intermediate course using a specified list of ingredients. This year the winning team will receive an amazing mystery prize, with the other prizes being announced over the next few months.
Simon Smith, chief executive at Young's Seafood, said: "At Young's Seafood we're extremely proud of our Grimsby roots and to be associated with the Grimsby Institute. We've supported the National Seafood Chef of the Year from the very beginning, and so we're delighted to be the headline sponsor for the competition's 25th anniversary this year.
"We have a rich history of doing the right thing by our people, planet and partners and as the UK's leading fish and seafood business, supporting and recognising the next generation of seafood chefs is important to us."
The deadline for applications and paper entries to the competition is Friday 1st April 2022. For more information visit the website https://ukseafood.co.uk/.