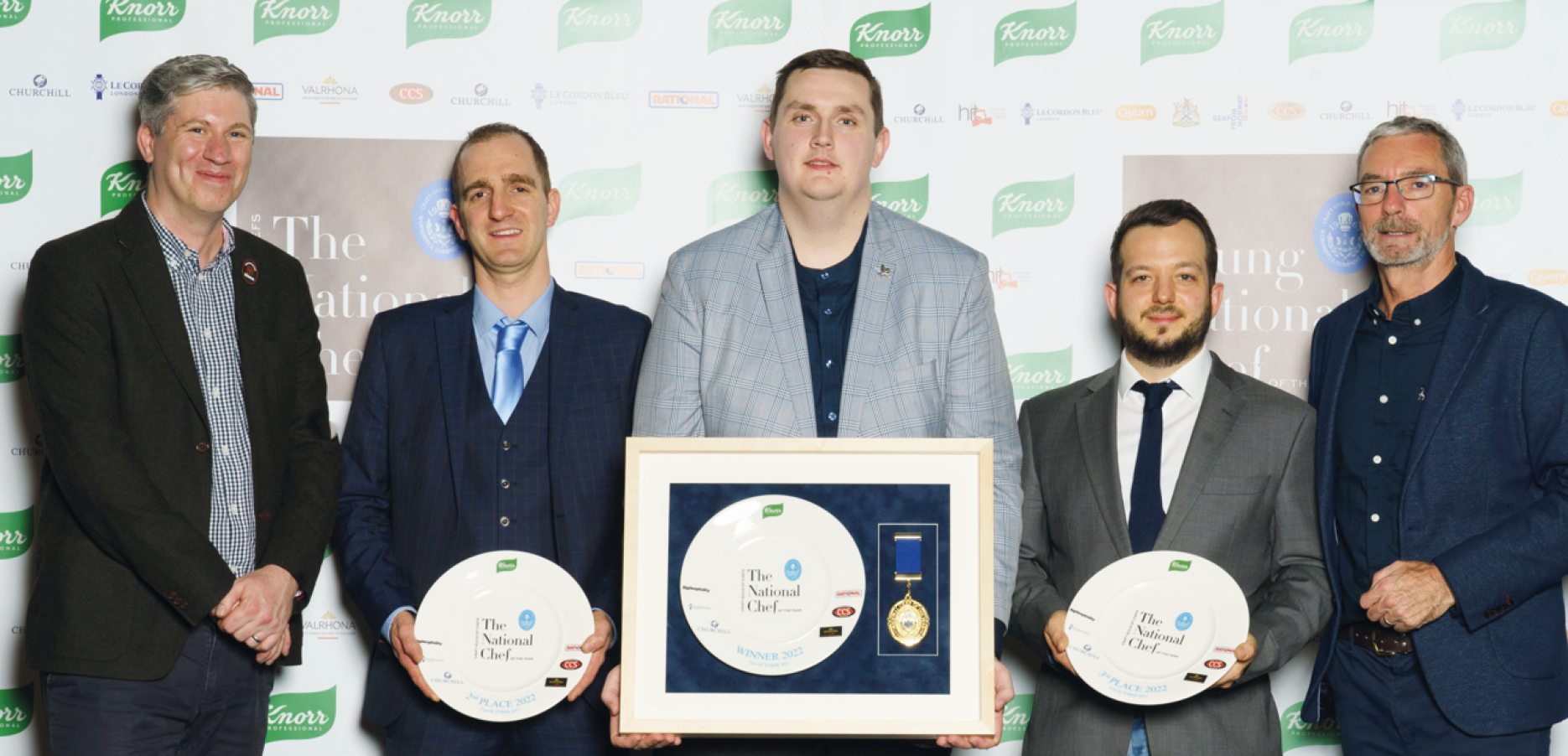 31st January 2022
Interview with National Chef of the Year winner Thomas Swaby
NCOTY winner Thomas Swaby tells Stockpot editor David Foad why he adopted an obsessive focus on flavour when he went into the National Chef of the Year competition.
David Foad: Now you've had a bit of time to take it all in, can you tell how it felt when you were announced as the winner?
Thomas Swaby: The main feelings have been pride and shock. I was hopeful I could make top three this year but after watching the day back I wasn't convinced I had done enough. Then when they announced third, then second I kind of resigned myself to think about re-applying for next year. But when I was then announced the winner, I just felt pure pride and complete shock in achieving such a massive award. It's been a tough year for me and so many, and this just made all the tough times worth it.
DF: We'd like to know a little more about the dishes you cooked. Can you tell us why you chose them and how you saw them fit the brief?
TS: For me the brief Paul Ainsworth set was fantastic, it was a great brief to work with. The starter was fantastic because the Future 50 list is brilliant and I think a-lot of chefs can take a lot from it. As chefs we need to look more towards sustainability and using less meat and fish where we can and where it is not needed. The mushroom dish was based on a wonderful dish I had at Benu [a three-Michelin star restaurant located in the SoMa district of downtown San Francisco] a couple of years ago. I wanted to stay away from the traditional beetroot etc which I find that we, as chefs, can be too quick to turn to on this list.
The main course was surf and turf and for me it was very simple, it was all about wonderful produce. That meant Orkney scallops, which are the best in the world, the suckling pig was from Udale farm, again world class produce. I find it's easy to make flavourful dishes when ingredients are this good and this was all about flavour. I'm sure many a chef can make things look stunning on a plate, but for me I wanted the flavour to shine through. Using the whole pig is important - and who doesn't love crackling! I believe that chefs should always try to use every part of the product so I wanted the trotter skin in the sauce.
Dessert was hugely based on childhood memories, lockdown and my favourite classic British dessert - sticky toffee pudding. I didn't want to go down the road of banana bread etc, with it being lockdown-based, I wanted to keep it simple. I find when you break apart a classic pudding when you're eating it, it needs to taste of what you broke apart. Using modern techniques is great, but for me everything you do and you use has to play a part, making a difference for a real reason.
DF: Did you run into any problems on final day or did it all go smoothly? Were you very nervous? How did you approach it mentally?
TS: I felt fortunate that I didn't run into any major problems, and for me things mostly went smoothly. The only thing that didn't set was an ice cream, but I had made allowances for this.
I wasn't as nervous this year compared to last because I think I let the occasion get to me last year. This time I think that mentally I had a better and different approach which I think really came through with the food. I think my main mentality was about making sure the dishes were all about flavour, flavour and flavour.
Of course I wanted the dishes to look sharp, but I didn't want any compromise on the flavours. I also think that mentally you just need to stay focused on yourself, that's all you can control. Don't worry about the chefs beside you, you have to simply focus on your cooking and your cooking alone.
DF: What's been the reaction from friends, family and colleagues?
TS: It's been amazing, lovely and humbling to have so many kind words. My parents and family are obviously proud, and that's an amazing feeling to feel I've done them proud. It's been wonderful hearing praise from colleagues, people within hospitality and my friends about my cooking and character.
DF: Going back to the beginning, tell us how you became interested in cooking?
TS: I have always had a love for food and cooking. Whether it would be at my grandmother's house waiting and always asking what she was cooking, to my father, who always cooked and was a chef for a while. It's always been a passion of mine, I love the camaraderie of a kitchen environment, the teamwork , the hard work and the passion. I feel that food brings people together and that's such an important thing. As soon as I got my first job in a professional kitchen I just knew it was where I wanted to be.
DF: What work experience and training did you have prior to becoming head chef at Inverlochy Castle?
TS: I've worked in a few different kitchens, but my background is mainly classical French cooking. I started off in a hotel in Canterbury when it was under the Michael Caines name, then from there I moved to Surrey to Penny Hill Park, then Launceston Place, Gidleigh Park then Roux at Parliament Square before I took a season out in the Caribbean last winter.
I've been fortunate enough to work under some fantastic chefs and done a couple of stages in America. You never stop learning as a chef and you never will.
DF: What or who persuaded you to enter for the National Chef of the Year competition?
TS: My former head chef Steve Groves pushed me to apply and I'll forever be thankful to him for doing so. He always encouraged the chefs in the kitchen to do certain competitions at certain times and he is always great with his advice to all the chefs in his kitchen. So for me to apply and then, at the second attempt, win such a prestigious award will forever live with me.
DF: Tell us a little bit about how you've found the experience of competing in National Chef of the Year?
TS: It's been a wonderful experience. The fact the competition has still gone ahead during these tough times for the whole of hospitality and during the pandemic is just testament to the competition and those who put it on. It shows how big and how well-received the competition is both within and even outside the industry. To have the level of chefs they had on the judging panel to critique and give feedback on your food is amazing to any chef. To compete with and against some of the country's best chefs is an absolute pleasure; it's just a great competition to test yourself in against others and be judged by some of the best chefs around.
DF: What would you tell any other chef who was wondering whether or not to enter?
TS: Just do it! Don't have any fear of failing, don't worry about what could happen or might have been, get yourself entered. Then take it step-by-step, believe in what you are doing, remember to taste, and make sure your dishes are packed of flavour and are a true representation of who you are both personally and as a chef.
DF: Finally, can you share with us anything about any future ambitions you've have as a chef?
TS: To be honest, I'm unsure what the future holds. I would like to head up a kitchen again and cook my own food and push and drive a team forward. We all have ambitions and that's what keeps us going as chefs. Suffice to say, I am definitely looking forward to seeing what the future holds and what opportunities arise.