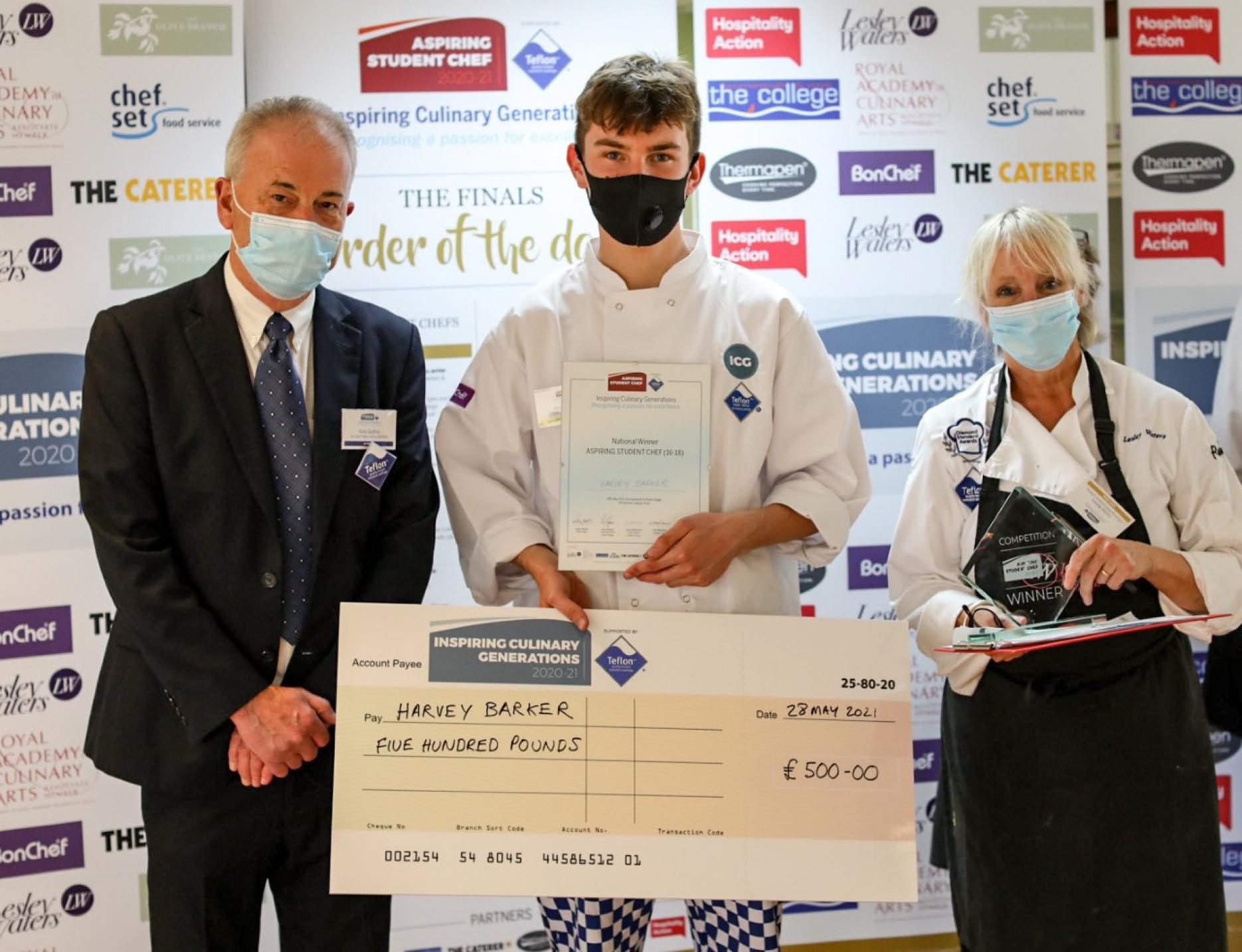 3rd June 2021
Inspiring Culinary Generations crowns winners of student chef competition
Inspiring Culinary Generations, a national cookery competition that offers those attending school and catering college the opportunity to showcase what they have learnt, has announced the three winners.
Seventeen shortlisted finalists, across the three age groups, attended Bournemouth & Poole College to cook their signature dish for the panel of judges.
The 2021 national final winners include:
Aspiring Student Chef (11-13 years) – Louie Whelan-Dorney, Tendring Technology College. Winning dish: rack of lamb with red wine jus, pomme fondant and pea, courgette, lemon and mint fricassee.
Aspiring Student Chef (14-16 years) – Reece Bosowitz, Marriotts School. Winning dish: fillet of duck breast with black pudding, scotched quail egg, pan roasted honey glazed carrots, cider fondant potato, with sloe apple meat jus and roasted hazelnuts.
Aspiring Student Chef (16-18 years) – Harvey Barker, Corfe Hills School. Winning dish: duck breast, breetroot purée, roast Jerusalem artichokes, pickled red cabbage and a sauce of beurre noisette, fruit vinegar and the duck's roasting juices.
Barker was awarded the prestigious three year Specialised Chef Scholarship to gain insight into the world of professional catering.
He commented: "I'm absolutely overwhelmed! I'm really happy with the final result as there were a number of difficult elements – from beetroot purée to the pickled cabbage, and of course the duck – that involved crucial timing.
"I was worried that I could have rested the duck longer, but in the end it all worked out. I am really grateful for the opportunity to showcase my skills here and I'm excited for what the future brings."
All three winners received bundles of Teflon non-stick coated cookware, gift sets from Thermapen and cash prizes of up to £500. Online entries for the Inspiring Culinary Generations 2021-22 are now open.