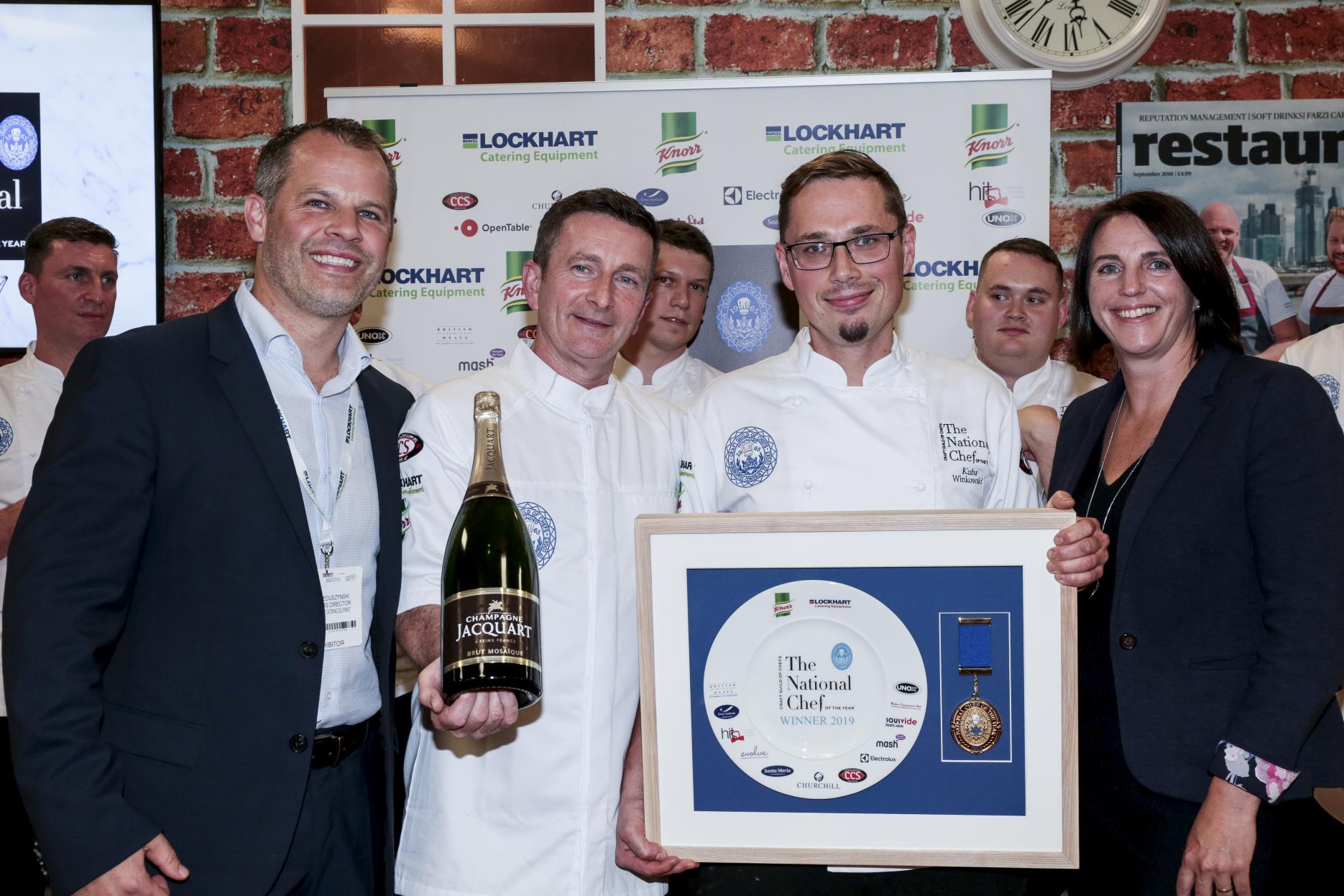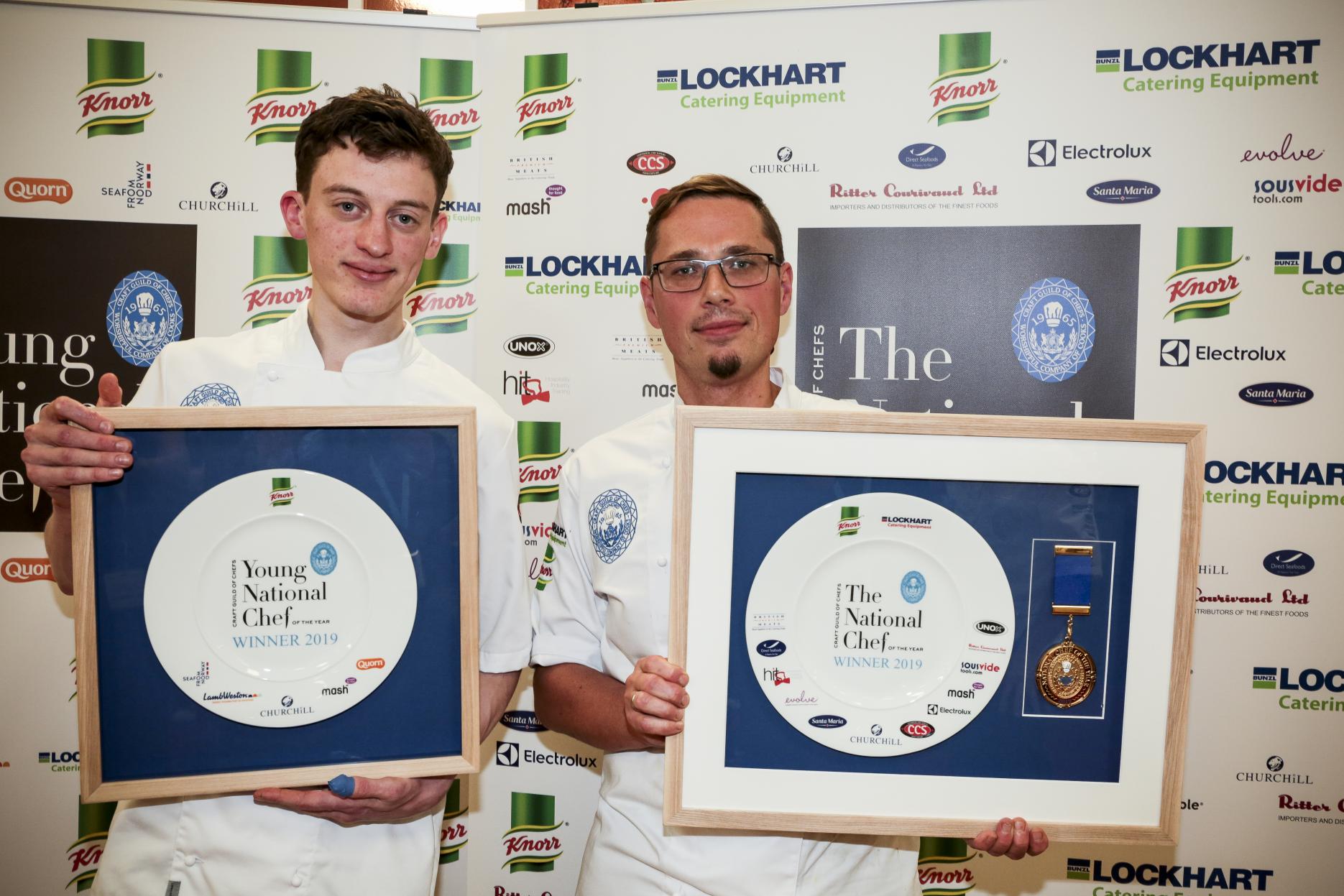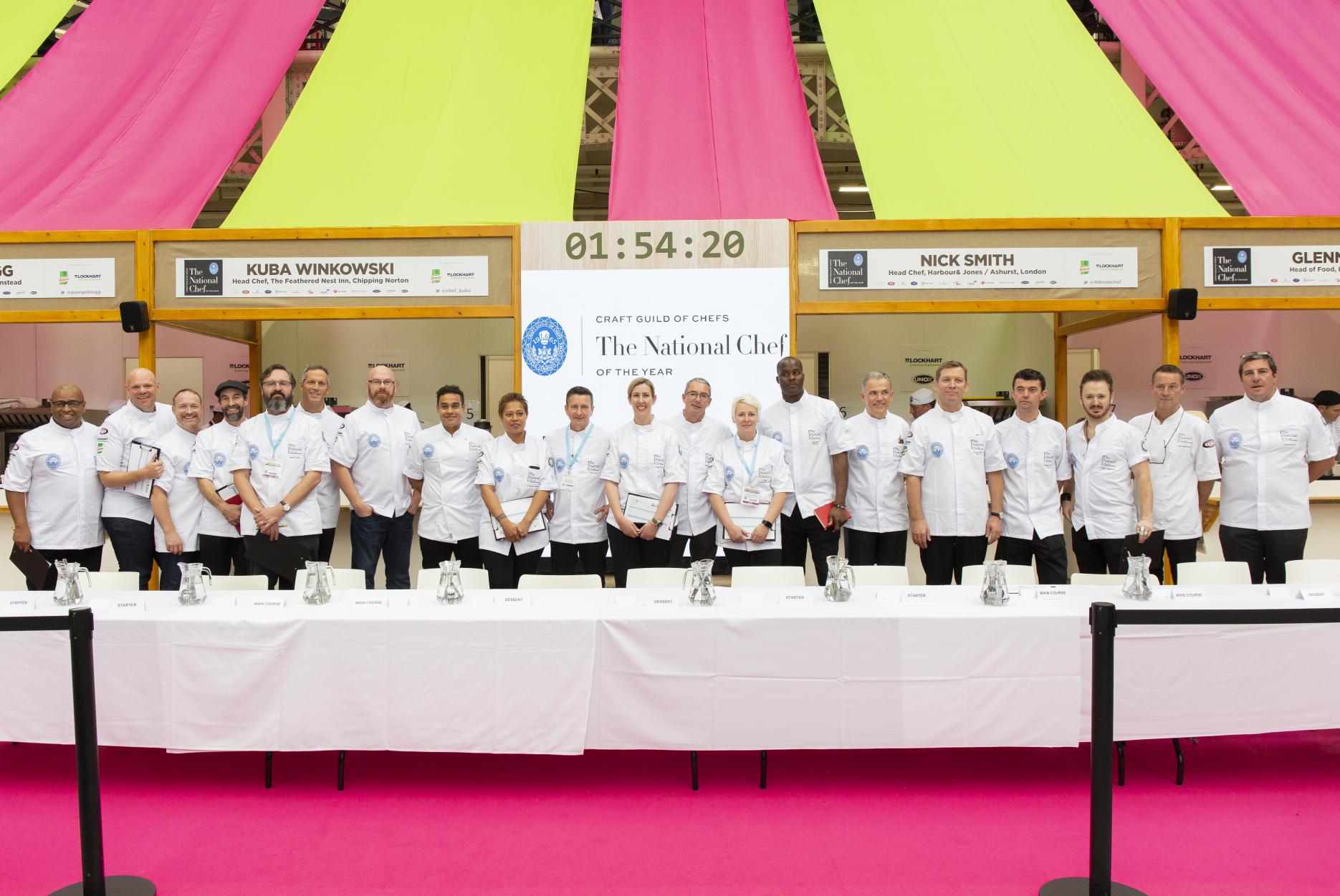 3rd October 2018
Craft Guild announces 2019 National and Young National Chefs of the Year
Kuba Winkowski, head chef at The Feathered Nest Inn (Cotswolds), was last night crowned the Craft Guild's 2019 National Chef of the Year.
Judged by 21 of the UK's leading chefs, the panel, once again overseen by Gary Jones (executive chef of Belmond Le Manoir aux Quat'Saisons), unanimously named Winkowski the UK's most up-and-coming chef.
His final menu comprised: native lobster with oyster emulsion, celery and sea herbs buttermilk; Yorkshire grouse, cabbage, foie gras, quince, celeriac and seeds; followed by a sticky toffee, lemon, clotted cream and walnut dessert.
After eight months of fierce competition, NCOTY culminated with a live final held at The Restaurant Show yesterday (2 October), with the winners announced as below:
Winner Kuba Winkowski, head chef at The Feathered Nest Inn
Runner-up George Blogg, head chef at Gravetye Manor
Third place Derek Johnstone, head chef at Borthwick Castle
The live cook-off was the grand finale after a series of rigorous challenges, which each of the ten finalists undertook during this culinary journey.
Starting with an online entry in February (where chefs were tasked with devising a three-course menu for two guests), 40 were anonymously chosen to battle it out at either Sheffield College or Le Cordon Bleu (June).
From there, our ten finalists were selected and judged by a highly-esteemed panel for yesterday's final, including: Tom Kerridge, Clare Smyth, Claude Bosi, Jonny Lake and Paul Ainsworth.
Gary Jones, NCOTY chair of judges, commented: "This has been a fantastic final, with an exciting line-up of chefs from a variety of sectors.
"The chefs have really thought about the brief that I set at the mentor day. As always, it's been good to see former finalists return, as this shows persistence and tenacity, which is what every talented chef needs.
"As chair of judges, I didn't make it simple by choosing lobster and grouse. Both are easy to get wrong - especially under the pressure (of the final) and in a completely different environment to normal.
"Kuba was frustrated after last year, not because he didn't win but because he wanted to be better. He's gone away and thought about what he could achieve with real determination, ambition and competitive spirit.
"He's sharper and fitter than he's ever been, so he could be the best chef possible and he absolutely deserved to win today."
David Mulcahy, event organiser and Craft Guild vice president added: "All ten finalists have done an incredible job, not only today but throughout the competition.
"To get to this stage, they've already beaten some of the UK's best chefs. At each step, competitors have had the opportunity to connect with other chefs, judges and suppliers, and this has helped them grow both personally and professionally.
"Each year we look for ways to develop this award and the Guild has recently enjoyed some inspiring discussions and debates on topical issues (such as the chef shortage, PR and sustainability).
"These finalists are true ambassadors for the hospitality industry and we'll be watching their careers with great interest."
Following the announcement, Winkowski told us: "I am obviously super happy but for me, the feeling of relief is immense.
"Coming back for a second time really helped because this time, I knew more about the venue and the whole competition experience. This meant I only needed to think about the cooking.
"Winning isn't just about me though. I have an amazing team around me and it takes dedication from us all, including my commis chef who has worked with me for hours on end over the last few weeks.
"Everyone who knows me will be sick of lobster and grouse as I've made them taste my dishes over and over again. I am just so relieved that the practice has truly paid off."
Although the title of National Chef of the Year is always the most sought-after prize, the overall winner will also enjoy an extensive list of gifts:
NCOTY winner's medal
One year's Membership to the Craft Guild of Chefs
Chance to create his/her own recipe book and receive a media training session OR £7,500 towards their own culinary development - thanks to headline sponsor KNORR
£1,250 voucher to spend within headline sponsor, Lockharts' range, as well as a Norwegian culinary prize trip for both the NCOTY and YNCOTY champions (in 2019)
Exclusively designed winner's plate framed and £500 worth of Churchill products
A bespoke knife from Savernake Knives
Earlier in the day, ten chefs aged 24 or under battled it out for the Young National Chef of the Year (YNCOTY) title.
Henry Wadsworth, chef de partie at Belmond Le Manoir Aux Quat'Saisons, was named the overall winner, after serving a menu of: baba ganoush, medjool dates, preserved lemon, tempura; poached halibut Veronique for main with Suffolk red grapes, cucumber and verjus; and a caramelized pear tart.
Aaron Middleton, sous chef from Hide Above, took home second place followed by Conner Farrer, chef de partie from The Ritz (London) in third.
Mark Sargeant, chair of judges and ambassador for Young National Chef of the Year, said: "The standard was really high today and the competition was close, especially for second and third.
"However, for me, Henry was really on form and deserved that top spot. He's been part of the competition for two years but today he just nailed it. His food was simple, delicious and spot on, and as soon as I tasted his three fantastically consistent dishes, it was clear that he was the winner."
Each year, competition sponsor Churchill awards a prize for the best presentation of the day for either a starter, main course or dessert. The 'People's Choice' Award is open to all young and senior competitors, with votes taken by the public via social media.
This year, Derek Johnstone – NCOTY competitor from Borthwick Castle – took home the Churchill People's Choice Awards for exceptional presentation of his starter.
You can continue to follow the story of the competitions on Twitter with @Craft_Guild and #NCOTY and #YNCOTY and on the website at www.nationalchefoftheyear.co.uk.