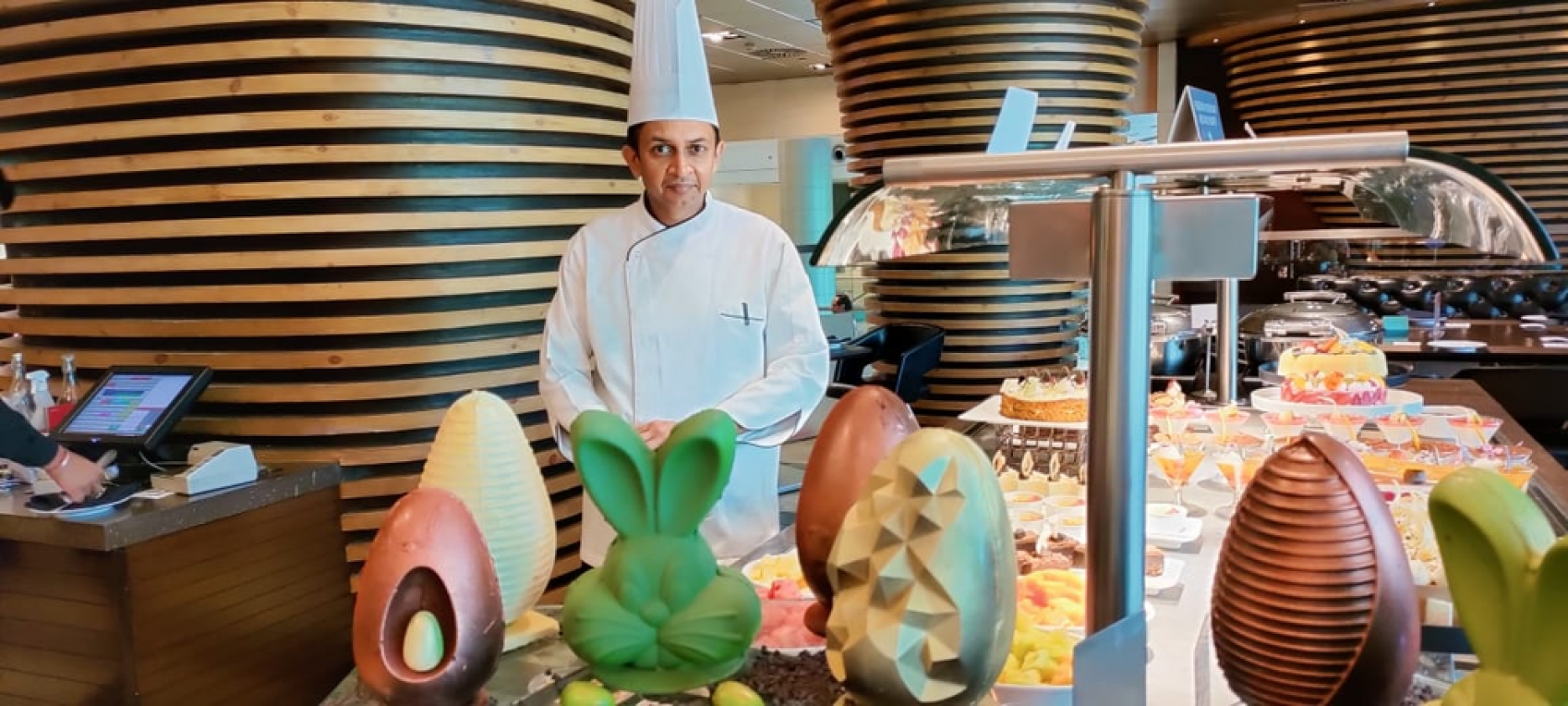 11th May 2022
Pastry chef Vivek Chauhan receives praise for Easter buffet
Craft Guild of Chefs member Vivek Chauhan received praise from UK chef Alan Coxon and The Queen's chef Mark Flanagon for his Easter buffet.
Chef Vivek of Le Meridien created a range of Easter desserts including chocolate Easter bunny, bunny ear Easter cupcakes, timeless classic hot Cross Buns, lemon blueberry posset and Easter simmel cake.
He said: ''I have learned easter recipes during my early stint in London, the UK with One Aldwych, The Lancaster and The Westbury Mayfair while working with the master gourmet experts and finally, getting significant remarks from them means the world to me."
Simmel cake recipe:
Ingredients
Almond Paste:
Castor Sugar - 375 gm
Ground Almonds-375 gm
Egg   - 120 gm 
Almond Essence- 1 tsp
Cake:
Butter – 350 gm
Demerara Sugar – 325 gm
Eggs -6 no.
Refined Flour-350 gm
Salt- 1 tsp
Mixed Peel – 105 gm
Lemon Zest- 1 no.
Method
For Almond Paste:
Mix Castor Sugar & Ground Almonds. Add Egg and knead to make a paste.
 For Cake:
Cream Butter & Castor Sugar together until pale and fluffy. 
Gradually pour eggs slowly until well incorporated. 
Sift in flour, salt, and mixed spice.
Finally, add mixed fruit peel into the above mix.
Put half the mixture into already lined rings. Smooth the top and cover with the circle of almond paste. Add the rest of the cake mixture and smooth the top leaving a slight dip in the centre to allow for the cake to rise. Test by inserting a knife in the middle – if it comes out clean, it is ready. Once baked, remove from the oven and set aside to cool on a wire rack.
Brush with the apricot jam on top of the cooled cake. Divide the remainder of the almond paste in half. Roll out a circle to cover the top of the cake with one half and form small balls with the other half. Place the circle of paste on the cake and set the balls around the edge. Brush the cake topping with a little beaten egg.
Glaze with a blow torch.