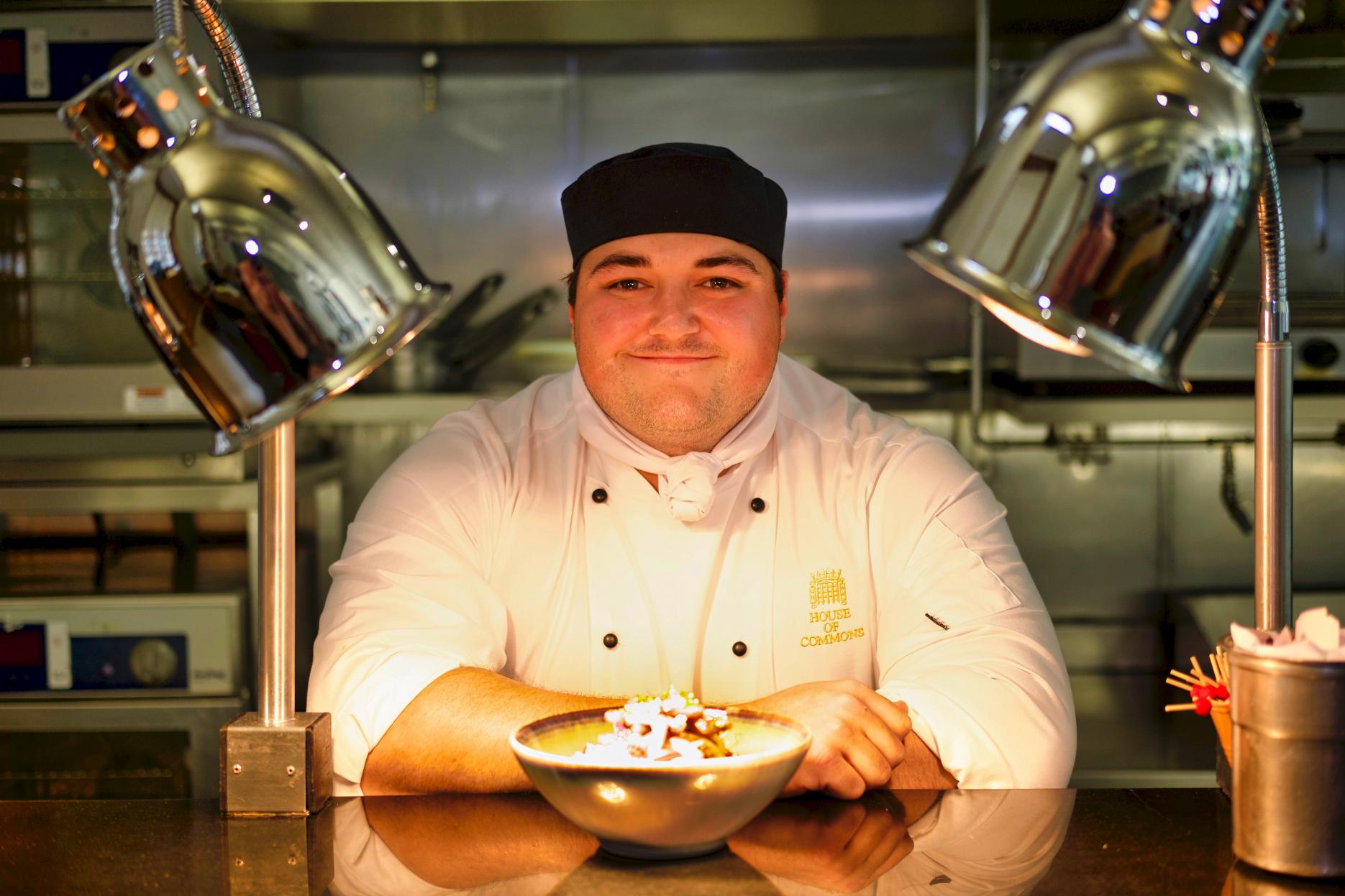 25th July 2022
Craft Guild 'Rising Star' takes part in interview for Stockpot
Conor Bird was identified as a 'Rising Star' at this year's Craft Guild of Chefs 'Honours & Awards' event. Stockpot met him to find out more…
Conor Bird is currently senior chef de partie responsible for the Adjournment restaurant within the catering complex at the House of Commons and was identified recently as a 'Rising Star' at the Craft Guild's AGM & Awards lunch in April.
Conor completed his chef training via the three-year, full time, Professional Chef Diploma course, at Westminster Kingsway College. After graduating, he took up work positions first in Canada and then at the Duck & Waffle in London, before joining the chef team at the House of Commons in 2015.
Conor is seen as a keen chef competitor and has already enjoyed great success in his short career.
He was named a Craft Guild Graduate award winner 2020, became a Roux Scholarship regional finalist and a British Culinary Federation (BCF) Chef of the Year finalist, both last year, as well as finding time to win silver, gold and best-in-class awards at the HRC Show at Excel in London.
He continues to support cookery competitions by mentoring younger chefs in events such as the Craft Guild graduate award scheme and the Wing Yip Young Chef of the Year. The Guild says he is a hard-working and talented chef who displays great enthusiasm and interest in food and cookery of all styles and cultures.
The Craft Guild wase pleased to be able to recognise his competence and commitment to the hospitality industry at its Annual Awards & Honours this year and wishes him every success as he pursues his career in quality catering.
Quick Interview with Conor Bird
1. What are your earliest memories of food?
Conor: Cooking with Dad at the weekends and preparing home-made steak and kidney pudding for Granddad.
2. What was your first catering job?
Conor: Working at the local rugby club assisting in the preparation, cooking and service of player lunches and award events.
3. What things do you like about your career within catering?
Conor: The ability to go and work virtually anywhere. Being a chef can provide interesting job opportunities internationally.
4. What things do you dislike about your career within catering?
Conor: While enjoying sensible and productive working conditions currently, the industry as a whole faces challenges in providing employees with a successful work/life balance.
5. What do you enjoy most about cooking?
Conor: The ability to make people think and act, as well as using food and cookery to surprise.
6. What do you get up to on your days off?
Conor: I enjoy time with the family and cooking different things with different styles. I like to experiment. Right now I have a particular interest in Spanish and Italian food cultures.
7. Where would you like to eat if no expense was spared?
Conor: 11 Madison Park, NYC. Daniel Humm's decision to launch a completely plant-based menu was very brave.
8. Where do you see yourself in ten years time?
Conor: Running my own place. A small, but top quality establishment specialising in Mediterranean style sharing plates and tapas-style service. I'd also like to be offering customers top end in-house bakery and patisserie products.
9. Favourite ingredient?
Conor: Working with second-class cuts of meat, such as lamb neck, breast, shoulder, etc or with beef chuck, blade, shin or ox-cheek. They can provide huge potential for flavour, taste and innovation at an economical cost.
10. Wagamama or Yo Sushi?
Conor: Wagamama for sure.