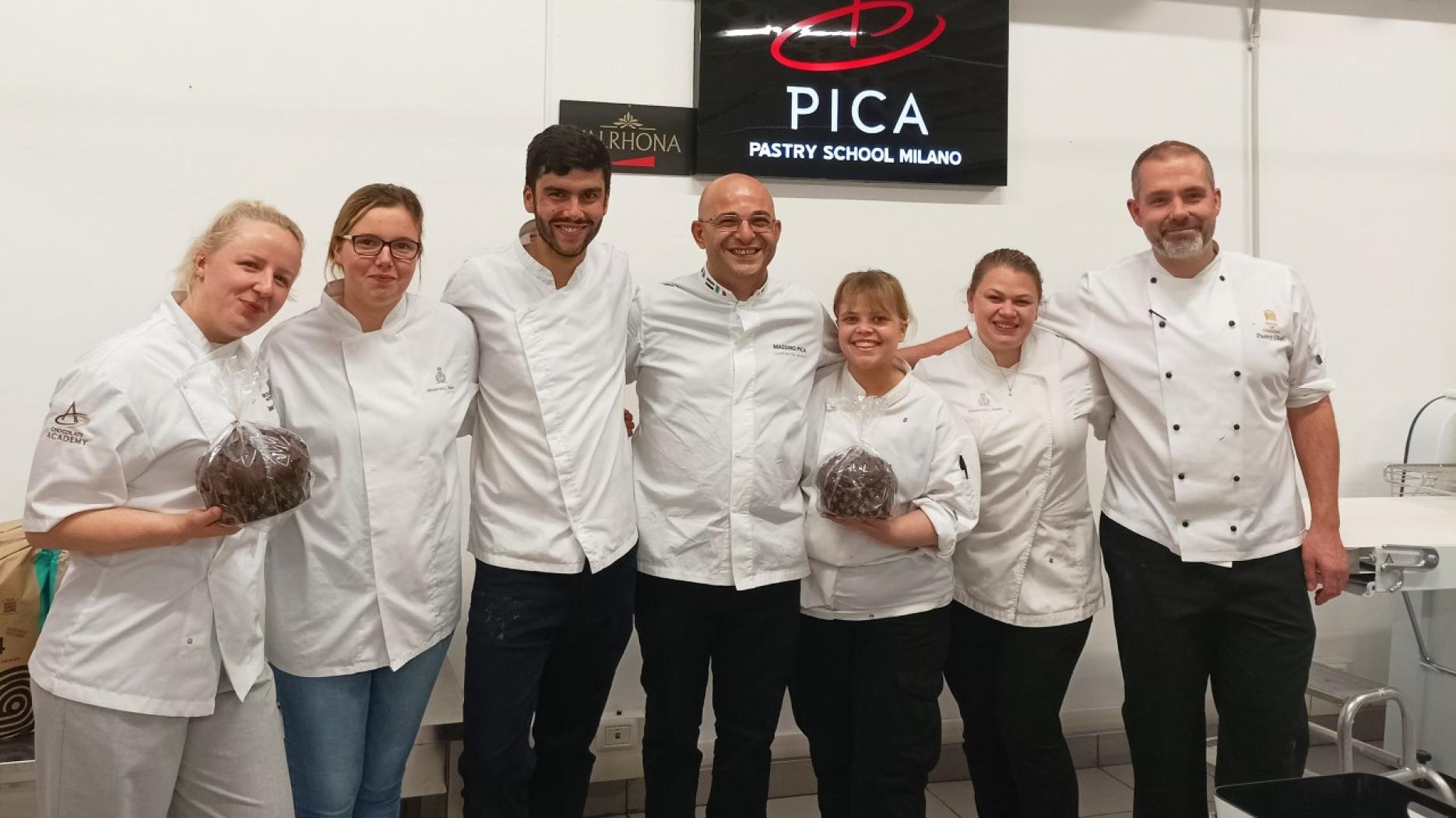 6th December 2022
Craft Guild of Chefs offers young pastry chefs access to 'unique experience'
Following a successful collaboration with business partner NOWAH, The Craft Guild of Chefs and A Passion to Inspire have revealed they will each be offering an educational visit to the pastry school in Milan run by Pastry World Cup champion Massimo Pica as part of their awards programmes in 2023.
Pastry chef graduates from the Craft Guild of Chefs Graduate Awards will be invited to experience this unique trip as will the winner of the Young Pastry Chef 2023 competition organised by A Passion to Inspire.
Representatives from both organisations were amongst a group of leading chefs who attended a recent trip to the school in Milan, organised by NOWAH. Other chefs on the trip included Sarah Frankland executive pastry chef at Pennyhill Park Hotel, Andrew Ditchfield executive pastry chef at House of Commons and Mathieu Dias head pastry chef at Brown's Hotel London.
Steve Munkley, vice president of the Craft Guild of Chefs, said: "On behalf of The Craft Guild of Chefs I was thrilled to be asked to put together a talented group of young pastry chefs to experience this amazing educational trip. The feedback from the chefs who attended has been outstanding, with the highlight obviously being the opportunity to learn from a pastry making master."
During the two-day experience the chefs worked on a range of different pastry skills including Panettone making (Massimo used his own mother yeast/lievito madre), bean-to-bar chocolate work, including an introduction to the stages involved in the chocolate making process such as roasting and nib grinding, and Viennoiserie creation during which pastry was prepared using Kemplex dough sheeters.
Youli Chrysikaki, NOWAH director, added: "The sole purpose of the NOWAH Milan Experience is to provide gifted young professional chefs with an inspirational personal development and growth opportunity. Through our association with Kemplex, and Massimo, we are delighted that going forward we will be able to offer this amazing experience to young, talented, British pastry professionals via The Craft Guild and Passion to Inspire."
Thoughts on the trip:
Sarah: "What an absolutely fantastic experience it was. Massimo was a wonderful teacher and the way the class was run really gave us time to use and then see the Kemplex products in use. The content was really exciting, with a perfect pace of learning and support from Massimo's team. I know this will be a fantastic experience for any young chefs lucky to be able to join in the future."
Andrew: "This was an amazing learning experience. The demonstrations from Massimo were incredibly in-depth and he and his team made them very easy to follow. All the chefs were sharing information, ideas and helping to problem solve - it was so good to see."