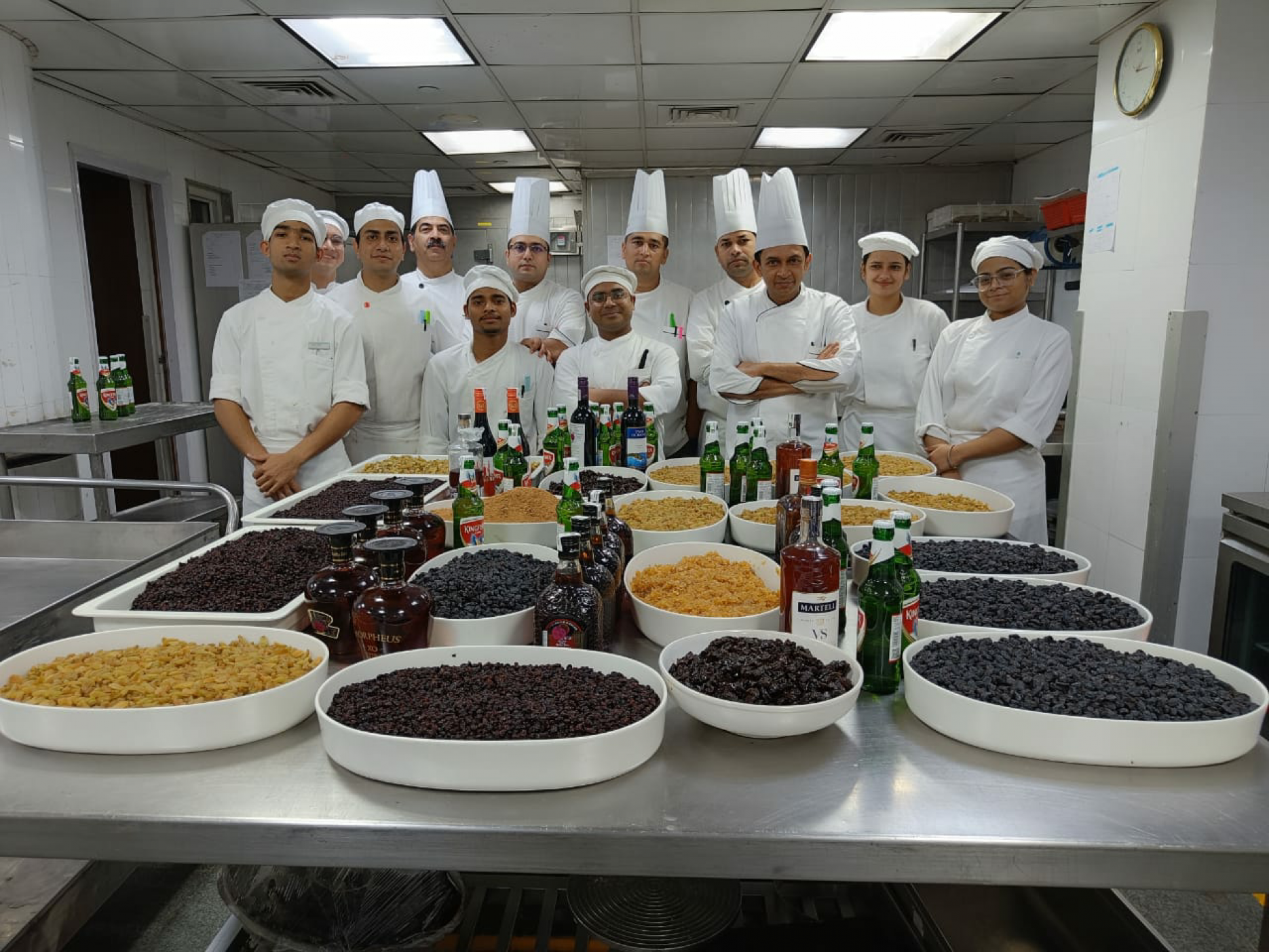 11th November 2022
Chef Vivek unveils Christmas cake & pandoro bread recipes
Craft Guild of chefs member Vivek Chauhan, who is currently executive pastry chef at Le Meridien in New Delhi, has unveiled two Christmas recipes.
The practice of cake mixing begins quite early, mostly in the first week of November itself. It is an age-old tradition where kilograms of dry fruits, nuts, and spices are combined together to form a mixture.
This mixture is then soaked in alcoholic blends for some days to let them soak all the flavours and aroma. Since alcohol is a preservative, the mixture is preserved for a long time period. It is said that preserving the cake mix for a year can attract good luck and harmony.
He said: "The ceremony marks the advent of the festive season and through this we look forward to spreading the warmth of this season of merry making this ceremony which encourages. In the end, it is food that is the thread that binds cultures, societies and festivities together."
No Christmas celebration is complete without a typical Christmas pudding and Plum cake. What sets chef Vivek's apart is the enhancement he adds to the preparation of the dish- using typical British alcohol, carefully intertwined with traditional ingredients to provide a modern twist to a festive recipe.
For cake mixing, almonds, cashews, raisins, cinnamon, cloves, nutmeg, dried ginger, candied fruits, prunes, walnuts, are mixed together. The alcohols used are Cognac VSOP and VS, brandy and dark rum to name a few.
One key that sets chef Vivek's work apart, is his nuanced use of knowledge garnered in the UK, to the Indian dining experience. And, along with his British chefs and Indian chefs, who taught him, he gives his heartiest thanks to chef Davinder Kumar, his team, Shefali Singh (PR manager) and to his family. 

Christmas Pudding
Ingredients:
Dry fruits
Currants - 6 kg
Sultanas - 12 kg
Raisins - 12 kg
Mixed Peel - 5 kg
Prunes - 2.25 kg
Stem Ginger - 750 gm
Muscavado Sugar - 2.6 kg
Mixed Spice
Liqueur:
Guiness - 7.5 pints
Grand Marnier- 570 ml
Brandy - 1.2 Itr
Maderia - 1.2 ltr
Sherry - 1.2 Itr
Dark Rum - 1.2 Itr
London Pride/ Perroni - 7.5 pints
Fruits:
Apple - 4 Kg (1⁄2 Cooking + 1⁄2
Braebun)
Orange Segments - 2.250 Kg
Orange Zest - 5 no.
Lemon Zest - 5 no.
Items to be added in the end:
Whole Egg - 1.8 Kg
Flour - 2.7 Kg
Bread Crumb - 1.5 Kg
Vegetarian Suet - 1.5 Kg
Method:
Mix all dry ingredients in a container. Pour liquor over mixed dry ingredients and leave to
soak for 2 months in the fridge.
Churn the mix everyday so that fruit absorbs liqueur equally. Grate apples, chop oranges
and mix. Mix flour, bread crumb, whole egg, vegetarian suet. Finally mix with fruit mix.
Keep the mix in desired moulds and steam it at 90c for 4 and half hours.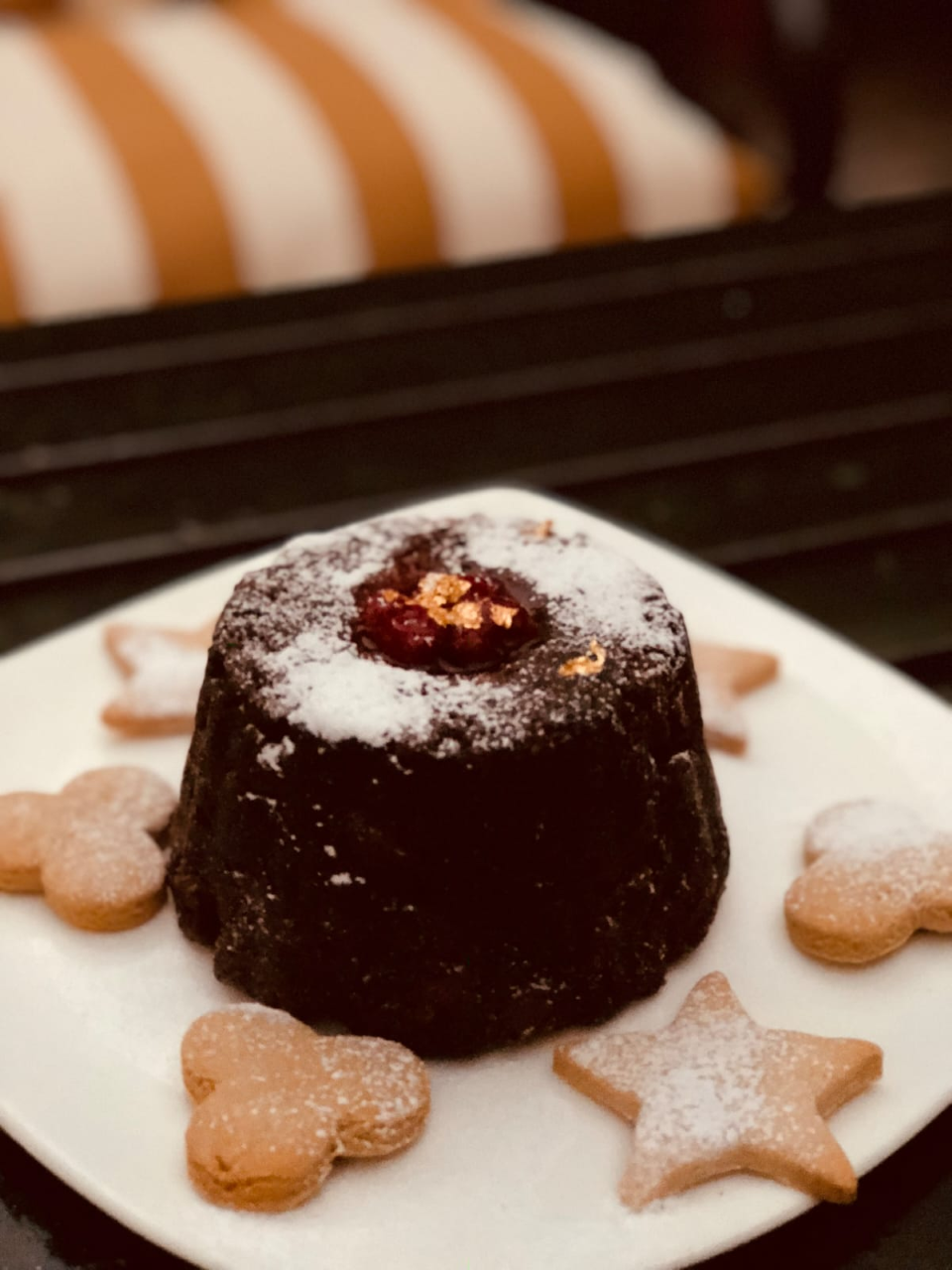 Pandoro bread
Ingredients:
Warm Water - 60 ml
Yeast - 30 gm
Sugar - 5 gm
Egg Yolk - 20 gm
Flour - 28 gm
For Dough:
Flour - 680 gm
Egg Yolk - 140 gm
Butter - 30 gm
Water - 60 ml
Egg - 2 no.
Lemon Zest - 1 no.
Vanilla Bean - 1 no.
Method:
Make the Starter with water, yeast, sugar, flour & egg yolk and Refrigerate for 2 hours.
Mix egg yolk, egg, yellow colour and water together.
Mix softened butter. lemon zest ,& vanilla bean in the above mix.
Finally fold in flour and knead for a few minutes.
Add starter in the above mix
Knead the mix to make a dough.
Prove the dough to attain required volume.
Knock back and put the dough in the Pandoro mould.
Prove it till it comes to 3⁄4 of the mould.
Bake it at 170 C for 20 min.
Serve it with Pomegranate salad and Crème Fraiche.