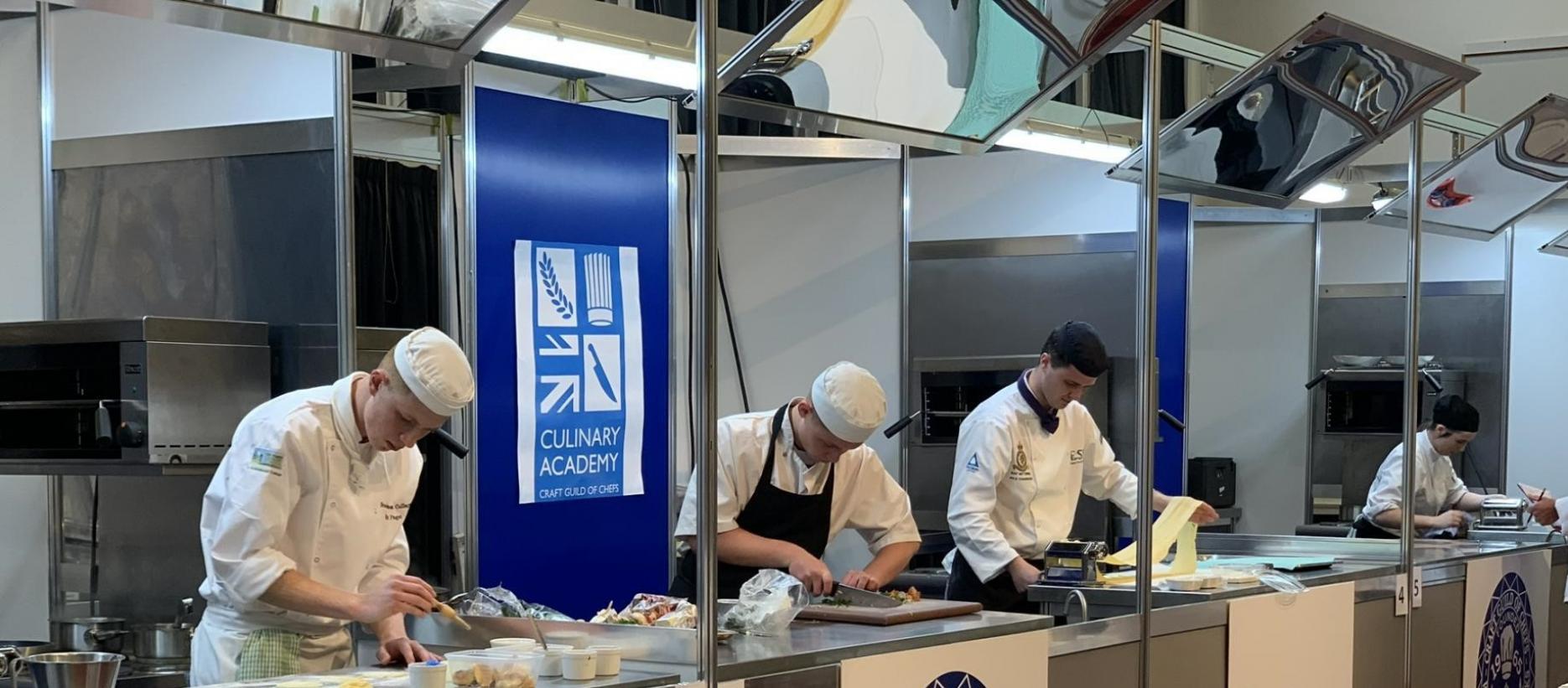 28th October 2022
Young chefs score 18 Gold Awards at 2022 British Student Culinary Championships
Students from across the UK have taken part in the prestigious British Student Culinary Championships (BSCC). Held at Central Bedfordshire College on 25-26th October, this two-day event was attended by more than 100 guests, judges and students and colleges.
The BSCC is one of the UK's largest live culinary competitions, now in its 24th year. The event is the brainchild of Craft Guild of Chefs vice president Steve Scuffell, who set it up with the aim of supporting student and young chefs by offering them a chance to experience their first competition environment.
The championships include numerous classes such as live hot, and live cold, alongside various static classes, all of which are judged independently with standards of Gold, Silver, Bronze and merit awarded to those that reach the relevant specification. Over the two days an incredible 18 Gold, 31 Silver and 27 Bronze Awards were handed out to young chefs.
Chef Sophie Weiner from Lakeland College was awarded two Golds for her skill in the patisserie and bakery challenges. Chef Chloe Bell from Hull College, took home four awards, one Bronze, one Silver and two Golds in the Risotto, and Terrine or Pate challenge.
Other Gold Awards were presented to Chefs Emily Simkins, Fann Kiarumb, Najib Ali, Maiick Mgaye Gueye, Maculey Lloyd, Maija, Jiovaina Sandoval, Marz Love, Catherine Holder, Simisola Balogun, Maija Kolate-Frisenfelde and Megan Hall-Morrow.
Craft Guild of Chefs chief executive Andrew Green and chairman Matt Owens attended to lend their support, and Craft Guild of Chefs vice president Steve Munkley joined the judging panel.
Green commented: "As the largest student-based catering competition in the country it's a fantastic event and a wonderful opportunity to see first-hand the passion in our up and coming chefs. It's also a great opportunity for the students to network peer to peer, and with other colleges."
To view the full list of results, view the tables below.