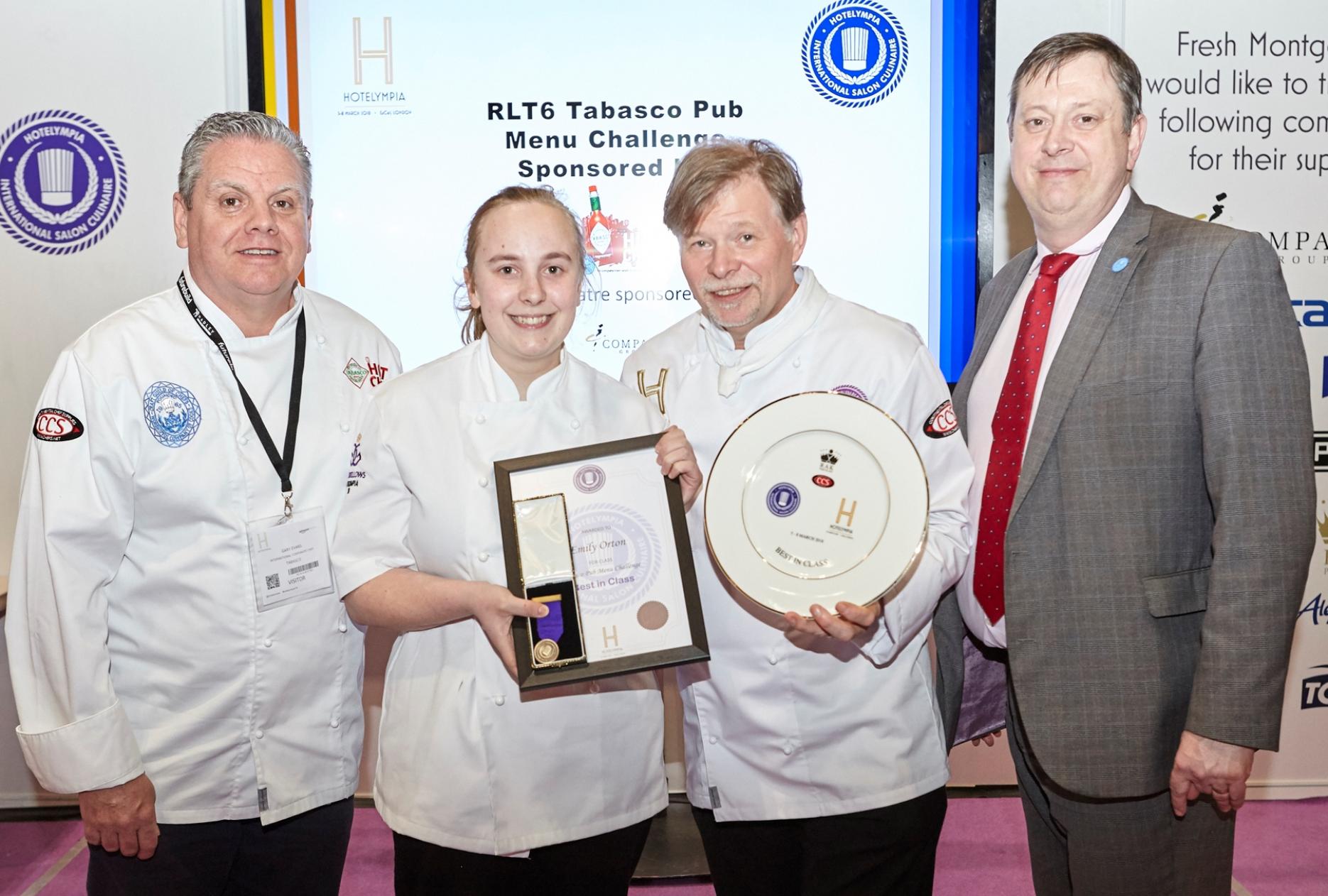 27th July 2018
University of West London chef wins TABASCO Brand's 2018 Hot Chef Competition
University of West London apprentice, Emily Orton, took home the winning title of TABASCO Brand's Hot Chef Competition 2018 following the live final at Hotelympia (March).
Held in partnership with the Craft Guild of Chefs, the 10 finalists were tasked with creating a starter and main course for a mainstream pub menu, using Tabasco pepper sauces in both dishes.
Orton's dishes included: a 'Tipsy Sausage Roll' starter and hunters Pie with TABASCO chipotle confit chicken for main.
She said: "I feel overwhelmed and incredibly excited to have won the competition. I spent months, weekends and loads of extra hours creating my two dishes and winning makes it all worthwhile!
"I still can't believe that I won! I loved the competition, working with the flavours and developing my menu. My inspiration came from a recent trip to Florida where I got the chance to see what type of food they eat out there. Plus I follow a lot of food web sites and social media feeds such as 'tasty' and 'thefeedfeed.com' on Instagram and Facebook.
"My idea was to bring typically American food into a British pub theme, so for example a cottage/Shepherd's pie using BBQ chicken (I call it Hunter's pie) and a pulled pork sausage roll combined with TABASCO Sauce to enhance their flavours."
As well as the winning title, Orton's dishes will feature on Stonegate pubs and restaurants menus across the UK and she will also enjoy an all-expenses paid trip to Avery Island, Louisiana (where TABASCO sauce is made).
TABASCO Brand international corporate chef, Gary Evans, commented: "The TABASCO Brand was thrilled to support this unique competition once again. It's a great opportunity for us to give something back to the industry and we are delighted that so many young chefs like Emily continue to engage with it."