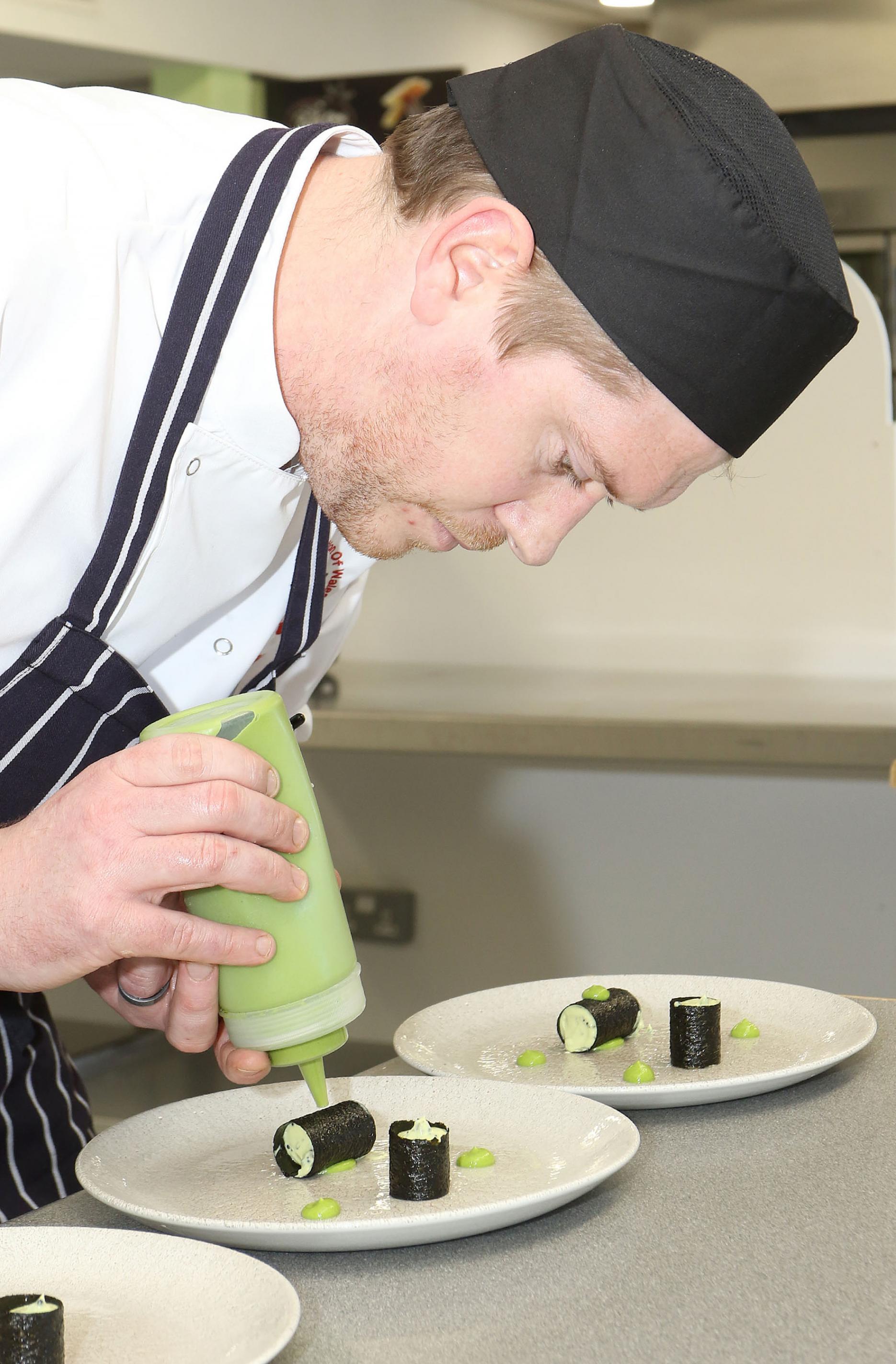 15th January 2019
National Chef of Wales finalists revealed
After impressing in the 2019 National Chef of Wales semi-finals yesterday (14 January), four chefs are now preparing for next month's (28 February) grand final and the reigning title.
Going head-to-head to be named National Chef of Wales 2019 are colleagues Matthew Ramsdale (26), Sam Griffiths (24) and current Junior Chef of Wales, Arron Tye (23), who all work at the Chester Grosvenor. Gavin Kellett (33) from The Three Horseshoes Inn will also be joining them.
As the four highest scoring semi-finalists, they will now compete in the live final held at the Welsh International Culinary Championships (WICC) on 28 February.
Chairman of the judges, Coin Gray from Capital Cuisine, said: "They were very closely fought semi-finals with some outstanding cooking by the competitors, which we expected due to the calibre of chefs.
"They produced top quality fine dining dishes, which substantiated our view that Wales has some great chefs. There were just a couple of points separating the top four chefs which augurs well for next month's final."
With just four hours to produce a three-course meal for three people, the competitors had to use a majority of Welsh products, and include a vegan starter, main course using two different cuts of Welsh beef and dessert with chocolate as the main ingredient.
Culinary Association of Wales (CAW) president, Arwyn Watkins, said: "We are delighted that so many Welsh chefs, both from within and outside of Wales, entered this year's competition.
"The calibre of entries is very impressive and it's healthy for the association to see several new names in the semi-final heats.
""This competition provides a perfect platform for the best Welsh chefs to showcase their talent and skills."
As well as the reigning title, the winner will take home a study tour to the Netherlands with Koppert Cress, a set of engraved F. Dick Knives and £250 worth of Churchill tableware.
Also in this year's semi-finals were chefs Matthew Smith (35) Lake Vyrnwy Hotel (2018 finalist), Sam Ricketts (24) Llandudno Bay Hotel, and Wayne Barnard (36) from Glendale Hotel.
Finalists' menus:
Matthew Ramsdale:
Salad with beets, blackberry, rhubarb and wild herbs
Welsh black beef with burnt onion, kidney, Pen-Lon Ale and HP sauce
Salted dark chocolate delice, Muscovado, banana and lime
Sam Griffiths
Pineapple, green mole, chilli and coriander
Welsh black fillet, veal sweetbread bon bons, silver skins and roasted bone marrow
Salted chocolate cremeaux, iced beetroot and pistachio
Arron Tye
Quinoa, saffron, brassicas and pan-fried king oyster mushroom
Charcoal crusted beef fillet with sticky beef cheek, onion, pomme puree and jus
Dark chocolate yuzu tart, pistachio and crème fraiche sorbet.
Gavin Kellett
Waldorf salad with Blodyn Aur emulsion, pickled apples, poached celeriac, burnt apple and walnut bread
Fillet of Welsh beef, braised oxtail, oyster, baked potato foam, beef dripping confit carrots and grain crust
Chocolate and Penderyn whisky set custard, peanuts, Welsh honeycomb and salted caramel