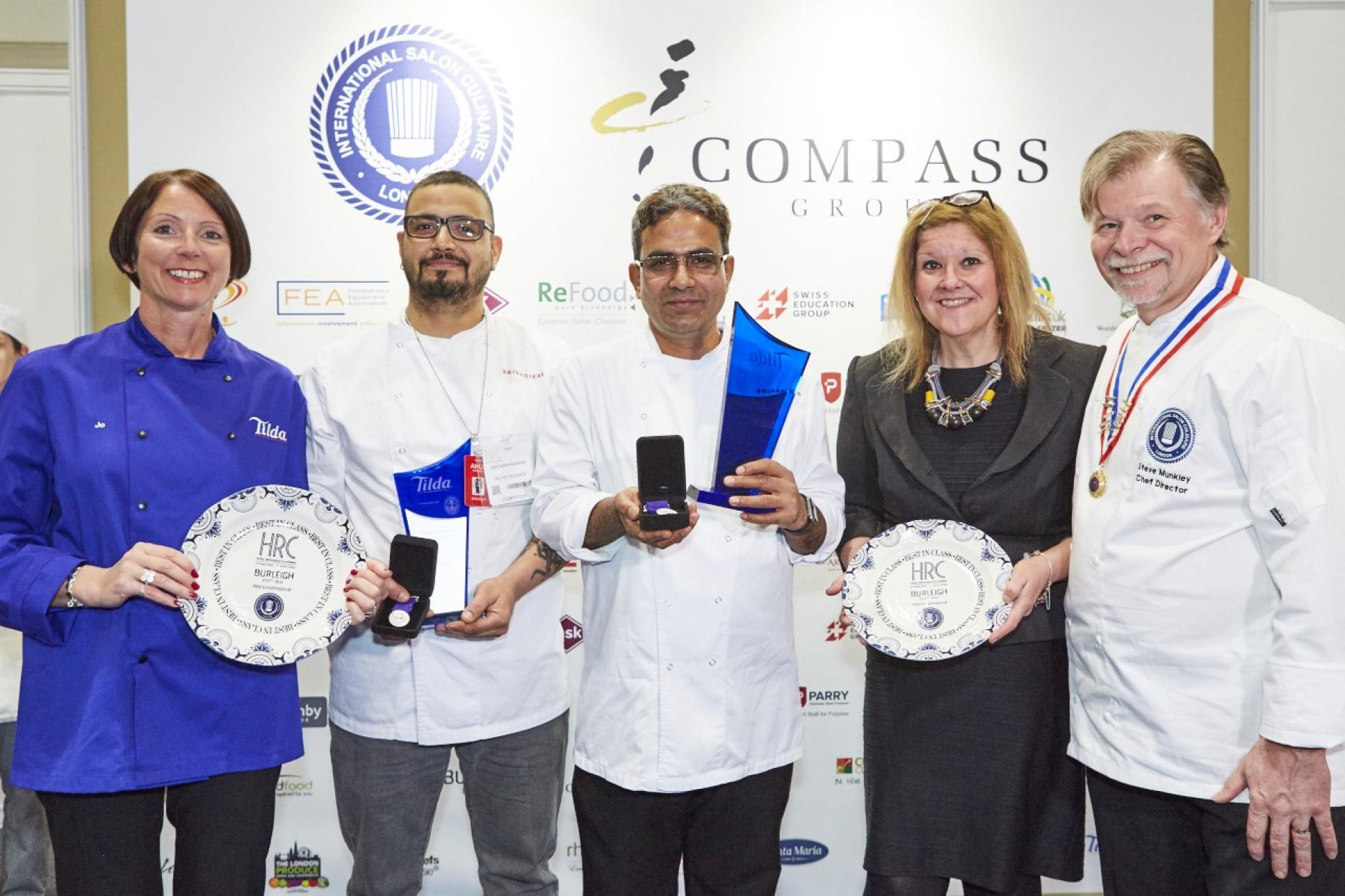 25th March 2020
Duo impress judges at Tilda Chef Team of the Year 2020
Chefs Saurav Nath and Anup Nagwal from JKS Restaurant were crowned Tilda Chef Team of the Year at the Salon Culianire.
The Tilda Chef Team of the Year aims to highlight how 'innovative' rice can be, helping chefs to cater for a wide range of food trends.
In association with the Craft Guild of Chefs, the new 2020 champions impressed the judges with their wild mushroom and tofu biriyani with a cucumber, mango and ginger raita. The aromatic main was followed by a seasonal rhubarb rice pudding and a rhubarb confit with roasted almond flakes, orange skin and fennel cress.
The street-food inspired menu helped the duo win the 'iconic' blue trophy as well as a trip to discover the 'art of rice' with Tilda. With rice needing to make up at least 50% of the dish, competitors could choose any rice from the Tilda speciality range.
Nath said: "As a vegetarian myself I was confident about the recipes we created. We took inspiration from the London street food scene and decided on a tofu biriyani. We cannot put into words how happy we are that we have won – I am lost for words." 
Chefs had to prepare, cook and present their dishes within 45 minutes at London's HRC Salon Culianire. The dishes were influenced by the latest food trends including plant-based food and street food.
Alongside the runners-up Lexington Catering and Delaware North the duo will also receive a VIP Tilda 'Innovation Day' at Tilda's mill in Rainham to discover the 'art of rice'. In addition Nath and Nagwal won an all-expenses gastro trip, framed certificates and the blue trophy.
Jo Witchell, commercial marketing manager at Tilda UK, who was one of the judges, added: "The rice was cooked to perfection in both dishes and the classic street food basmati rice biryani was absolutely delicious.
"Saurav and Anup used so many amazing ingredients and spices which guaranteed wonderful fresh flavours coming through. The rhubarb jasmine rice pudding took a classic recipe to another level, with the tangy rhubarb flavour and crunchy texture of the almonds. Congratulations to our very deserving winners!"
Tilda's 'art of rice' campaign encourages chefs to explore the culinary possibilities of using Tilda rice in their dishes. Tilda research highlighted 68% of people were willing to pay more for a dish which included basmati & wild rice in comparison to rice that wasn't named.