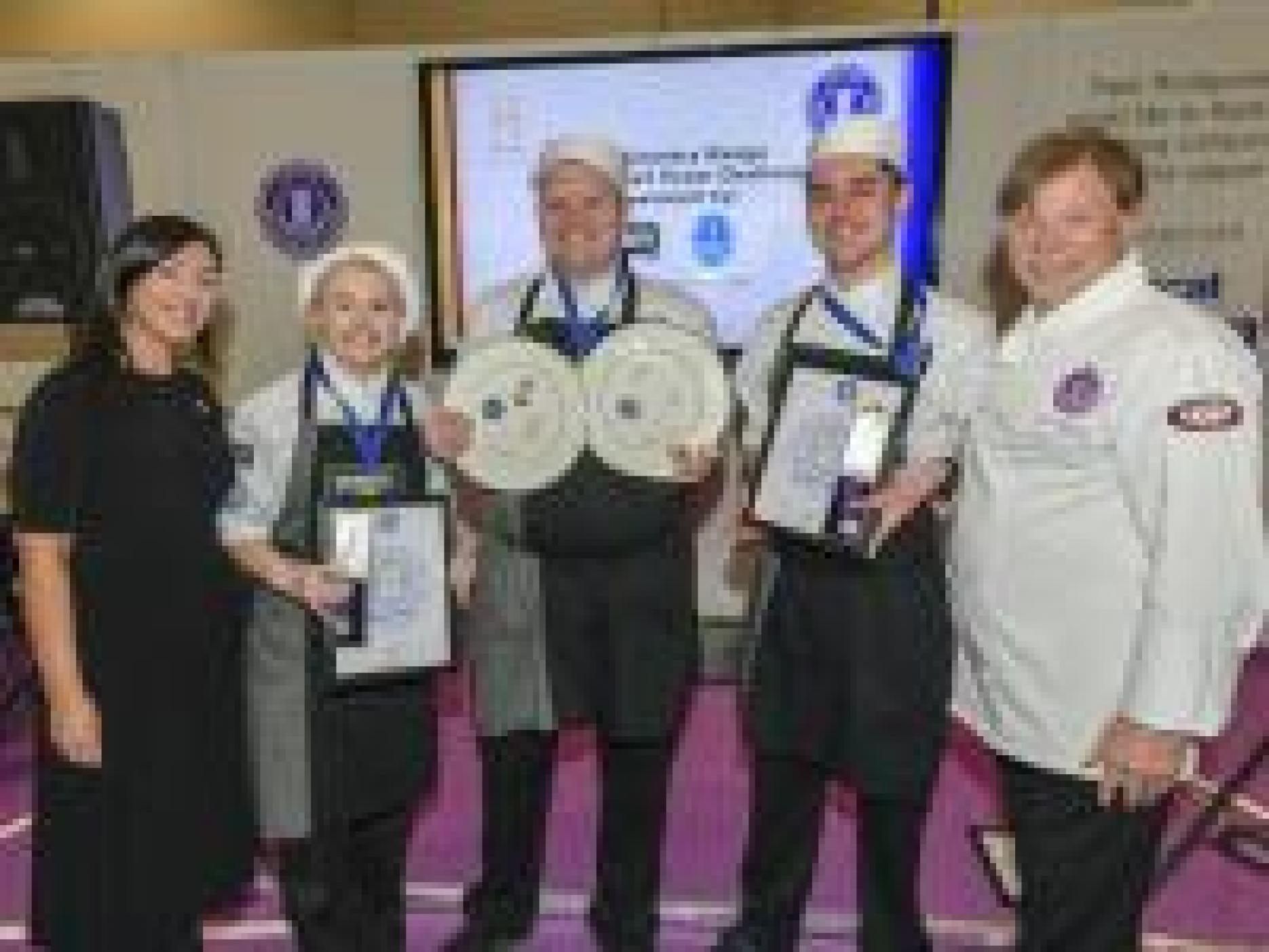 12th March 2018
City of Glasgow College celebrates Country Range Student Chef Challenge win
Country Range crowned the City of Glasgow College its 2018 Student Chef Challenge winner on Wednesday (7 March) during Hotelympia.
Up against nine other finalists, Glasgow's winning team consisted of Erin Sweeney, Jordan McKenzie and Lee Christie, who impressed judges with their three-course, three-cover menu prepared in just 90 minutes.
Their dishes, which had to incorporate a different fresh or ground spice in each of their courses in accordance with this year's 'Around the World in Three Spices' theme, included:
- smoked and spiced roe =deer, beetroot, radish, grape, hazelnut cinaigrette
- seared North Sea coley, cauliflower roasted pureed and marinated, seaweed, Vadouvan butter
– fig, coriander salted pine nut and meringue tart, frozen blood orange yoghurt
Sweeney said: "We still can't quite believe that we've won but we're completely and utterly over the moon.
"While it's been incredibly tough, it's literally been the best experience of my life. We've put in so much effort and I have lost count of the times we have practised the dishes so we're thrilled and very proud of the victory. 
"The competition tests all the skills you need to work in a professional kitchen so having this victory on my CV will be a huge help as I look to begin a career in a professional kitchen."
City of Glasgow College lecturer, Robbie Phillips, added: "I'm very proud of my team and what they have accomplished. They've worked so hard together as a team, have shown amazing technical ability and a desire to improve so they thoroughly deserve it. 
"Glasgow maybe didn't have the best reputation for food but thanks to our former colleague Gary McClean and a buzzing food scene in the city, that has all changed. The team's win today is further proof that Glasgow is not only a key fine food destination but it's a city that is producing talented young chefs."
As well as the winning title, each chef was rewarded a bespoke set of three Flint & Flame knives, trip to the 2018 Universal Cookery and Food Festival and one night's accommodation and dinner at Michelin-starred restaurant Simpsons (Kenilworth).
Having also showcased their "skills, professionalism and creativity," Westminster Kingsway College took home second place and Northern Ireland's South Eastern Regional College third place.
Organiser Emma Holden said: "A huge congratulations to the City of Glasgow College team on winning this year's hotly-contested competition. Not only did Erin, Jordan and Lee show they could handle the pressure of cooking in front of a live exhibition audience, but their dishes were incredible and wowed the judges when it came to taste.
"The standard shown in this year's competition has been amazing so a big thanks to all the teams and lecturers for all their effort."
Craft Guild of Chefs Chairman of Judges, Chris Basten, concluded: "The standard of cooking by the students increases every year and as we expected, there were some incredible dishes and creative menus on show. 
"It's never easy to cook a three-course, three cover menu in 90 minutes, especially in front of busy crowd, so a massive well done to all of the college teams competing today. 
"Each and every team can be proud of the achievements but well done to City of Glasgow who worked brilliantly together as a team and impressed all the judges with their well balanced, flavour-rich and beautifully presented dishes."