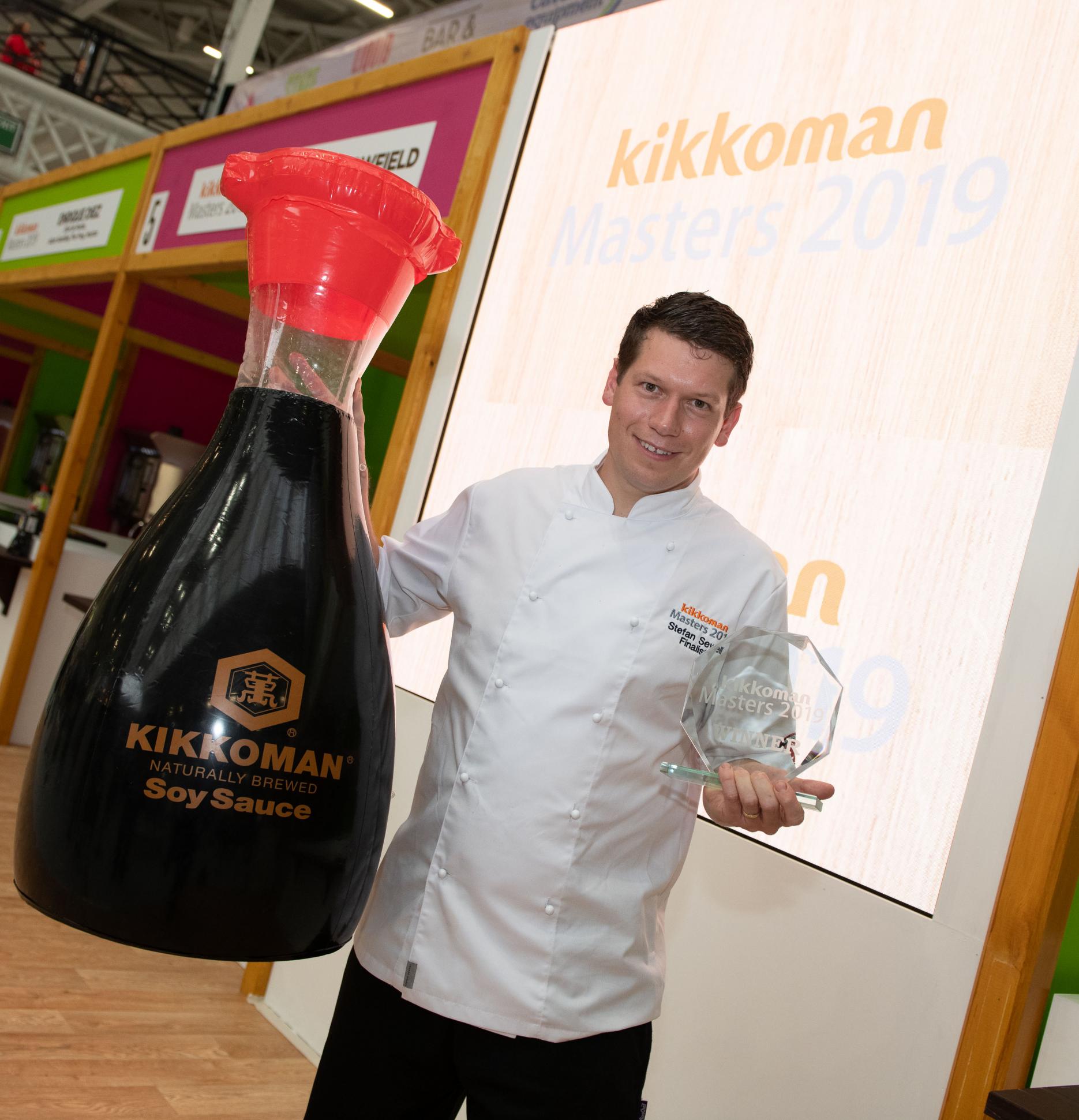 2nd October 2019
Stefan Sewell wins Kikkoman Masters
Chef Stefan Sewell has been crowned Kikkoman Masters 2019 champion after beating fierce competition to win a seven-day trip to Japan.

Cpl Sewell, head chef of the Combined Service Culinary Arts Team (CSCAT), had 90 minutes to create a starter and main course. The final took place on 30 September at The Restaurant Show and each dish included Kikkoman soy sauce as an important ingredient.
Kikkoman Masters 2019 winner, Cpl Sewell said: "I was lucky enough to be a finalist in the competition in 2017, so I knew the competition was going to be tough and all of the chefs' dishes would be of a very high standard.
"I really enjoyed taking part in the Kikkoman Masters, to win the competition is fantastic and to win a trip to Japan is a great prize, I can't wait to experience Japanese culture and cuisine."
He cooked a starter of squash, fermented black bean and fennel, followed by a main course of beef, carrot and kohlrabi.
Bing-yu Lee, Kikkoman UK manager, added: "The Kikkoman Masters gives innovative chefs the opportunity to showcase their creativity and skill and at the same time experience the quality, taste and versatility of Kikkoman Naturally Brewed Soy Sauce. The standard of entries was exceptionally high and Stefan is a worthy winner."
Sewell joined the RAF in 2009 where he had the opportunity to train as a chef. He is now head chef of the CSCAT, leading a kitchen brigade of 30 chefs.
Brian Turner, CBE, competition compere and judge, commented: "The winning dishes were creative and tasted wonderful, highlighting the perfect use of Kikkoman soy sauce."
In second place was Scott Braithwaite, senior chef de partie at L'Enclume and in third place was Enrique Diex Garcia de Olalla, chef de partie at The Frog.