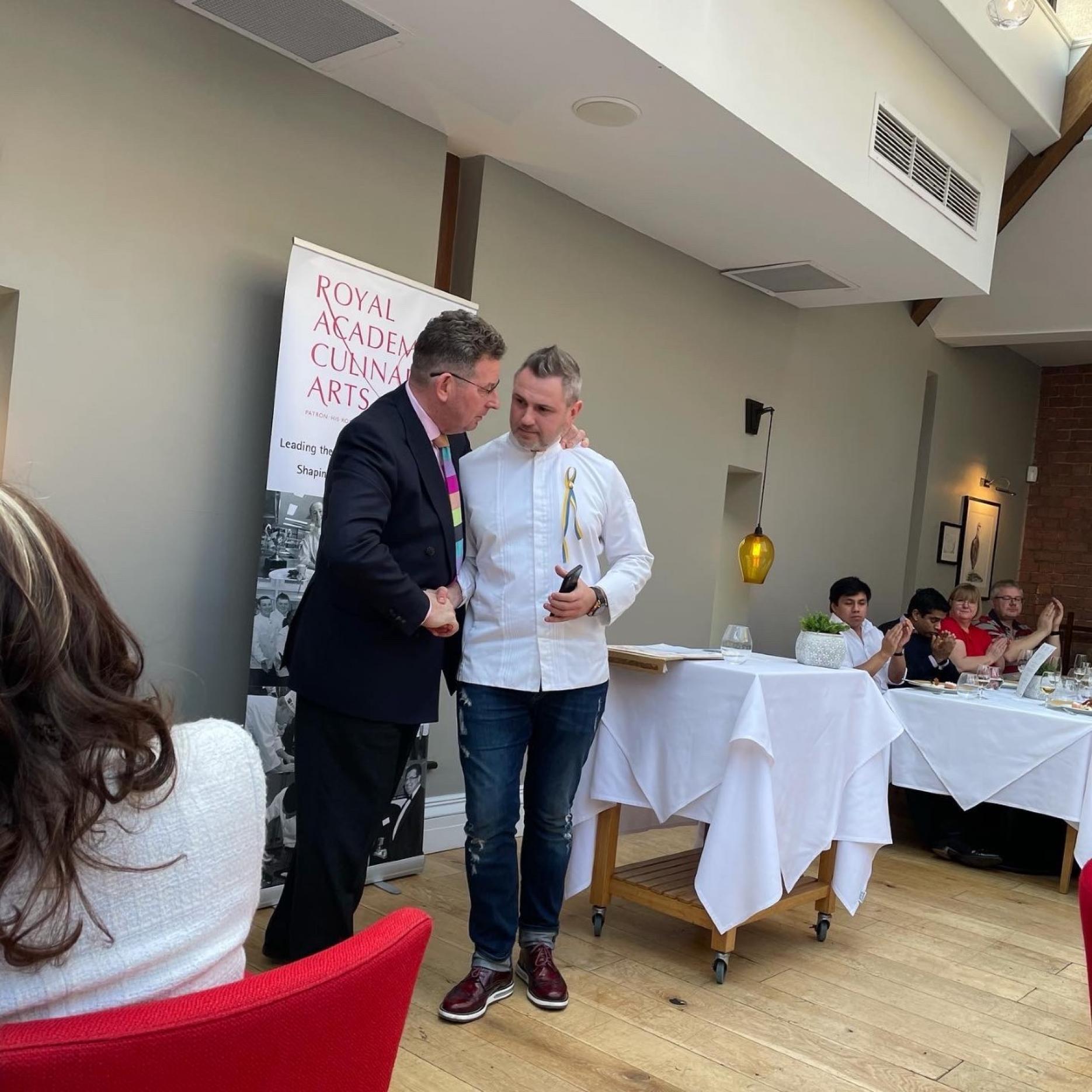 10th May 2022
Royal Academy of Culinary Arts endorses Cook For Ukraine initiative
Working in partnership with Ukrainian chef Yurii Kovryzhenko, the Royal Academy of Culinary Arts (RACA) has called on their members to raise funds for Ukraine.
RACA members are being encouraged to contribute to the ongoing fundraising initiative #CookForUkraine as well as adding Ukrainian dishes to their menus, using social media channels to raise awareness and offering employment opportunities to refugees.
Yurii recently attended a RACA event in Liverpool, taking to the stage to share his story and speak directly to members. He delivered a warning of the implications that the war could have on the UK hospitality industry including global shortages in produce such as grains, flour, poultry and sunflower oil.
RACA members have already been showing their support by hosting supper clubs, with chefs Sarah Hartnett, Jason Atherton and Tom Kerridge cooking for the events.
Social enterprise London restaurant Brigade Bar and Kitchen also hosted a unique fundraising dinner earlier this month, raising £6,000, which provided guests with a special menu created by founder Simon Boyle and Yurii.
Yurii commented: "I am very pleased to have cooked with Simon at this wonderful event. Not only was I able to show off great Ukrainian food, but also help many of my friends and civilians trapped in Ukraine. This event was about providing as much support as is possible."
The funds raised also helped to fund 'Family Food Boxes', a special food programme initiated by the Ukrainian embassy where food parcels are created for families. 
Brian Turner, president of the trustees, added: "We are so proud to say that our members have already been working hard to raise awareness and vital funds, and we want to encourage as many as possible to do what they can to help, whether it is hosting or donating to #CookForUkraine events, using their own channels to raise awareness or providing refugees with work. As an Academy, we will be doing what we can to support Yurii and the rest of the Ukrainian people."
For more information on the #CookforUkraine initiative, visit: https://www.justgiving.com/fundraising/cookforukraine.