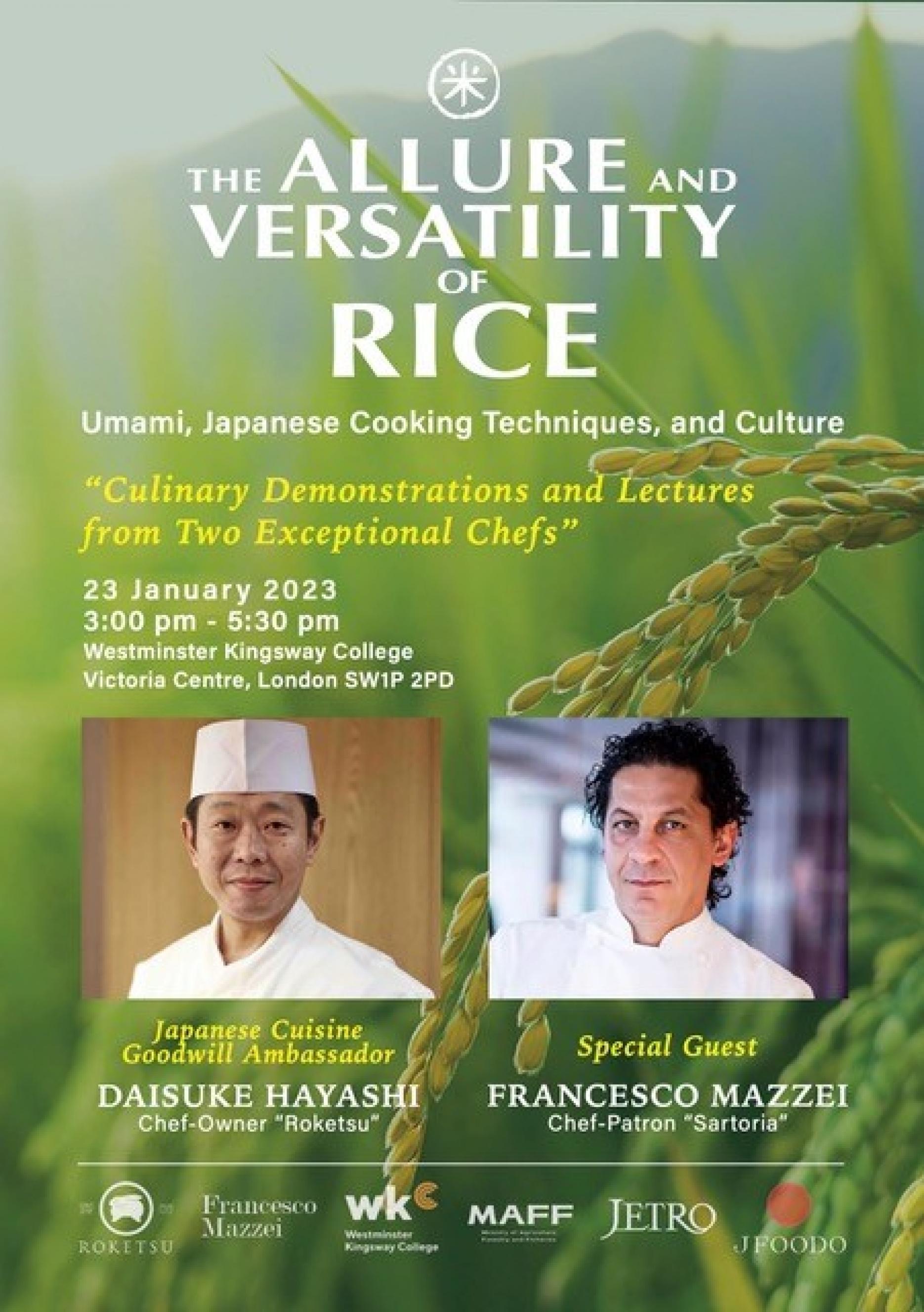 18th January 2023
A Passion to Inspire plans livestream of rice Upskill Day
A Passion to Inspire will livestream the 'Allure and Versatility of Rice' Upskill Day via YouTube on Monday 23rd January 2023 at 3pm.
Rice, which some call the foundation of the Japanese diet, performs the key role of supporting other dishes. Indeed, that the word for rice in Japanese expresses both 'cooked rice' and the concept of 'a meal' is evidence of its central and enduring position in Japan's food culture. Admired for its appearance, good taste, and high quality, Japanese rice is now eaten widely around the world.
The Upskill Day will feature a lecture about Japanese cooking technique, secret of Umami, culture, cooking demonstration, and food tasting, taught by Daisuke Hayashi, head chef of Roketsu restaurant and the winner of The Minister's awards for overseas promotion of Japanese Food.
It will also feature an 'eye-opening' cooking demonstration lead by guest chef Francesco Mazzei, head chef of Francesco Mazzei restaurant and the author of Mezzogiorno: Southern Italian Cooking book. He will share what non-Japanese cuisine can benefit this high-quality Japanese rice or Japanese rice products into western cuisine.
Murray Chapman, founder of A Passion to Inspire, said: "A fantastic event open for everybody to be Inspired nationally on the 23rd January with the Japanese ministry of agriculture, forestry and fishery. Please just simply click on the link Live Stream - Passion You Tube.
"Inspire and develop and help your students and chefs believe in themselves and their future. Have a great culinary Journey with us and learn about the secret of The Allure and Versatility of Rice: Umami, Japanese Cooking Techniques, and Culture with Daisuke Hayashi."