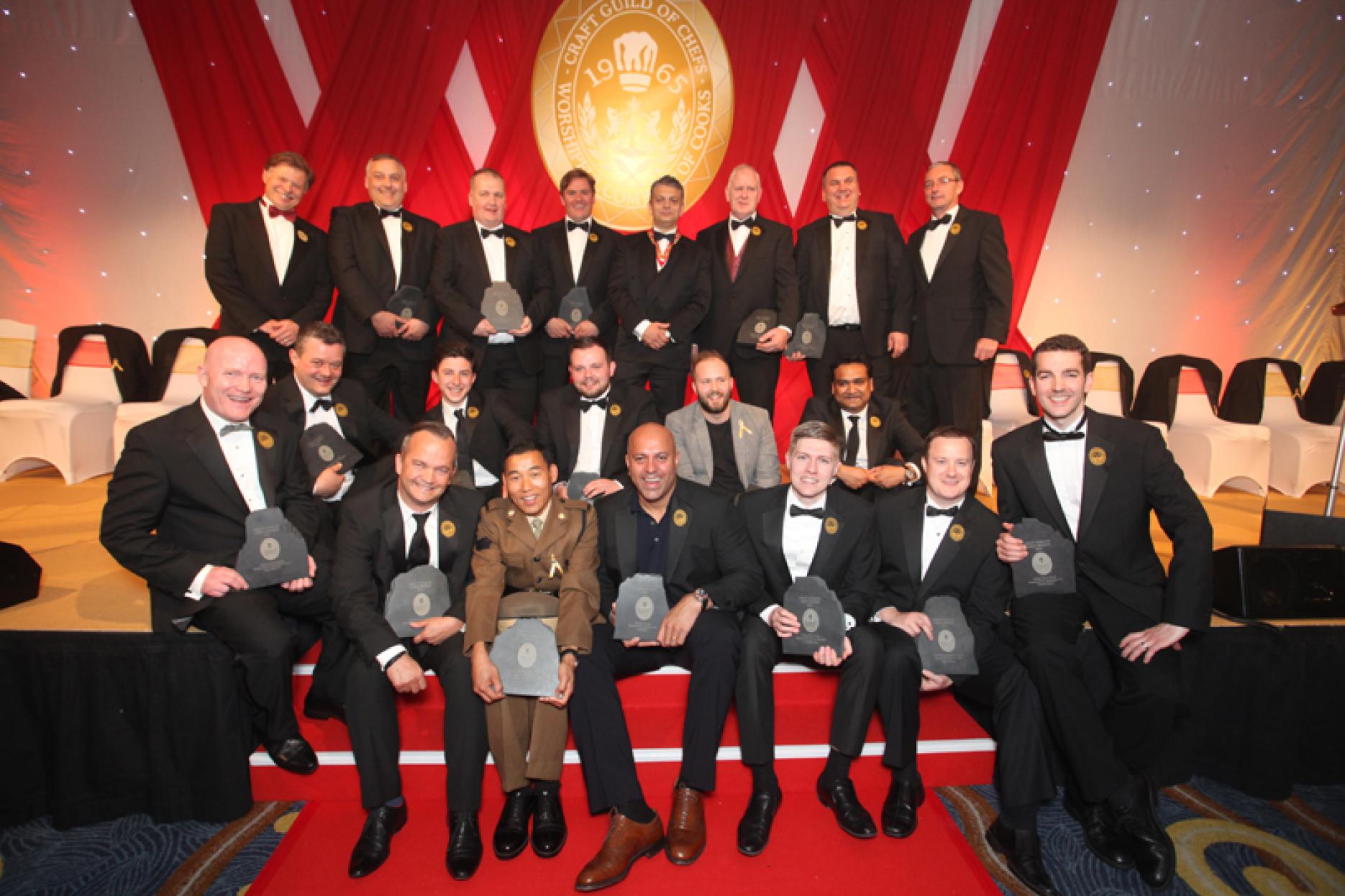 15th June 2015
Craft Guild of Chefs announces winners for 2015 awards
The Craft Guild of Chefs Awards recognised the cream of the crop of the UK chef scene at a glittering gala dinner at the Hilton Park Lane Hotel on Monday, June 15th.
Vice Presidents of the Craft Guild of Chefs, Steve Munkley and David Mulcahy hosted the ceremony in front of an audience of 800 industry luminaries. Amongst the big winners of the night were the Chiltern Firehouse and acclaimed chefs Sat Bains and Billy Campbell.
Nuno Mendes' Chiltern Firehouse was named Best New Restaurant of the Year with tough competition from Jason Atherton's City Social, Kenny Atkinson's House of Tides and Lee Westcott's Typing Room.
The Special Award, which has previously been awarded to Heston Blumenthal and Marco Pierre White, went to two-Michelin starred chef Sat Bains. He opened his eponymous restaurant in Nottingham in 2002 to great acclaim and has since been heralded as one of Britain's most celebrated chefs.
Billy Campbell, executive chef at Thistle Glasgow Hotel was voted the People's Choice after a closely fought contest which saw almost 1,500 votes flood in online. Campbell pipped fellow nominees Allan Blackmore of Levy Restaurants, Al Crisci of The Clink Restaurants, Jiri Koutny of Edinburgh Marriott, and Pilu Pazos of Lakefield College to win the award.
A further 14 awards were handed out, including the Craft Guild's new Concept & Innovation Chef Award that recognises the trendsetters in the industry who are bringing food, fashion and style to the fore.
The Craft Guild of Chefs Awards also acknowledged a host of leading lights across the industry, whether they work in a pub, fine dining restaurant, city university, military unit or in contract catering, and even as development chefs for national retailers.
The full list of winners is as follows:
Apprentice Chef - Ben Garnett-Sinclair, Apprentice Chef at Lusso
(sponsored by Compass Group)
Armed Service Chef - Amrit Limbu, Junior Chef at 10th Brigade, Queens Own Gurkha Logistic Regiment
(sponsored by Purple Foodservice Solutions)
Banqueting/Event Chef - Mark Reynolds, Executive Head Chef at Delaware North
(sponsored by Santa Maria)
Chef Lecturer - Gary MacLean, Chef Lecturer at City of Glasgow College
(sponsored by Food Matters Live)
Competition Chef - Adam Bennett, Chef Director at The Cross, Kenilworth
(sponsored by C&C Catering Equipment)
Concept & Innovation - STK
(sponsored by Jestic)
Contract Catering Chef - Mark Cheetham, Executive Chef, Sodexo UK
(sponsored by Kerry Foods)
Development Chef - Antony Bennett, Head of Food Development, La Tasca Restaurant Group
(sponsored by McCain Foods)
Ethnic Chef - Stephen Gomes, Chef/Patron, Moksh
(sponsored by Nayati)
New Restaurant of the Year - Nuno Mendes, Chiltern Firehouse
(sponsored by Jelf Insurance)
Pastry Chef - Daniel Pearse, Head Pastry Chef, Hakkasan
(sponsored by Carpigiani UK)
People's Choice - Billy Campbell, Executive Chef at Thistle Glasgow Hotel
(sponsored by Nisbets)
Pub Restaurant Chef - Ray Brenner, Head Chef at The Peach Pub Company
(sponsored by Bidvest Foodservice)
Public Sector Chef - Rob Bean, Executive Head Chef at University of Leicester
(sponsored by Theos Food Company)
Restaurant Chef - Adam Smith, Head Chef at Devonshire Arms Country House Hotel
(sponsored by Gram UK)
Young Chef - Craig Bateman Chef at Compass Group UK & Ireland
(sponsored by Falcon Williams)
Special Award - Sat Bains, Sat Bains with Rooms
(sponsored by Sodexo)