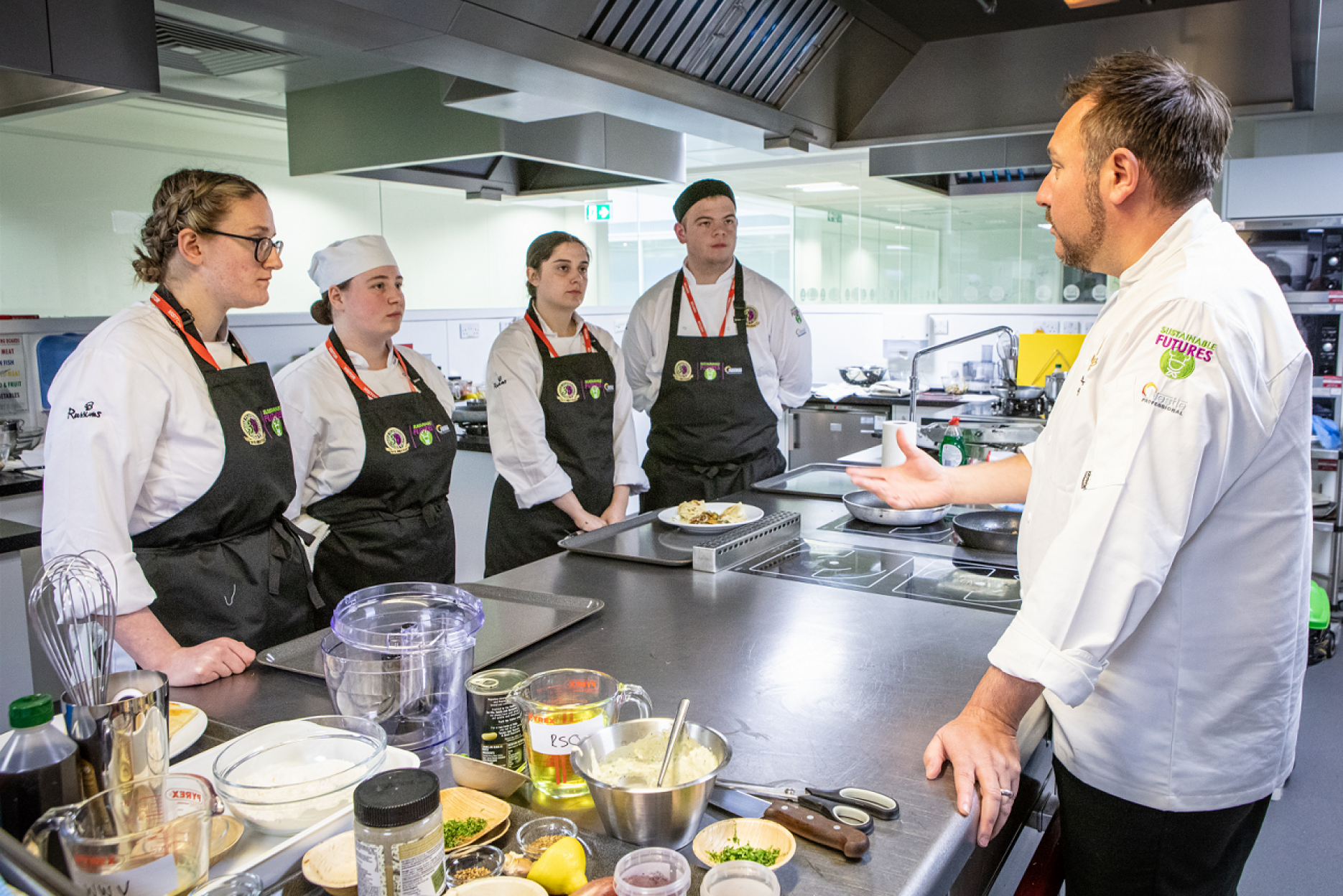 22nd May 2023
Toque d'Or reveals finalists as grand prize awaits winners
Nestlé Professional has announced this year's Toque d'Or competition finalists, following the heats round which included several days of intense challenges and expert mentoring.
The 48 students who competed at the heats enjoyed a 'learning experience of a lifetime'. Back of house students were tasked with creating a nutritious and sustainable plant-based main course following a masterclass with chef Paul Fletcher. They also had to replicate a plant-based starter that was created by guest judge Louisa Ellis.
Fletcher said: "I was really impressed by the level of skill our students demonstrated, with many high-quality dishes being put forward. It was also encouraging to see how innovative our chefs were in their approach to plant-based cooking, which we know has become a mainstay in people's diets. We look forward to working with the winner of the back of house competition on an exciting opportunity to feature their plant-based dish on our menus here at Whitbread."
Sommelier Raul Diaz delivered a wine and customer service masterclass to front of house students before they were tasked with serving both red and white wine to guests during a lunch service. Aaron Dunn then delivered a masterclass on how to create the perfect latte which competitors also had to serve.
Diaz commented: "It was a pleasure to see the passion of our students come through in this stage of the competition. They were able to learn about the art of hospitality and put everything into practice through an intense lunch service, from delivering excellent customer service to confidently explaining food and wine pairings to guests. Well done to everyone who took part."
The 12 BOH and FOH students advancing into the Grand Finals are:
Back of House:
Elycia Rayner, Westminster Kingsway
Emily Simkins, North Hertfordshire College
Catherine Ripley, Westminster Kingsway
Owen Marsh, Milton Keynes
James Wheatley, North Hertfordshire College
Amber Clay, University College Birmingham
Front of House: 
Alexander Lloyd, Aryshire College – Kilmarnock Campus
Joshua Kerr, City of Glasgow College
Chloe Collinwood, Cardiff & Vale
Raheim Saddler, North Hertfordshire College
Alison Watson, North Hertfordshire College
Ryan James, Coleg Cambria
Taking place in York for the first time ever, the finals will comprise of a series of challenges built around the overarching theme of sustainability with a key focus on home-grown locally sourced produce. 
The grand finals will take place from 4th-8th June 2023, with the winners announced during the Awards lunch on Friday 30th June 2023. 
This year's winners will enjoy a 'once in a lifetime' culinary trip to Brazil, sampling high-end gastronomy through to street food, and learning about sustainability on a bean to cup journey with the world's biggest coffee producer. 
Discovering the vibrant gastronomic scene of São Paulo, learning about coffee and sustainability in Espírito Santo, and sightseeing in Rio de Janeiro, they'll be inspired by new tastes and flavours from the country. The winners will also visit a flavour development lab and coffee farm, which is part of the Nescafé Plan, to learn more about regenerative agriculture and coffee.