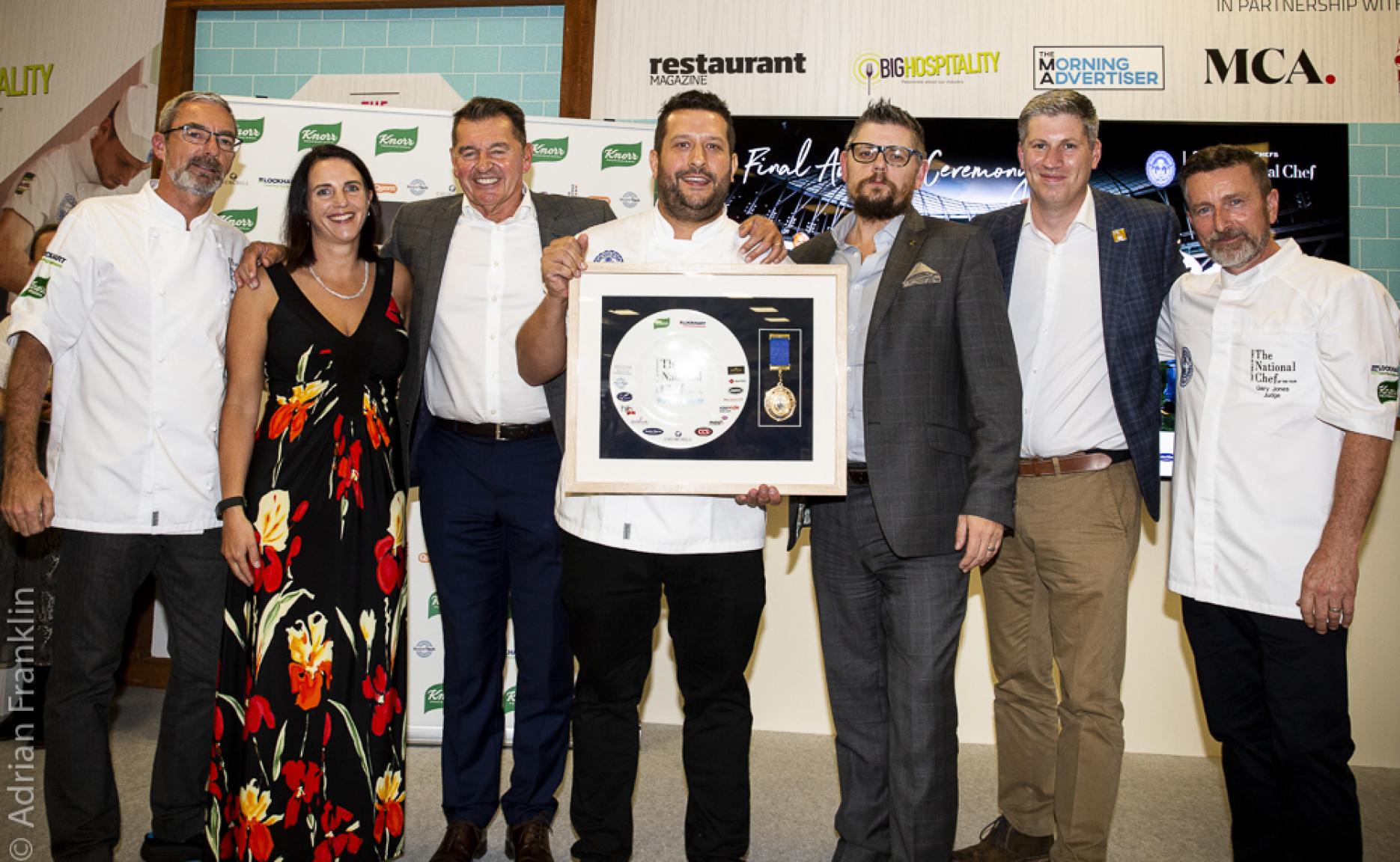 8th October 2019
Steve Groves named National Chef of the Year 2020
Steve Groves, head chef at Roux at Parliament Square, was crowned the Craft Guild's National Chef of the Year 2020 after beating nine other chefs in a live two-hour cook-off at The Restaurant Show.
Groves served a menu of red mullet, shellfish mousse and bouillabaisse sauce, followed by a main course of suckling pig, Jerusalem artichokes, quince, hazelnut and trompettes with Calvados Baba, honey poached pears and creme fraiche Chantilly for dessert.
National Chef of the Year 2020, Groves said: "I am delighted, relieved and surprised. It was hard work and those two hours went by in the blink of an eye but I focused on the flavours of the dish.
"I am incredibly pleased to win this title and I can't wait to celebrate with my team, who I couldn't have done this without."
The ten finalists had two hours to create three courses for the judges. Gary Jones, executive head chef at Le Manoir aux Quat'Saisons, led a team of 19 judges who helped him find the winner. The judges included Clare Smyth, Claude Bosi, Phillip Howard, Simon Hulstone and Alyn Williams.
Straight after scoring the dishes, Jones commented: "We've seen some amazing cooking today. What stood out for me about Steve was his good, strong, clean flavours.
"He didn't over complicate his menu and approached the brief well resulting in beautiful flavours. When it came to the main course, he served-up the best crackling in the room and I was salivating just looking at it."
Competition organiser David Mulcahy and chair of judges Jones focussed this year's brief on sustainability and seasonality. Finalists were tasked to create a bouillabaisse style flavoured starter using under-utilised fish.
For the main course, chefs had to use cuts of suckling pig with the opportunity to pre-cook one element of the pig prior to the competition (as long as it was no more than 20% of the final dish). Finally, chefs were asked to create a dessert using seasonal pears, which showcased technical skill, balance and maximum flavour.
On 10 September 2019 the ten finalists had a mentor day at The Tottenham Hotspur Stadium where they selected their ingredients for the final from a mystery basket. This year chefs had to order the volume of food they wanted and they were partly marked on the amount of food waste they produced.
Vice-president of the Craft Guild of Chefs, Mulcahy who has organises the competition added: "What an amazing final we've seen today! Firstly, congratulations to Steve Groves who has done an incredible job and now becomes a true ambassador for our industry.
"When you take this title, it's about more than what you have cooked today as the chefs who have won previously are still some of the most talked about figures in hospitality.
"Each year, we make sure that the competition is truly relevant to today's diners and is addressing industry trends whilst putting all our finalists firmly on the map. It's known as the hardest culinary competition in the UK which is why this title is so sought-after and the one competition every chef wants to win."
The runner-up spot was taken by Derek Johnstone, head chef from Borthwick Castle with Nick Smith, head chef at Vacherin placing in third.
Although the title of National Chef of the Year is the most sought-after prize, Groves will also enjoy:
The National Chef of the Year winner's medal. 
One-year's membership to the Craft Guild of Chefs. 
Thanks to Knorr Professional and Unilever Food Solutions, the 2020 NCOTY winner will have the opportunity to create their own digital recipe book as well as receive a media training session up to the value of £7,500, in addition to opportunities to raise their profile working with Unilever Food Solutions. 
£1000 voucher to spend within the Lockharts' range. 
A chef's tour of Lebanon - the three top chefs will win a culinary trip to Lebanon. They'll have the chance to explore the region's food, wine and restaurant culture and bring some inspiration back to their kitchens. From Beirut's innovative street-food to outstanding wines from the Bekaa Valley, there's a whole world of stunning cuisine to discover. 
Exclusively designed winner's plate framed together with the winner's medal as well as an additional prize of £500 worth of Churchill products. 
A bespoke Savernake knife to be made for the winner of The National Chef of the Year.
The competitions are run in partnership with KNORR and Lockhart Catering Equipment and are supported by British Premium Meats, CCS, Churchill, Direct Seafood, Evolve Recruitment, HIT Training, Mash, Norwegian Seafood, OpenTable, Ritter Courivaud, Santa Maria, Sousvide Tools, UNOX, Quorn and WearerTech.
You can continue to follow the story of the competitions on Twitter with @Craft_Guild and #NCOTY and #YNCOTY and on the website at www.nationalchefoftheyear.co.uk