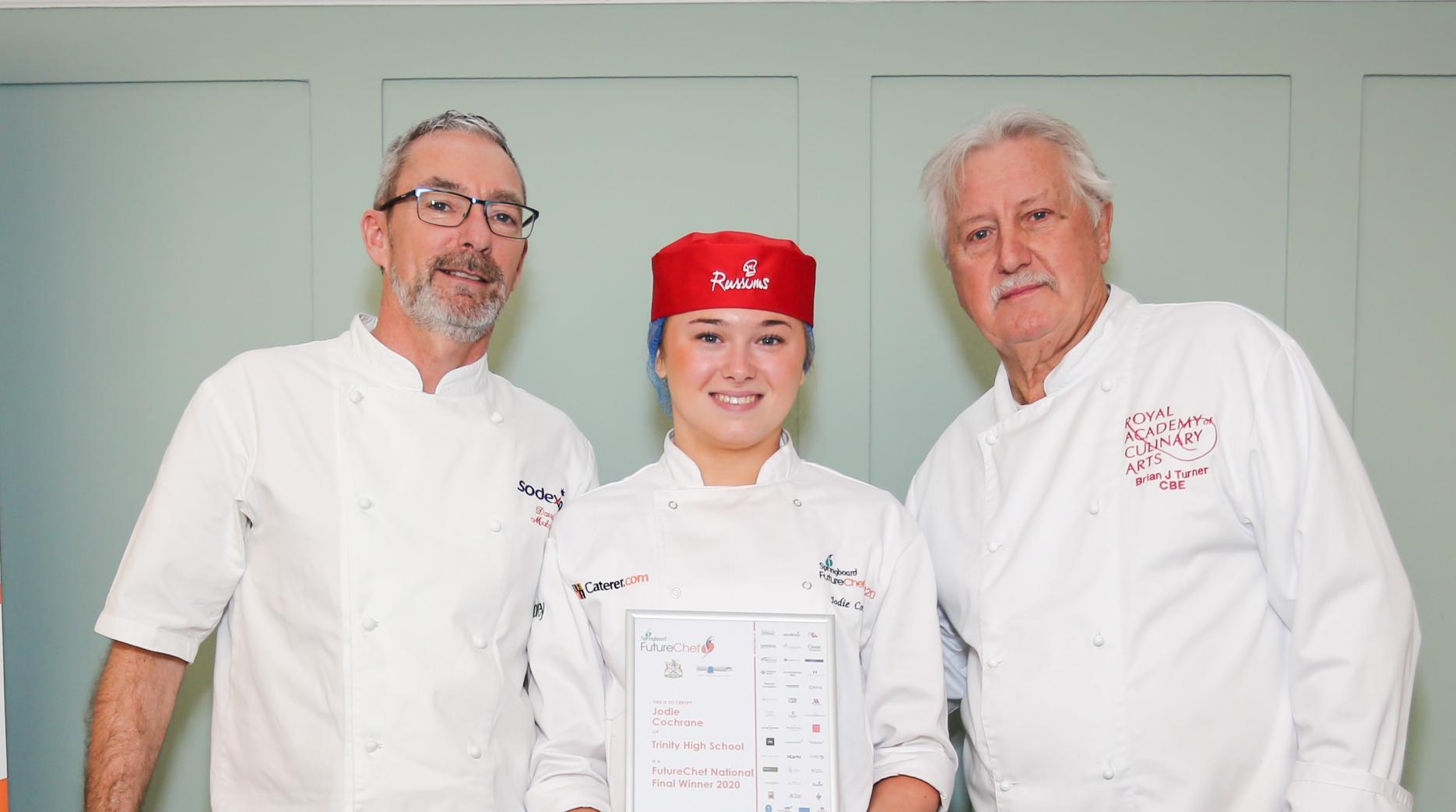 25th March 2020
Springboard's FutureChef crowns 2020 winner
Jodie Cochrane from Glasgow was crowned the FutureChef winner after she won the National Final at Westminster Kingsway College.
Jodie, 16, who attends Trinity High School beat 11 other young chefs to win the title. 
She impressed judges with a main-course of steamed chicken supreme with stuffed tomatoes, vegetables and spätzle, served with a wholegrain mustard cream sauce. For dessert Jodie created a gluten-free dark chocolate brownie with peanut butter ice cream, caramelized bananas and butterscotch sauce.
Jodie said: "It's amazing, I can't stop smiling. It was so enjoyable, more fun than stress. Just such a great experience! I would never in a million years have thought I could win."
The runners-up were Maisie Speller, 14, from Notley High School in Essex and Jessica Batchelor, 15, from Aboyne Academy in Aberdeenshire. 
The 20th edition of the competition saw 15,358 students involved in the early stages of the competition. The FutureChef competition aims to encourage young people to engage with cooking and 'inspire' them to learn more about nutrition. 
Brian Turner CBE, who has been involved in the competition since its inception, added: "There are two reasons why we need FutureChef. The first is that there isn't nearly enough domestic science and food tech being taught today, so young people aren't learning the basic skills of cooking that sustain their way of living. Secondly, it encourages people to develop their skills and enter into the industry."
Springboard announced at the National Final that next year's competition will open more opportunities for thousands of students by creating two age groups, one for 11-14 years-olds and one for 14-16-year-olds. 
David Mulcahy, food development and innovation director at Sodexo UK & Ireland, commented: "As a long term sponsor of FutureChef, Sodexo is delighted to support this vital initiative. Each year we are astonished and delighted at the high level of skills and passion from chefs so young. 
"We look forward to welcoming Jodie to the famous Royal Henley Regatta this summer. Becoming a Springboard business partner has given Sodexo's chefs an extra opportunity to demonstrate their skills and communicate their passion to young people who, we hope, will be inspired to follow in their footsteps."