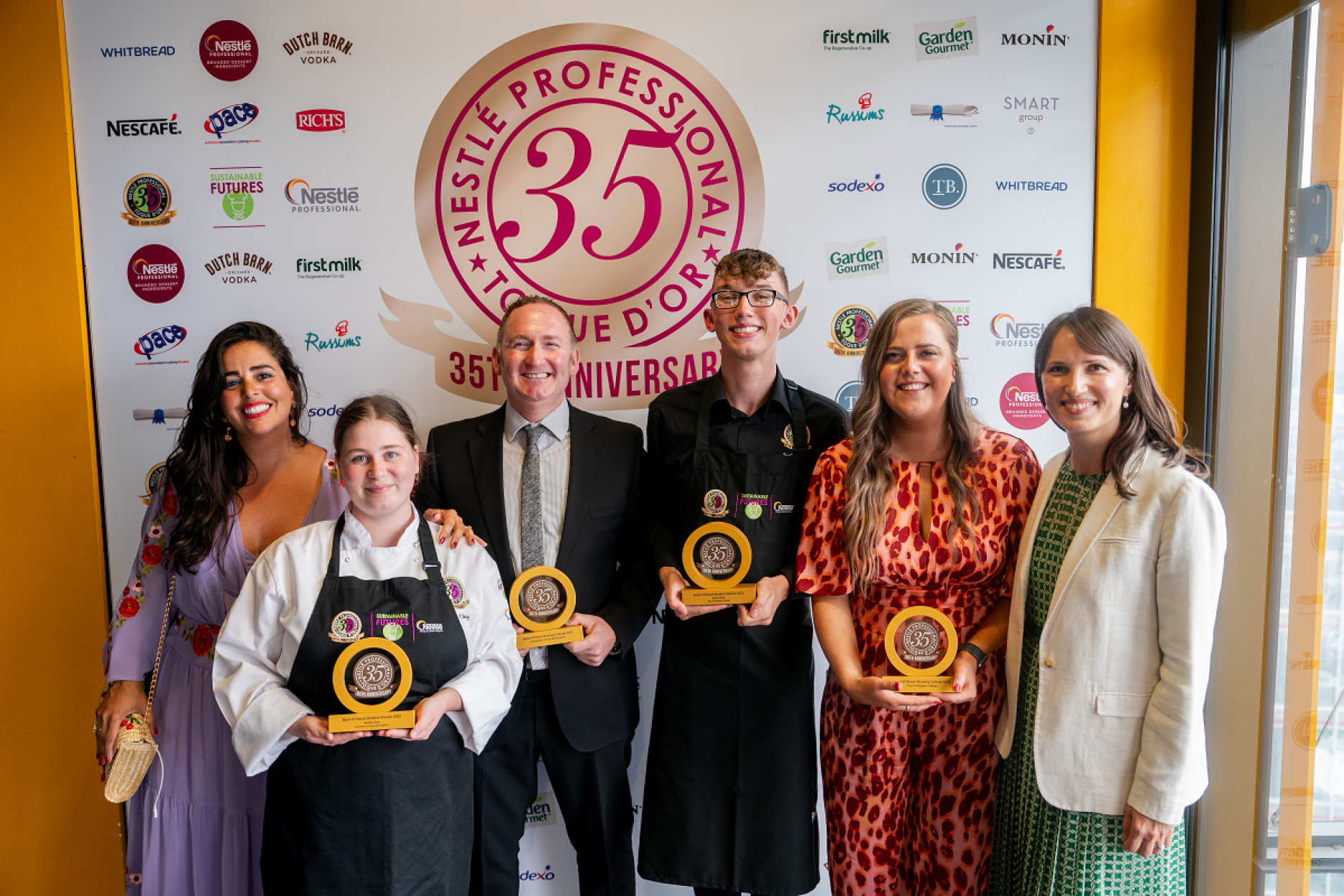 3rd July 2023
Nestlé Professional announces winners of 35th Toque d'Or competition
Joshua Kerr from City of Glasgow College (front of house) and Amber Clay from University College Birmingham (back of house) have been as named the winners of the Toque d'Or competition.
The Grand Finals consisted of four days of sustainability-inspired challenges, which gave the 12 finalists the opportunity to demonstrate their new skills. Each day offered a new test, with participants crafting sustainably sourced menus, foraging for food as well as learning about sustainable farming and production.
Throughout the week, competitors enjoyed mentorship and advice from the judging panel as well as a number of guest judges and partners including restauranteur Tommy Banks, MasterChef Festive Knockout winner Louisa Ellis, wine expert Raul Diaz and 2021 FOH Toque d'Or winner Sophie Taylor.
The Grand Finals week included a trip to Brough Castle - part of First Milk, a farmer-owned dairy cooperative. Participants saw first-hand how First Milk is working with Nestlé to build a long-term regenerative approach to agriculture that supports both farmers and the environment.
The confectionery challenge at the Nestlé Product Technology Centre (PTC) in York, included a visit to the KitKat factory where competitors experienced the production process. This was followed by a chocolate masterclass from Nestlé's Senior Confectioner, John Costello, with the students challenged to create doughnuts and coffee shop style drinks in partnership with Richs and Sodexo. The milk from Brough Castle farm was used during the challenge, continuing the sustainable sourcing of ingredients.
During a day at Ellers Farm Distillery, finalists experienced the sustainable processes used to make Dutch Barn Orchard Vodka. Next, they created delicious Brazilian-inspired vodka cocktails at a masterclass using MONIN's exotic Jabuticaba fruit mix, before going head-to-head, showcasing their new skills in a cocktail competition.
Finalists also enjoyed a trip to Tommy Bank's farm where they learned about his devotion to 'farm to fork' dining, foraged for wild food and tested their knowledge in the garden identity test. Finals Week culminated in the Fine Dining Challenge, giving competitors the chance to go all out showcasing their talent and creativity to partners, sponsors and hospitality leaders at The Grand, York.
Katya Simmons, managing director of Nestlé Professional UK&I, said: "Once again, the calibre of Toque d'Or competitors has been outstanding. We've been delighted by the talent we've seen for our 35th anniversary edition, and we'd like to congratulate everyone who made it through and poured their hearts and souls into the Grand Finals.
"The competition epitomises our commitment to working closely with industry to support the next generation of hospitality professionals, providing them with the platform to really showcase their skills and creative flair. As part of this, it's been a real pleasure to see so many pioneering businesses championing sustainability in our industry.
"They play a vital role; leading by example while showcasing all of the exciting careers available to young talent. A big thank you to all who helped make this Finals Week - and indeed the whole of this year's Toque d'Or so special."
Joshua and Amber will go on to enjoy a 'once-in-a-lifetime' trip to Brazil where they'll discover São Paulo's vibrant gastronomy, learn about sustainable coffee in Espírito Santo, and enjoy a spectacular sightseeing trip in Rio de Janeiro.
They'll also experience a 'bean to cup' journey, learning about regenerative farming techniques at a Nescafé Plan coffee farm, before watching the beans being transformed into coffee at one of its leading flavour development labs.
For more information on Nestlé Professional Toque d'Or 2023, please click here: https://www.nestleprofessional.co.uk/toque-dor.