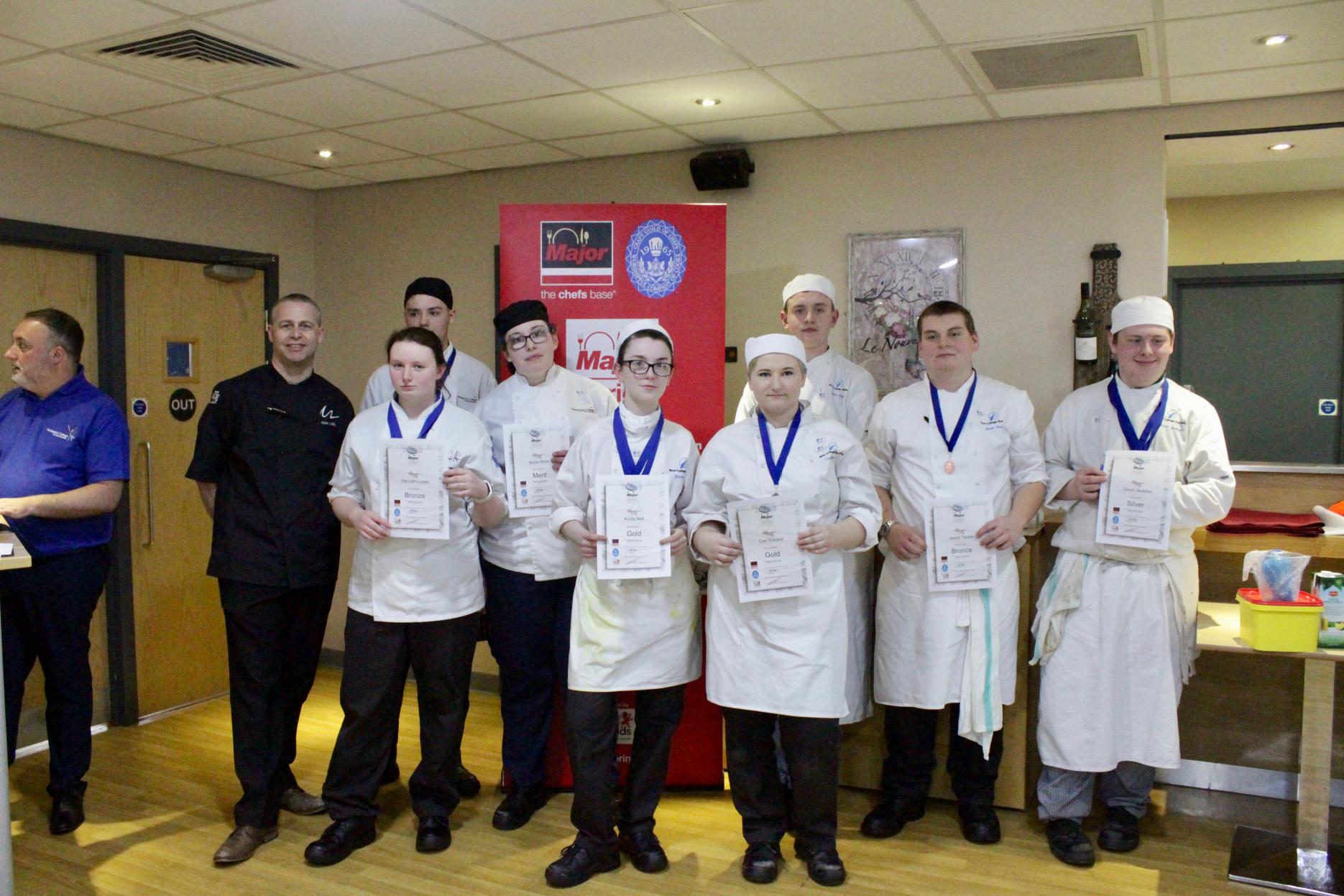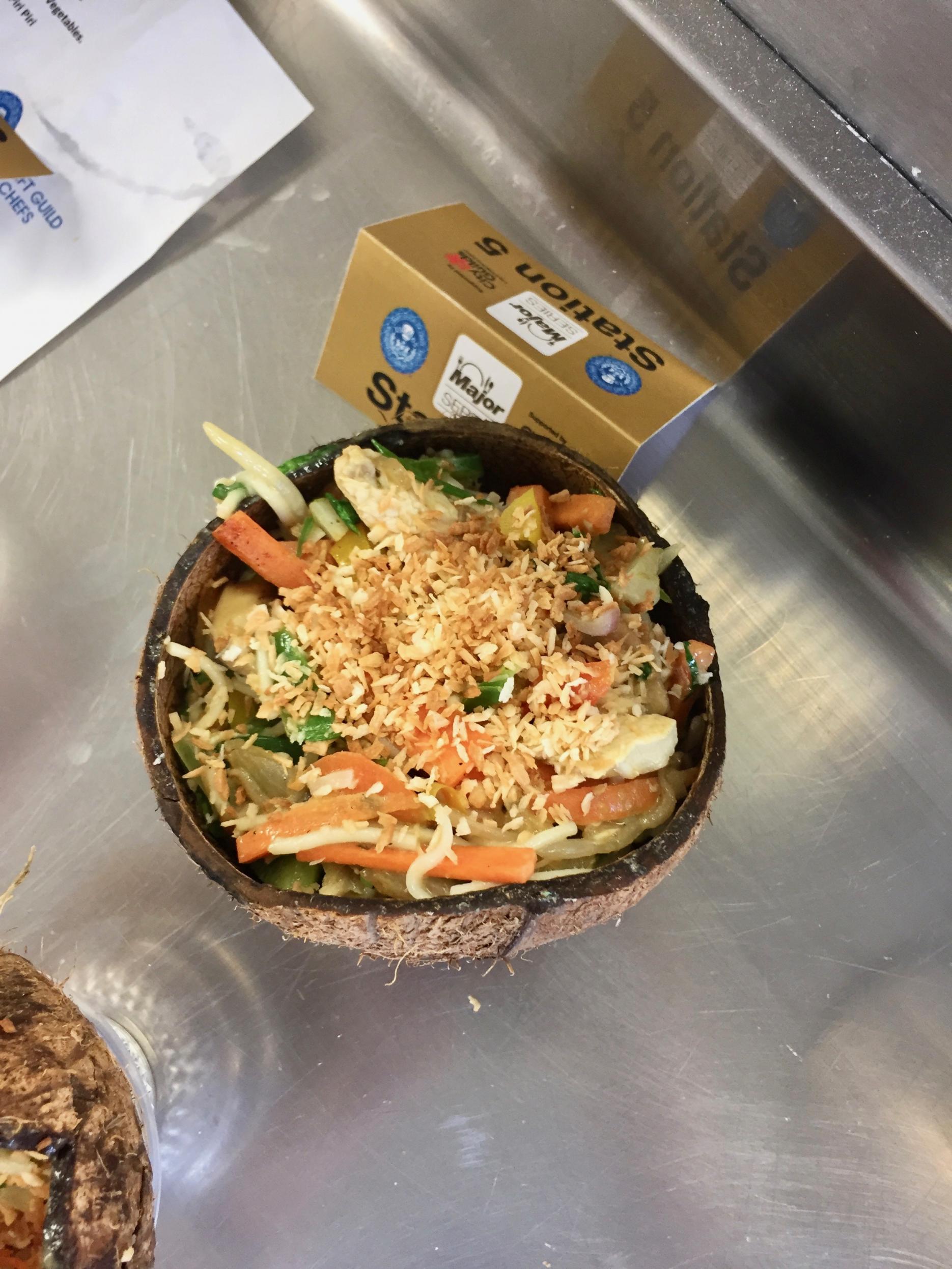 30th April 2018
Major Series reaches halfway point, as New College Durham hosts third heat
The 2018/19 Major Series reached its halfway point last week (28 March) as New College Durham's hospitality and catering department hosted the third heat of the competition.
Another day of "exciting heats" saw catering students from New College Durham and Hartlepool College take to the kitchen, as they battled it out for their place in next year's grand final.
Kicking off with the Pasta Class, which Alex Gladwin from New College Durham secured a gold medal and Best in Class for his wild mushroom ravioli, judges said the competiting level one students "produced some excellent dishes considering they only started studying in September."
Gladwin said: "Getting the opportunity to compete today pushed me to go for something a bit harder, and I really enjoyed competing although it was nerve-racking."
The Street Food Challenge then saw two heats of students create a range of dishes from around the world, including a Mexican burrito, hickory burger and Bombay chicken sir fry.
The winning entry - an Asian inspired sir fry made using the Major Thai Mari base and pan-Asian chicken broth served in a coconut shell – was from Ben Hart, Hartlepool College: "I really enjoyed experimenting with the Major products and choosing which ones went well together. It's only my first competition but I'd love to do it again next year."
To secure their place in the 2019 grand final, students of all levels then competed in the final live class of the day – the Chicken Challenge.
With both the winner and runner up coming from host college, New College Durham, Kirsty Bell took home the gold medal and Best in Class for her Tandoori marinated chicken leg stuffed with mango and Coriander.
She also impressed judges with her gateaux during the Static classes, for which she won another gold medal and prize for Best Overall Static. Bell said: "I really enjoyed experimenting with the different flavours when I was practicing and getting the chance to do things outside of what we're learning in class is really useful."
Fellow New College Durham student, Ceri Cooper, took home second place in the Chicken Challenge as well as a gold medal for her Moroccan chicken with apricots and herbed cous cous. She commented: "I did a lot of research into different recipes when I was getting ready and then it was a case of making sure it all tasted right and went together well."
Students were also put through their paces in the Assorted Coffee Challenge and Restaurant Skills.
The judging panel comprised: Wayne Harris, the Craft Guild of Chefs; Fergus Martin, Major's foodservice development chef; and former students and Major Series finalists, Ryan Gray (New College Durham) and Phoebe Garland (Hartlepool College student).
Garland commented: "The standard today has been really good and it was interesting to see things from the other side. Something like this is all really good experience for your CV but it also helps to get your speed up, which helps at work and college."
Paul Richardson, Hospitality and Catering lecturer at New College Durham, added: "It's great to physically see the students' confidence boosted when they get a good result, especially if they aren't expecting it.
"It's one of the reasons we like to host the Major Series here as well as the fact that it gives the students the chance to compete against other colleges and their peers."
Judge Martin concluded: "I've been really impressed by all the students today and there was a good use of the Major products throughout the classes. with the students demonstrating that they understood their uses and their flavours."
Coming Up:
31 May – Major Series Heat 4 – Coventry College
Find out more! To find out more about the Major Series or how to get involved, visit http://craftguildofchefs.org/competitions/138.