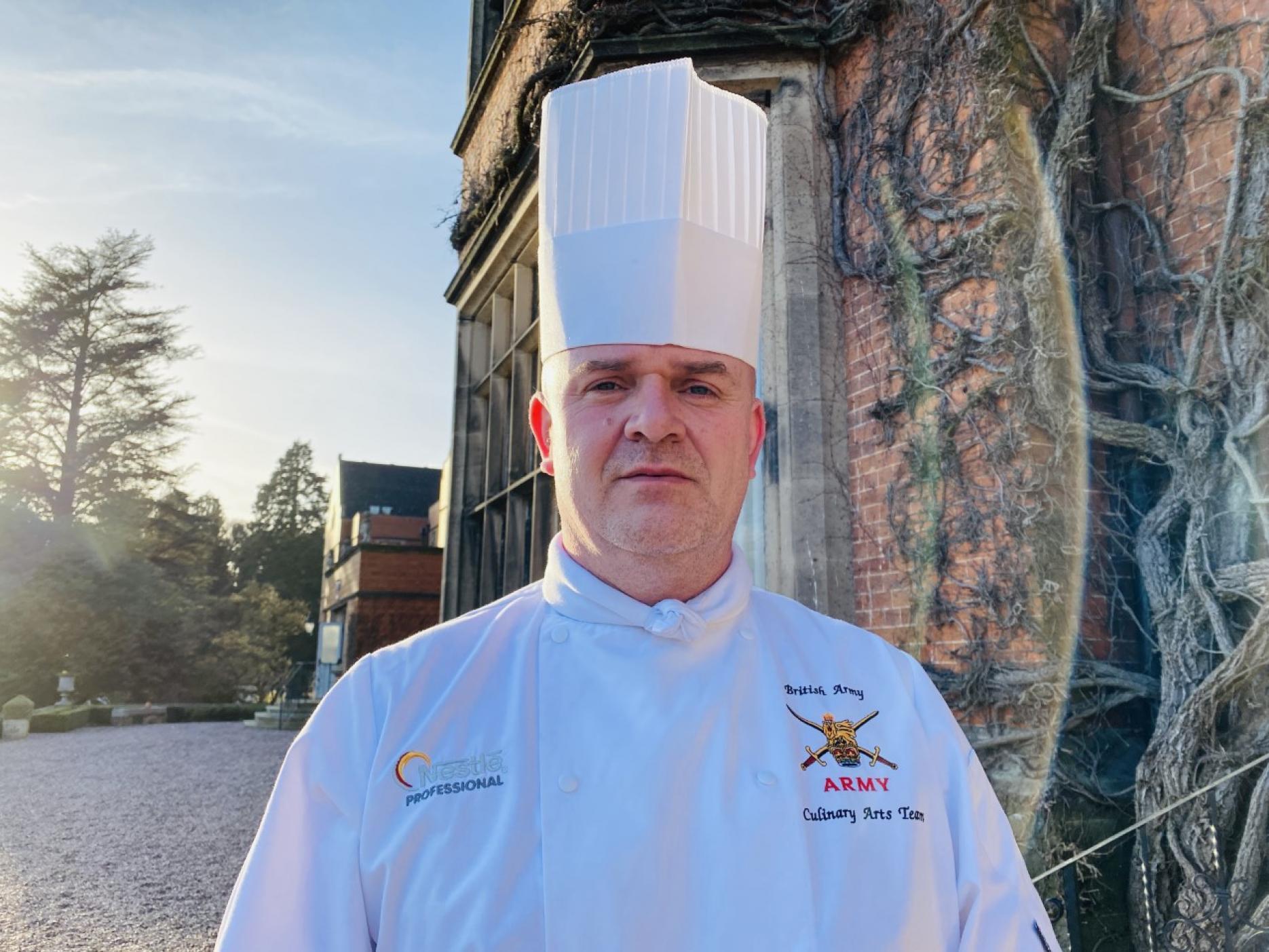 19th March 2021
International Salon Culinaire announces winners of plant-based dish challenge
International Salon Culinaire, the historic chef competition hosted at the Hotel Restaurant & Catering Show, has unveiled the first set of winners in its series of virtual chef challenges taking place in 2021.
The Custom Culinary Plant Forward Challenge, in partnership with Compass Group UK & Ireland, saw chefs create a main course dish where plant-based produce was central to the plate.
The entrants were required to submit a recipe, a brief description and a photo of the dish, plus a short video showing their creation and detailing their reasons for entering it into the competition.
At the virtual award ceremony salon director Steve Munkley revealed James St Claire-Jones, executive head chef at Hoarcross Hall Hotel and Spa and member of the British Army Culinary Arts team, had won the Gold Award.
Claire-Jones winning dish was a tortelloni of vegan feta and wild woodland mushroom with warm sweetcorn panna cotta, hazelnut pesto crumb, mushroom-infused puy lentils, mushroom broth and chive oil.
He said: "We've kept working through lockdown with menu development, and this competition has really given us a chance to play and get involved with something outside the business. It's been fantastic."
The judging panel for the Custom Culinary Plant Forward Challenge included Hayden Groves from Hayden Groves Consultancy, Steve Groves from Roux at Parliament Square and Mat Shropshall from University College Birmingham.  
Munkley commented: "Chefs have been locked out of their commercial kitchens for many months, but that hasn't stopped them creating some great dishes out of their homes.
"Our sponsors have risen to the occasion and arranged to have produce delivered for practising and dish development. With all these changes the judging of the competition had to evolve and the Salon Culinaire judges have stepped up to the mark."
The full list of winners include:
The award winners were as follows. Merit:
· Ethan Sayce, Plant Based Dreams
· Avraam Dimitrios Avramidis, Home Kitchen
· Ayesha Khan, Star Quality Catering
· Craig Miles, Bidfood
Bronze:
· Patricia Winters, The Queen's Head
· Miguel Soares, The Tower Hotel
· Varun Khanna, Emirates Academy of Hospitality Management
· Chris Bugher, Asheville-Buncombe Technical Community College
Silver:
· Tristan Merrick, Royal Marines HM Forces
· Christopher Avey, River Green Trading Ltd.
Gold:
· James St Claire-Jones, Hoarcross Hall Hotel & Spa and the British Army Culinary Arts team
The deadline for the next competition – the Alsop & Walker Cheese Starter Challenge – is 31 March and will see competitors produce a cheese-based starter using one of four award-winning British cheeses supplied by artisan cheesemakers Alsop & Walker.
Find out more on the International Salon Culinaire website.