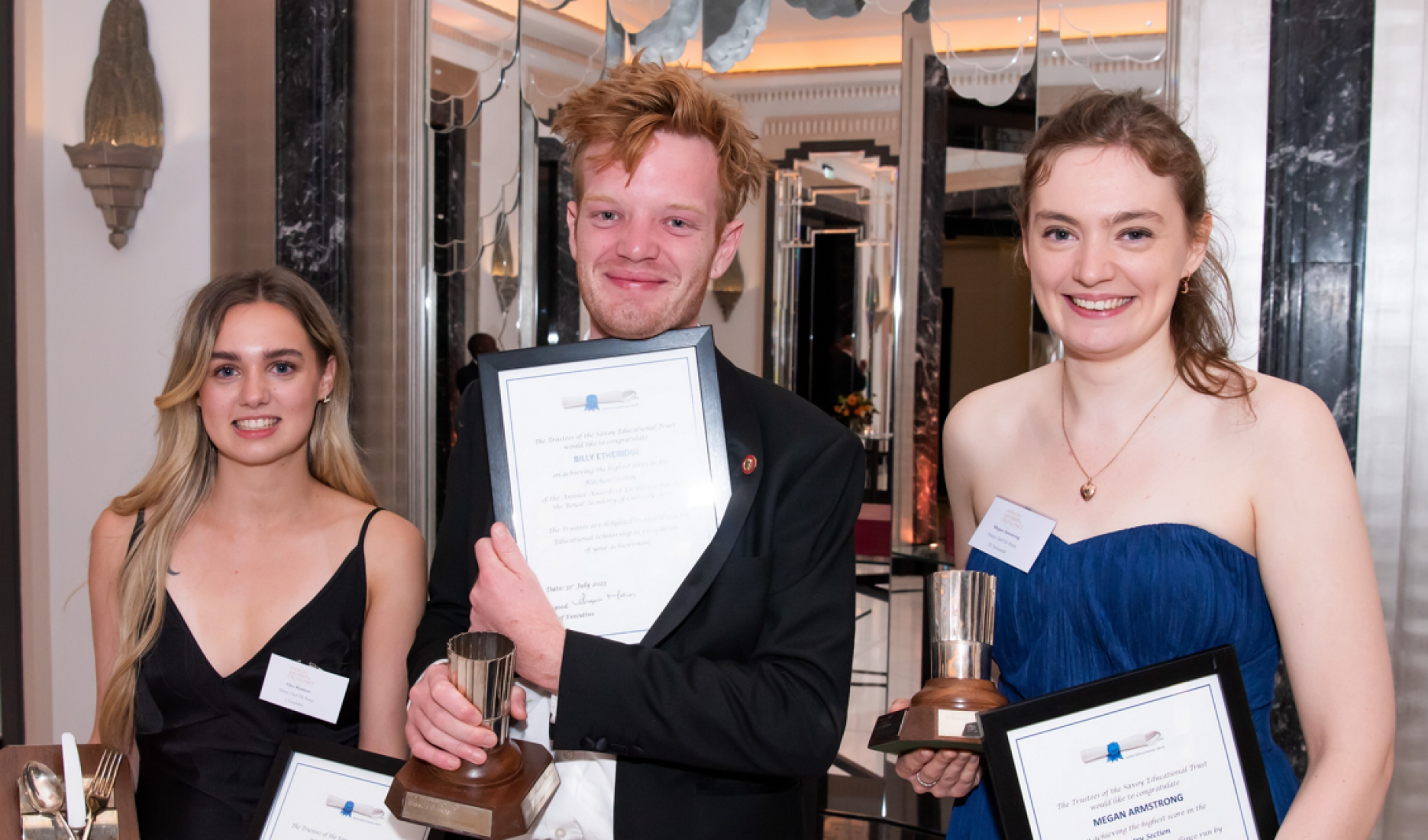 4th August 2023
Culinary awards of excellence achievers celebrated at Claridges presentation dinner
The leading lights of the hospitality industry gathered on Monday (July 31st) at Claridge's to celebrate the 26 young chefs, pastry chefs and service staff who achieved the Royal Academy of Culinary Arts's Annual Awards of Excellence (AAE).
And there were awards for those scoring highest in each of the three categories, who were announced as the Royal Academy of Culinary Arts Young Chef, Young Pastry Chef and Young Waiter of the year.
They were Billy Etheridge, Demi Chef De Partie, Le Manoir Aux Quat Saisons (Kitchen), Megan Armstrong, Pastry Chef De Partie, 21 Newcastle (Pastry), and Cleo Hudson, Demi Chef De Rang, L'Enclume (Service).
John Williams, Chairman of the Royal Academy of Culinary Arts and head of the judging panel said: "The Annual Awards of Excellence provides a much-needed opportunity to showcase the exemplary talent of our brightest young chefs, pastry chefs and waiters working throughout our culinary and hospitality industries.
"I hope that by taking part in the process, all candidates are motivated and inspired to continually better themselves through training and experiences, and then pass their knowledge onto others as they progress through their careers."
To be granted the achievement award candidates had to attain a score of over 70% in the tasks set, and were judged by some of the leading names in hospitality. These included Martyn Nail and Hywel Jones in the Kitchen section, Yolande Stanley and Angela Hartnett in Pastry, and Sergio Rebecchiand John Cousns in Service.
Service winner Cleo Hudson of L'Enclume said: "I feel very, very lucky. I practised my self-confidence the most, as it has always been my biggest thing - I don't believe in myself.
"My restaurant manager Graeme Cumine and the team at L'Enclume really supported me and this is an award for them."
Pastry winner Megan Armstrong of 21 Newcastle said: "Huge thanks to my head chef Helen Doyle and our sous chefs who gave me the best support throughout.
"I really focused on the nougatine stand, which was quite technical, ensuring that nothing snapped or that the caramel didn't cook too far.
"Something that I learnt the most from entering was stress control and managing emotions under a time constraint. Having a strong support network really helped me."
Lisa Jenkins, chief executive of the RACA added: "The Annual Awards of Excellence remain the essence of the academy's education philosophy. They have raised the bar and set standards for the industry over the past four decades."
Kitchen finalists had five hours to produce two portions of a starter from a mystery box where asparagus was the central component; a Paupiette of Sole using a Larousse Gastronomique recipe; and create a modern interpretation of a Raspberry Mille-Feuille for two covers.
Pastry finalists had five and a half hours to make a Strawberry Charlotte Royal with Sauce Anglaise, two Paris Brest [a dessert made of choux pastry and filled with praline cream] and a Nougatine stand.
Service finalists were required to set up and silver serve a four-course meal which included carving a rack of lamb and decanting and describing wines to a table of two guest judges.
Academy Awards for Excellence 2023 Achievers
Kitchen
Aimee O'Connell, Chef De Partie, The Ritz London
Amrita Phull, Chef De Partie, Chapter
Billy Etheridge, Demi Chef De Partie, Le Manoir Aux Quat Saisons
Daniela Prela, Demi Chef De Partie, The Ritz London
Ieuan Jones, Commis Chef, Brasserie at Lucknam Park Hotel
Iona Duncan, Junior Sous Chef, The River Restaurant, The Savoy Hotel
Tomas Henton, Chef De Partie, Brooks's
Toby Whitehead, Chef De Partie, Coworth Park, Woven by Adam Smith
Pastry
Aubin Farges, Pastry Sous Chef, Marcus Belgravia
Ben Metcalfe, Demi CDP Pastry Chef, Harrods, Pastry
Megan Armstrong, Pastry Chef De Partie, 21 Newcastle
Service
Adrien Besnard, Assistant Manager, Le Colombier
Alexandra Sollis, Guest Relations Manager, The Scarlet Hotel
Cleo Hudson, Demi Chef De Rang, L'Enclume
Jack McCormick, Senior Waiter, Trump Turnberry Hotel, Grand Tea Lounge
Lara Schildknecht, Service Waitperson, Trump Turnberry Hotel, 1906 Restaurant
Laura Brookes, Fine Dining Senior Waitress, Le Manoir Aux Quat'Saisons
Luca Trento, Head waiter, The Ritz London, Restaurant
Max Daglish, Head Waiter, L'Enclume
Mirco Finotti, Chef De Rang, The Ritz London, Restaurant
Noime Miranda, Junior Assistant Manager, The Vineyard Hotel and Spa
Rebecca Panza, Head Waitress, The Lanesborough Grill
Riccardo Tresoldi, Head waiter, The Ritz London, Restaurant
Scott Crowe, Chef de rang, Number One
Valentino Galdi, Assistant Head Waiter, Le Manoir aux Quat'Saisons
Zoe Trontin, Head Waiter, The Goring Hotel