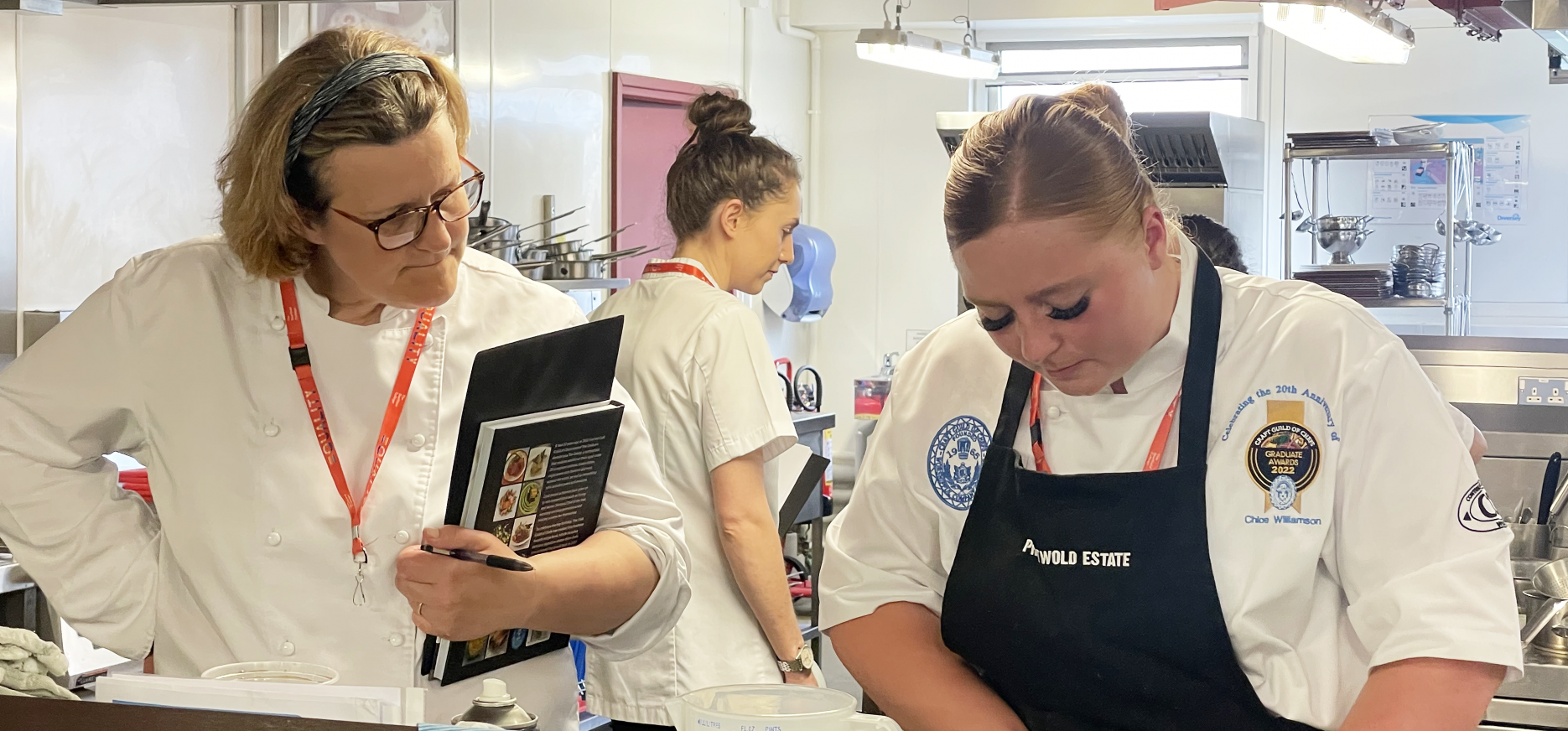 26th June 2023
Craft Guild of Chefs takes a dozen chefs through to Graduate Awards final exam
Twelve chefs will be heading to the final of the Graduate Awards 2023 after Kitchen and Pastry heats took place in Watford and Sheffield last week.
In the Kitchen heats, the chefs had to complete a paper exam where the questions related to both classical and modern cookery. For the fishmongery challenge, candidates prepared two whole butterflied sardines filled with a fennel fish mousse, whilst in butchery they had to prepare a whole duck.
The chefs were then asked to cook an amuse/appetizer using potatoes. The next challenge was to create a starter using the sardines along with ingredients of their choice, providing the total cost of the dish was no more than £1.50 per cover.
The chefs were also given a mystery basket along with the duck they prepared in the morning and tasked with creating a main course. The final challenge was to serve up an apple tart tatin, with sauce anglaise following a recipe created by Andrew Ditchfield from the House of Commons.
Taking a place in the Kitchen final will be:
Jake Mills, Studio Frantzen
Matthew Mark Crane, The Royal Airforce Club
Nathan Cooper, Goldman Sachs, BaxterStorey
Zach Colburn, House of Commons
Chloe Williamson, Prestwold Hall
Georgia Hackett, City of Liverpool College
Joel Barton, The Monarch Theatre
Ben Murphy, chef patron at Launceston Place, said: "I thoroughly enjoyed my first event as chair. It's such an important award for our industry as it allows chefs to really focus on their own personal culinary skills and help to grow confidence.
"It was great to see how focused the chefs all were and how effectively they worked in the kitchen. We now move on to the mentor trip and then the final exam which steps the standard up another level. An incredible experience awaits for these young chefs."
In the Pastry Award, the semi-finalists were asked to create plant-based chocolate truffles, six sweet verrine which would be suitable for a dessert buffet, and sweet and savoury choux buns. Marks were also awarded for work processes including health and safety and wastage.
The pastry chefs also submitted a portfolio of their work. The pastry finalists for 2023 are:
Tara Pasotti, Pennyhill Park
Jack Kirby, Lygon Arms Hotel
Charlotte Vicars, One Aldwych Hotel
Paige Hill, Penton Bridge Inn
Hoi Yan Tam, Sofitel London St James
Will Torrent, chair of pastry examiners and senior development and innovation chef at Waitrose & Partners, commented: "The standard in Pastry was exceedingly high this year and the judges were impressed by the semi-finalists and the way they interpreted the tasks. A delicious and challenging final awaits those who have been successful in getting to the next stage. Good luck!"
The finalists will now head on a culinary tour of Suffolk for this year's mentoring trip. The final exam will take place at the University of West London on Friday 1st September and this year's Graduate Awards Achievers will be revealed on Monday 11th September at an exclusive awards ceremony in London.
The Craft Guild of Chefs Graduate Awards wouldn't be possible without sponsorship from The London Meat Co, Oranka, Savoy Educational Trust, Reynolds, Meiko UK, Essential Cuisine, City and Guilds, Robert Welch, Continental Chef Supplies (CCS), James Knight of Mayfair, Worshipful Company of Cooks, CCE London Ltd, University of West London, Lakeland Dairies, Grande Cuisine, The Caterer, Maldon Salt, NOWAH, Wild Farmed, Villeroy & Boch and Daregal Gourmet.