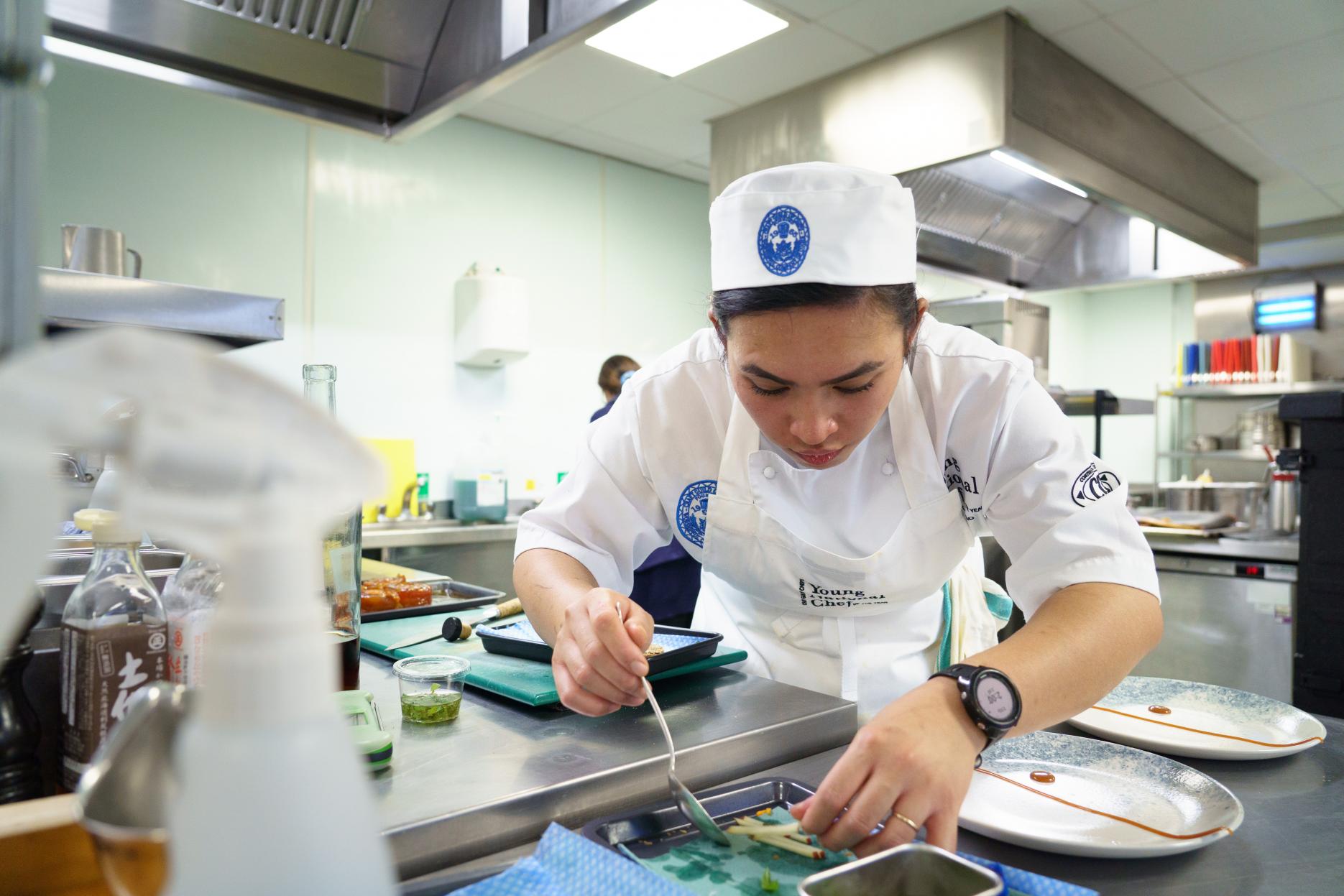 12th June 2023
Craft Guild of Chefs starts search for next Young National Chef of the Year
The Craft Guild of Chefs has revealed the challenging brief that chair of judges Lisa Goodwin-Allen has set for the competitors in Young National Chef of the Year. Chefs who have been invited to take part in this first stage of the competition, have less than four weeks to create three course menus that will wow the judges.
Candidates are required to create a starter dish using fresh Norwegian cod that is suitably garnished and served. Lisa wants to see a delicious dish focusing on how the cod is prepared and cooked to perfection. This could be pan fried, steamed or baked and must be accompanied with a seasonal garnish. Successful finalists will be required to fillet a whole cod at the beginning of the final cook-off as part of a skills test.
For the main course, chefs need to create a dish using whole fresh duck using two different cuts. The chefs are advised to pay real care and attention to the way the duck is cooked and demonstrate how to prepare it, while minimising waste from both the duck and the other ingredients they use. Competitors must include details of where the duck has come from in their entry to demonstrate consideration for provenance, sustainability and sourcing.
Finally, the chefs are required to create their own interpretation of the regional classic Manchester Tart for dessert. Lisa is encouraging chefs to think 'out of the box' with a fresh approach to create a well-balanced, delicious, and pleasing finale to their menu.
Entries from invited young chefs will be reviewed by the judging team to determine six candidates to join the four seeded finalists from The Graduate Awards, Royal Academy of Culinary Arts Annual Awards for Excellence, British Culinary Federation Chef of the Year and World Skills.
Successful finalists will then attend the Mentor Day in September to watch masterclasses, participate in skills tasks, gain expert advice from guest judges and take part in a Q&A session. They will also be put into the limelight for their official Young National Chef of the Year photographs and videos in preparation for the highly anticipated final.
Lisa Goodwin-Allen, executive chef at Northcote, said: "When thinking about the criteria for this year, I really wanted to see how the chefs demonstrated a strong understanding of classic culinary skills. I'm looking for a delicious three-course menu which would be suitable for an elegant lunch. Each dish requires its own specific focus and personal approach so I would advise all the semi-finalists to consider this brief carefully.
"All three dishes must be appealing to the eye, have finesse and be packed full of flavour. This is my second year as chair of judges and it's an honour to be back heading up the panel that will find this year's winner. It's set to be an inspiring few months for these young chefs who learn so much from this experience, whatever stage they get to."
Chefs invited to take part in this year's semi-final are:
Benjamin Mabley, senior chef de partie, Hartwell House Hotel & Spa
Cliodhna Reid, commis chef, Gleneagles Hotel
Elliot Wakefield, junior sous chef, Dorian, Notting Hill
George Baldwin-Edie, development chef
Harry Donnelly, chef de partie, The RAF Club
Imogen Parrish, head chef, The Running Horses, Mickleham
Jack Edgar, Atlantic Hotel, Jersey
Jack Postles, Junior Sous Chef, The Art School Restaurant
Joshua Singer, senior chef de partie, Scott's, Richmond
Maciej Pisarek, demi chef de partie, The Savoy
Miltan Masha, senior sous chef, Monarch Theatre
Morgan Stephens, demi chef de Partie, L'Enclume
Nathan Johnson, junior sous chef, Royal Crescent Hotel & Spa, Bath
Nicole Watt, ABCS, Royal Navy, HMS Defender
Richard Postles, Junior Sous Chef, The Art School Restaurant
Rick Owens, sous chef, Tottenham Hotspur Stadium
Sam Dixon, demi chef de partie, Northcote
Stephanie Belcher, junior sous chef, Coast Restaurant, Saundersfoot
Subhan Malik, junior sous chef, The Beaumont Hotel
David Mulcahy, NCOTY and YNCOTY competition director and food innovation & sustainability director at Sodexo UK and Ireland, added: "With the Young National Chef of the Year competition, we spend time searching for chefs who we know have already demonstrated a high level of skill in other respected industry competitions or who have been strongly recommended to take a wild card spot.
"It's the toughest competition out there for chefs of this age and level so we need to have confidence that they are ready for this challenge. We've seen so many incredible winners over the years who have used it as a platform to further their careers and enjoyed a host of impressive prizes and culinary experiences including trips to Norway and Lyon in France. It's an opportunity that chefs should grab with both hands."
Successful candidates will be required to cook their menus at the live final which will be held on Tuesday 10th October 2023 at the University of West London. Chefs will have two hours to produce two plated portions of their three-course meal and the menus should reflect the season in which they will be cooked.
The Young National Chef of the Year is supported by Churchill, HIT Training, Seafood from Norway and Sodiaal.