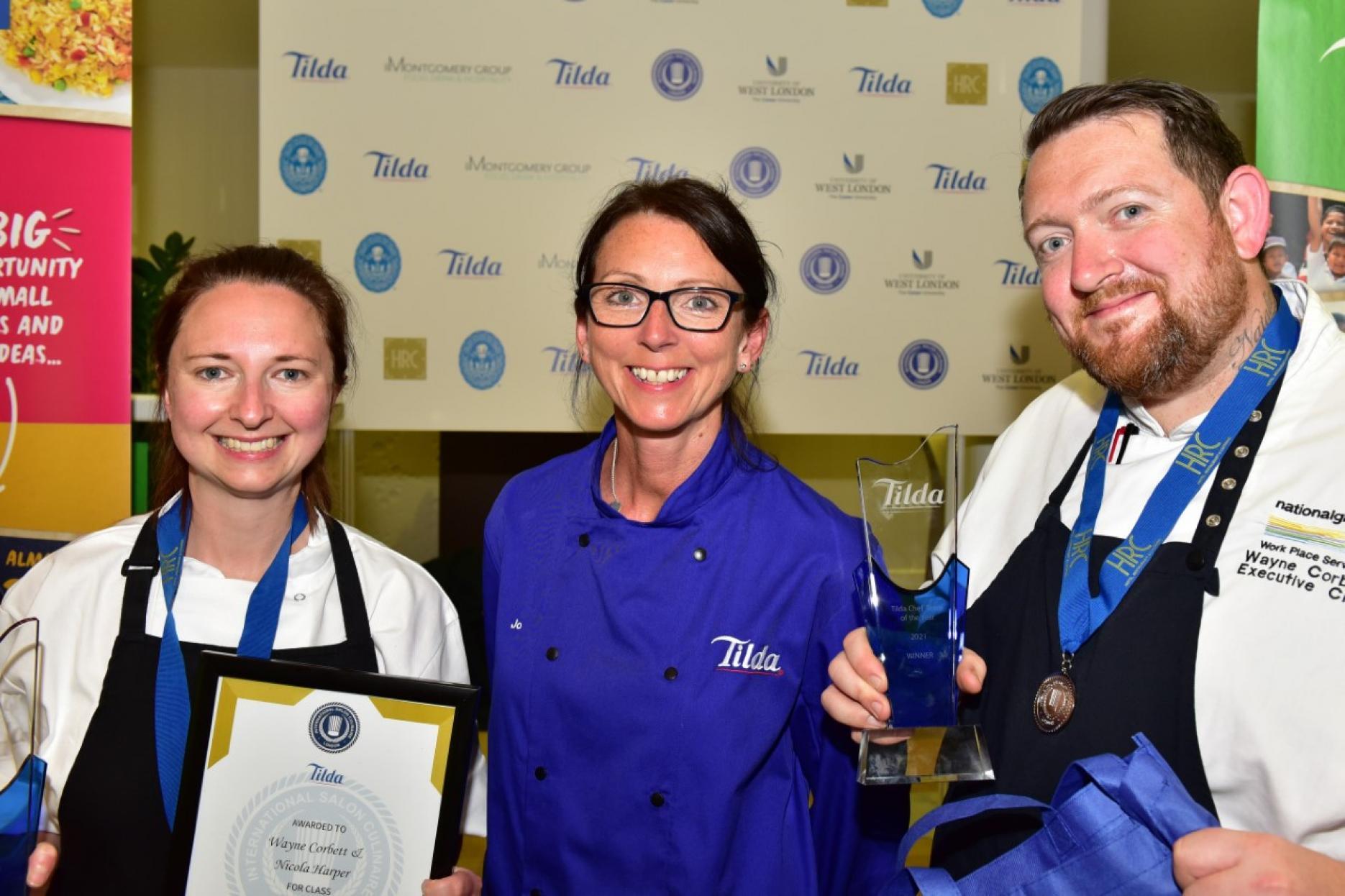 14th June 2021
Compass Group wins Tilda Chef Team of the Year competition
Tilda has announced Compass Group UK & Ireland has won the Tilda Chef Team of the Year 2021 competition after a Salon Culinaire live final held at the University of West London.
The winning team from 14forty- the facilities management multiservice specialist at Compass Group UK & Ireland- included executive chef Wayne Corbett and hospitality chef manager Nicola Harper who impressed judges with their plant-based Asian inspired menu.
The chef duo created Thai pineapple fried rice with smoked crispy salt and pepper tofu and puffed wild rice dukkha & tamarind sauce using Tilda giant wild rice and Tilda easy cook basmati. For dessert they made a sweet coconut & stem ginger jasmine rice with a mango puree, lime mango & mint salsa and crispy rice rolled in cinnamon sugar using Tilda fragrant jasmine rice.
Each of the nine teams had 45 minutes to prepare, cook and present four portions of a main course and dessert using a Tilda specialty rice. The judges included Cyrus Todiwala, Steve Munkley, Frank Coughlan, Harry Lomas and Jo Witchell.
Speaking about the winners Witchell, commercial foodservice marketing manager, said: "We're so happy to crown Wayne and Nicola as this year's winning chef team, their plant based Thai pineapple rice and coconut & stem ginger jasmine rice really delivered on both presentation and taste and showcased the endless possibilities of Tilda rice.
"While we know that the hospitality industry is still in recovery, it's clear from today that chefs are hungry to be back in the kitchen and it was fantastic to watch some of the best battle it out in a thrilling live final."
Along with the blue trophy, the chef duo will enjoy a 'once in a lifetime trip' to Italy where they will visit the rice paddies and mills that produce Tilda's speciality rice.
Corbett added: "It's incredible to have won. We love Asian cuisine and used it as a base to develop the plant-based menu. All the hard work paid off, we got the timings just right, we knew what we needed to do and we smashed it! I can't believe we're heading to Italy and I'm especially happy to see Nicola win her first live competition!"
The runners up included:
Alex Le'Marquand & Neal Harding - Royal Air Force
Istvan Jonas & Ross Hamilton - Sodexo Scotland
Terry O'Riordan & Oliver Jordan- Craft Guild of Chefs
Marina Kritikopoulou & Andrew Foulis - House of Commons
Lijo Joy & Sherin Sebastian - Compass (Caterham School)