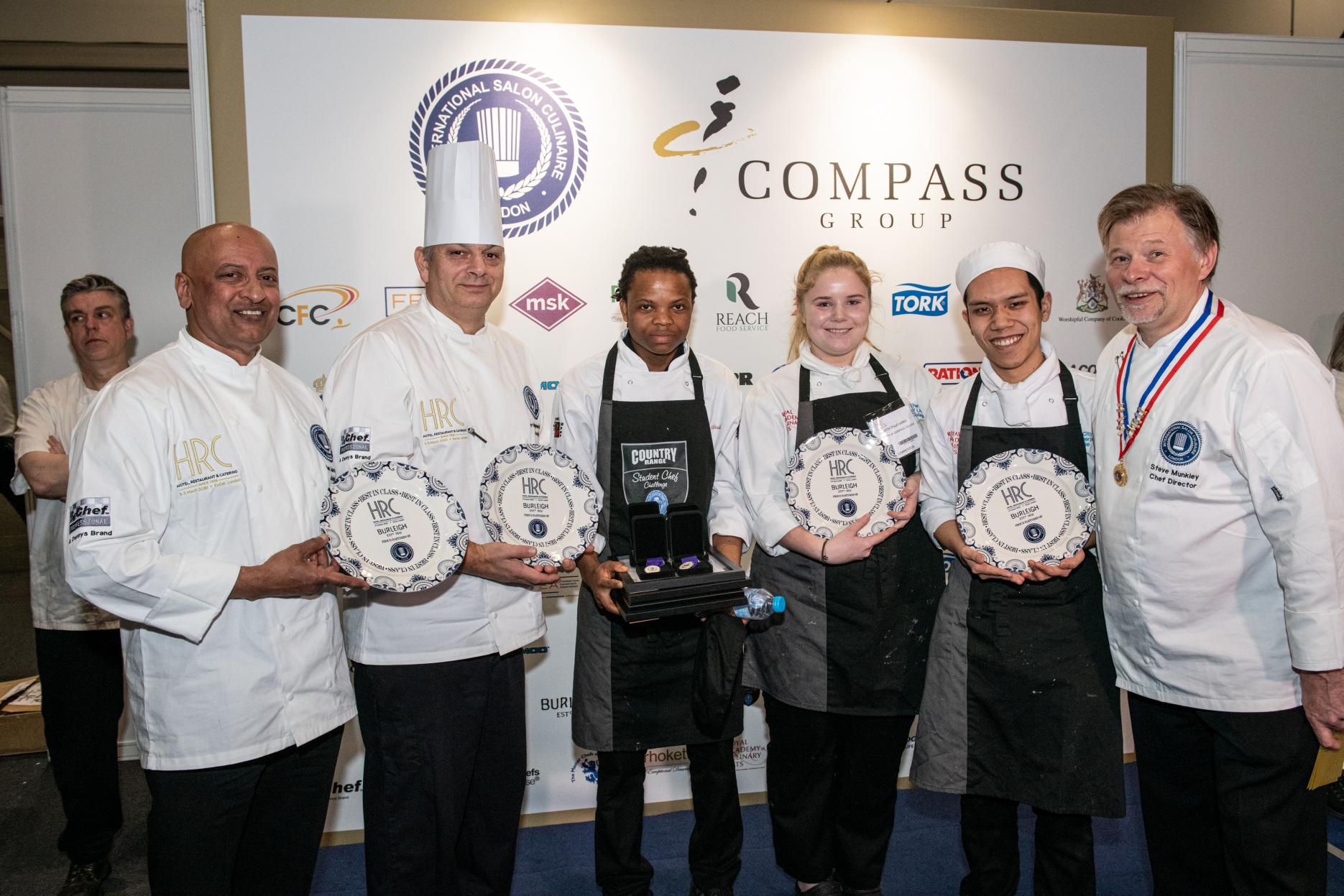 6th March 2020
City of Liverpool College wins Country Range Student Chef Challenge
A trio of chefs from the City of Liverpool College won the Grand Final of the Country Range Student Chef Challenge, which is run in conjunction with the Craft Guild of Chefs and took place at the Hotel, Restaurant and Catering Show (HRC) on 3 March.

The three culinary students, Chi-Hin Cheung, Talent Sibindi and Beth Disley-Jones, impressed judges with their 'inventive' menu under the watchful eye of a live audience. 
Cheung said: "We're absolutely thrilled to have won and I don't think it's really sunk in yet. We weren't expecting to win but I think it helped us in the end as it calmed the nerves and allowed us to focus on our tasks. Cooking in front of a live audience was daunting at first but as the final progressed, we all really embraced the support of the crowd and enjoyed the experience. 
"It's been a fantastic competition to be involved in and we've all learnt a lot. Whether that's better time management, menu planning, teamwork or use of ingredients and flavours, we've all picked up skills along the way which will prepare us for a future career in the industry but winning is the cherry on top."
The theme for the 2019/20 Country Range Student Chef Challenge was on how students could use classic techniques to maximise the use of ingredients and reduce food waste. 
The winning menu included:
Starter – filets de sole bretonne with beurre blanc sauce, vegetable julienne, turned mushroom and lace tuile. 
Main – cajun spiced pork medallion with savoy milanaise, pork and apple croquette, buttered mash and robert sauce. 
Dessert – lemon tart with sesame sable, Italian meringue, lemon gel and raspberry foam. 
The City of Liverpool College beat nine other teams from the UK and Ireland to be crowned the champions. 
The trio of chefs were led by lecturer Ian Juandoo, who added: "They've planned their menu from start to finish, making tweaks along the way after the semi-final heat in Glasgow following feedback from the judges, so to triumph in the final is just brilliant and a credit to them and their hard work.
"Obviously winning is great for their CV, future career prospects and the College's culinary reputation, but they've also mastered new skills and techniques, and met other catering students and industry contacts along the way which will put them in good shape for the future."
 The full list of teams and awards was as follows:
City of Liverpool College – Silver – Best In Class
City of Glasgow College – Silver
Ayrshire College (Kilmarnock Campus) – Bronze
Peterborough Regional College – Bronze
University of Derby – Bronze
Newcastle College – Bronze
South Eastern Regional College – Merit
Carlisle College – Merit
Loughborough College – Merit
West Suffolk College – Merit
Craft Guild of Chefs chairman of judges Chris Basten, commented: "A huge congratulations to the City of Liverpool College on winning the Country Range Student Chef Challenge 2019/20 title. Their menu showed fantastic creativity, flavours and taste, whilst also ticking every box on this year's theme by maximising their ingredients and reducing their food waste while working. 
"The hardest part and their biggest achievement was that they managed to replicate it all under the watchful eyes of the judges when it mattered in the Live Grand Final. Well done to all the teams who competed in the final as all the menus showed great planning and execution."