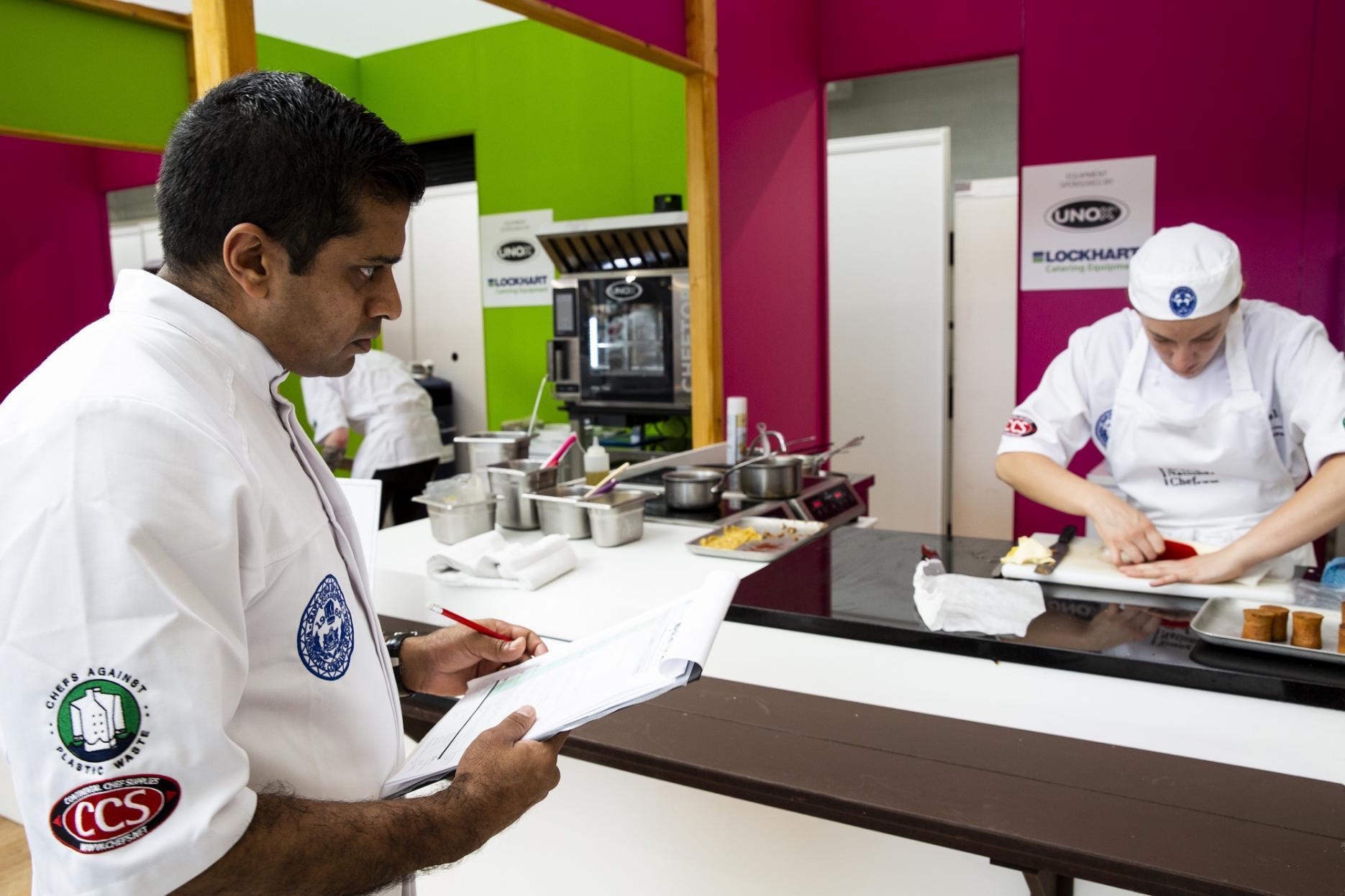 15th July 2021
Chefs challenged to twist 'Best of British' in YNCOTY
The Craft Guild of Chefs has revealed an exciting challenge for this year's competitors in the Young National Chef of the Year.
The criteria for the three courses centres around 'British themed dishes' with a twist. Here, the 'sky is the limit' for a chef's imagination without losing sight of the classic element. Candidates must show as much culinary skill as possible and create a balanced three course meal.
For the first course, chefs will create a Twisted Scotch Broth – a modern vegetarian or vegan version of a classic Scotch broth. Using inspiration from Knorr's Future 50 'Beans and Pulses' and 'Cereals and Grains' categories, judges will be looking for an innovative approach and for chefs to elevate the humble broth to a fine dining experience.
Next up will be a twist on a classic British Fish and Chips using a prime fillet of haddock or cod from Seafood from Norway. Judges are looking for a main course that is both stunning at a fine dining level and practical to execute demonstrating excellent skills and a high level of technical ability and techniques. 
Finally for dessert, judges have asked for an interpretation of the classic crumble using seasonal fruits. Chefs should be as creative as possible while respecting the key aspects of this much-loved British classic.
Eighteen young chefs have been invited to take part in this first stage having been recognised for their success in a national or regional competition or having been put forward by a select group of industry leaders who have recognised their talent as rising stars.
Once menus have been judged, ten chefs will be selected to go on and compete in the final at Le Cordon Bleu with the winner being revealed live alongside a VIP premiere style screening of the cook-off in October.
Chair of judges Hrishikesh Desai, said: "This year I am even more excited about the competition which will showcase British classics with a twist.
"I cannot wait to see how the young chefs interpret the brief but as they plan their menus, I want them all to remember the 'sky is the limit' with their ideas, but to keep the Britishness in the dishes. This is going to make one hell of a competition to judge, bring it on young guns!"
Three chefs, Nathan Lane, junior sous chef at The Greenhouse, Daniel Cornish, senior chef de partie at Le Manoir aux Quat'Saisons and Stephen Naylor, senior chef de partie at Restaurant Story are automatically seeded into the final.
The following fifteen chefs will compete for the remaining seven places:
James Greenwood-Penny, chef de partie, The Fire Engine Inn
Jamaar Semper-House, junior sous chef, Lucknam Park
Harry Osborne, sous chef, Quay Hotel & Spa, Conwy
Owen Connell, chef de partie, Hillgate Quays
Ethan Lawson-Earley, senior chef de partie, The Atlantic Hotel
Robert McCreerybreen, chef de partie, Paul Ainsworth @No6
Kieran Bradley, chef de partie, Vineyard Hotel and Spa
Ieuan Andrew Davies, chef de partie, Castle Inn, Castle Combe
Eden Allsworth, demi chef de partie, Cliveden House
Sagar Massey, sous chef, Mar Hall Hotel
Jacob Gosselin, chef de partie, Longueville Manor Hotel and Restaurant
Joshua Rooney, chef de partie, Paul Ainsworth at No.6
Henry Macleod, junior sous chef, The Hardwick
Keaton Cooper, commis chef, The Angel at Hetton
Bethany Disley-Jones, junior sous pastry, The Art School Restaurant
Organiser of Young National Chef of the Year and vice-president of the Craft Guild of Chefs, David Mulcahy commented: "Following a challenging period for our industry, I am delighted that through the combined efforts of so many professional bodies and individuals we have an exciting YNCOTY competition to host this year.
"We have had an amazing level of interest and a compelling list of candidates being put forward to compete for this year's competition. And to match this enthusiasm, our chair of judges, Hrishikesh Desai, has helped to shape a truly inspiring criteria for the menu.
"Young chefs will learn and develop through this year's journey and competitors will be recognised at the live screening premiere event later this year. The ultimate winner can expect to join a prestigious hall of fame, as well as enjoying some amazing career development experiences and prizes."
The Young National Chef of the Year is run in partnership with Knorr Professional and is supported by Churchill, HIT Training, Seafood from Norway, Quorn and Le Cordon Bleu.