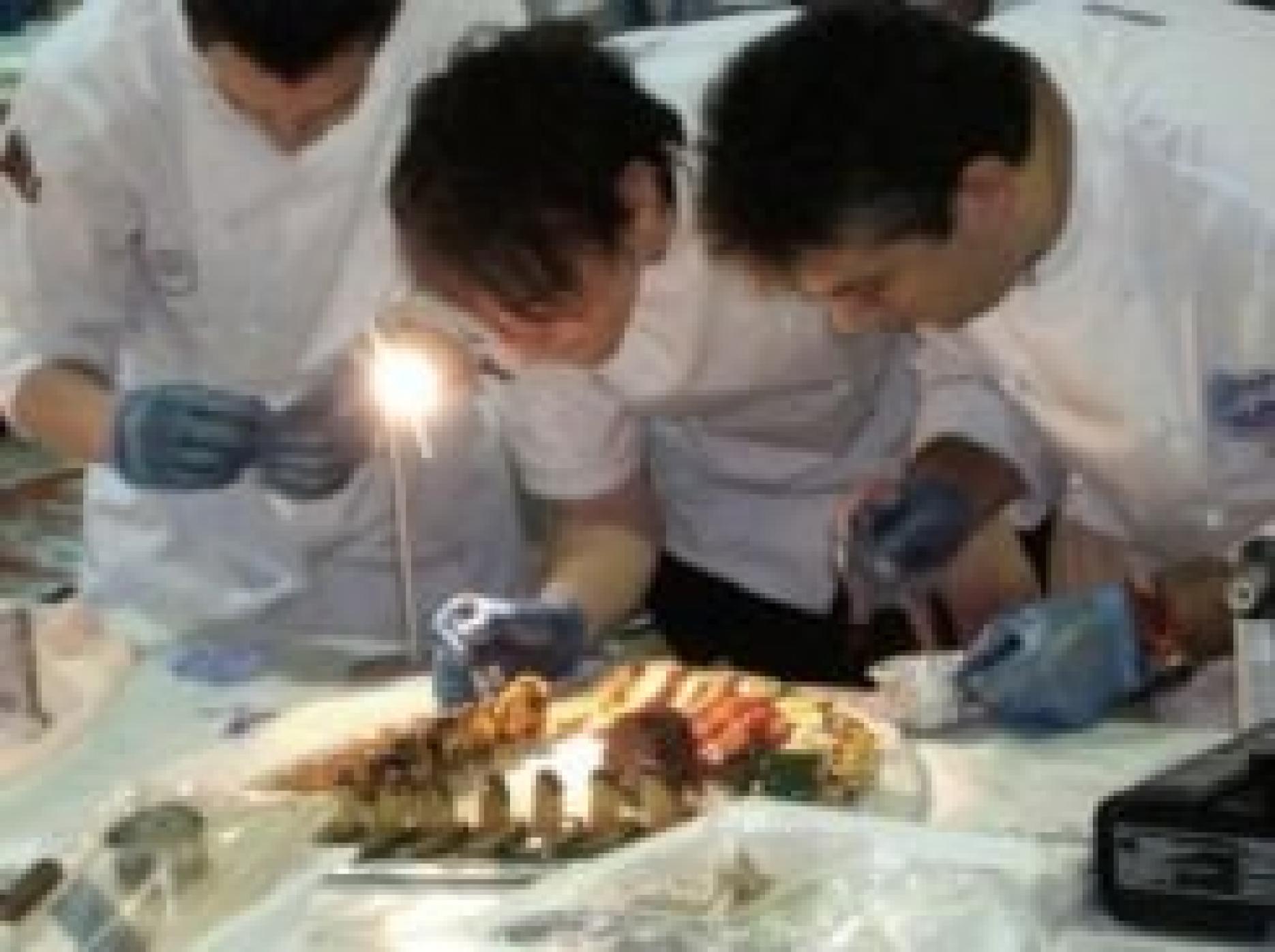 16th May 2013
Spring 2012: Culinary Academy News
Latest news about the Craft Guild of Chefs Culinary Academy, its team members and mentors
The Craft Guild's Culinary Academy team will be out in force in the Salon Culinaire at Hotelympia at ExCeL in London, taking part in as many competitions as possible to win glory and vital experience for their future careers as chefs.
Beginning with La Parade des Chefs on Sunday, February 26, the team will be cooking and presenting its three course menu specially developed with the help of its chef mentors – Christopher Basten, Mike Godfrey, Wayne Harris, Bernie Englehardt and Fergus Martin.
The academy will be up against nine other teams, many of them veterans of this kind of competition, who will each take turns in preparing lunch for 100 covers over five days, including a chef's table for six plus judges.
These include the Combined Services, Compass Group, Elior; House of Commons, Jumeirah, Sodexo and Westminster Kingsway College.
Culinary Academy team manager Martin has been co-ordinating the practice sessions designed to produce its winning mix. Training began last October but early in February the team went through two run-throughs of the menu to iron out any problems as well as give any last minute help with the chefs' individual entries.
The first run through was held at Eton College in Windsor where Godfrey is executive chef; the second took place at Wyboston Lakes in Bedfordshire where Martin is executive chef. "These were vital trial runs for a young team that has been untested in La Parade," explains Martin.
Team captain Matt Edmonds will oversee the parade pass and front of house management and assist during preparation of the dishes. James Goodyear and Lea Eastman Thompson will be on the starter section of La Parade, Ben Murphy and Rick Allen on the mains, and Claire Willett on pastry/dessert. The amuse bouche and pre dessert will be supported by all.
La Parade is part of the Open Team Grand Prix, which comprises a cold buffet divided into several different sections. "The team is taking part in the Open Team Buffet Grand Prix class on Wednesday, February 29," says Martin. "For that, we've put together the buffet and delegated each section to a different member of the team. We've pulled lots of elements together – vegetarian, gourmet, petit fours, etc. "We're all meeting up again at Wyboston Lakes on Saturday afternoon – team members and mentors – for a last minute team talk," he adds.
He says that with the Culinary Olympics edging ever nearer, the effort going into mentoring and helping these chefs for La Parade des Chefs and buffet is necessary. Success in these contests could reserve their place for this ultimate global challenge.
The 2012 Culinary Olympics will take place in Erfurt, Germany, from October 5-10, and Britain's teams will be up against the crème de la crème from across the world – in the 'hot' kitchen on October 7 with the cold classes on October 9.