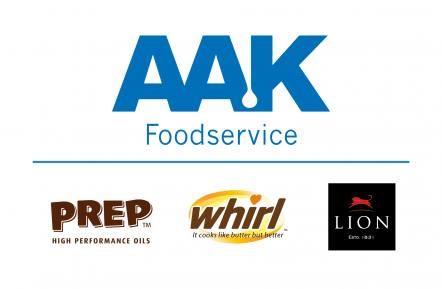 Producing over 300 products and driven by the latest trends, AAK Foodservice provides chefs with a wide, versatile portfolio of innovative cooking solutions, from high quality cooking and speciality oils to Mediterranean ingredients and a range of authentic sauces.
It is committed to supporting chefs at every level, from Michelin-starred restaurant chefs to fast food operators.
Prep – The number one brand of high performance, extended and long-life oils, offering the perfect solution to all frying requirements. Committed to helping extend the life of frying oils, Prep offers Oil Management solutions to help you cut costs and wastage.
Prep Premium – An exquisite range of specialty oils and vinegars. Our Infused oils are created using a unique infusion process combining premium quality olive and sunflower oil with real, fresh ingredients, incorporating everything from basil, chilli, garlic and lemon. This range also includes balsamic vinegars and glazes, as well as toasted sesame oil and groundnut oil.
Lion – Backed by tradition and driven by inspiration, Lion offers quality multi-menu sauce solutions and premium taste. The extensive range incorporates flavours from around the globe; from traditional condiments and dressings through to hot sauces and specialist BBQ sauces.
Whirl – Inspired by butter, the revolutionary, number one substitute to butter, as used by The Lewis Partnership's Michelin-starred Orangery restaurant, is specially developed for foodservice.
It works in the same way as vegetable oil, but still has that much desired, rich buttery taste without the hassle of butter. It is also more cost-effective and healthier than butter, containing virtually zero trans-fat and is lower in saturates for today's more health-conscious consumer.
Uncle John's Signature Hot Dogs & Sauces - Uncle John's Signature Hot Dogs are made from the finest cuts of smoked pork, traditionally smoked in a Beechwood smoker to bring authentic, quality taste. The perfect balance of herbs and spices give our products a superior flavour; from the traditional American style Bockwurst to the artisanal-inspired Bratwurst.
Please visit our websites: www.prepoils.co.uk / www.giveitawhirl.co.uk / www.lionsauces.co.uk / www.unclejohnshotdogs.co.uk