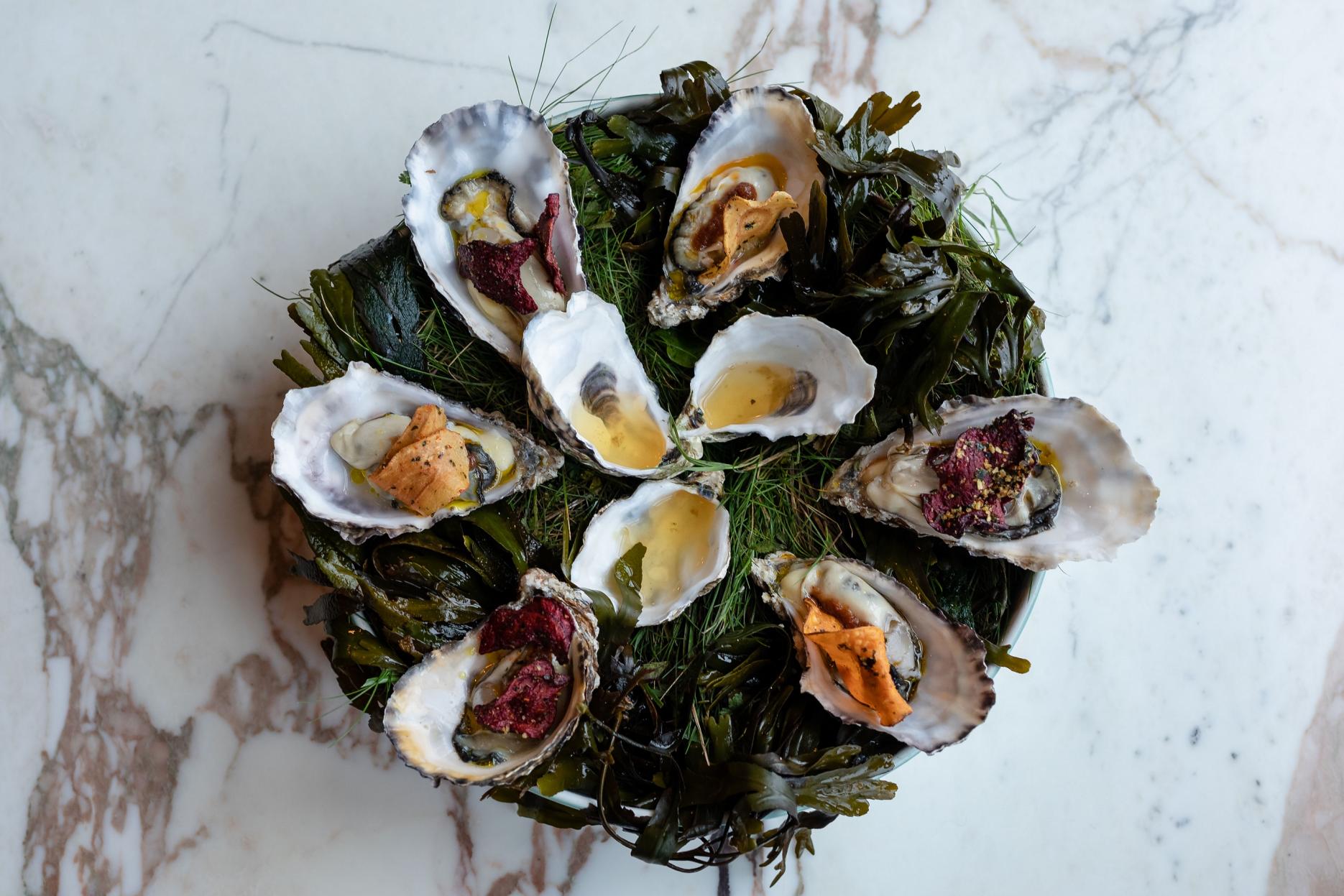 16th October 2019
UK's Best Dressed Irish Oyster Competition names joint winners
Simon Lamont of Seabird and Dean Parker of Darby's were crowned winners of Bord Bia's Best Dressed Irish Oyster Competition 2019, after a live final at Wright Brothers, which saw the judges decide on joint winners.
Lamont won the hot category with his dish 'Salt of the Earth.' A dish inspired by smoke, sea and turf, raw oysters were placed on a bed of buttery hot potato puree, topped with crisp root vegetables seasoned with seaweed flakes, along with oysters filled with a smoked Irish whiskey as a chaser and presented on a clod of grassy soil and fresh seaweed.
He said: "I really enjoyed creating my dish and so to present it to the judges and receive such great feedback was fantastic. A huge congratulations to fellow winner Dean - I'm very much looking forward to heading back to my home land to see its seafood producers in action!"
Parker won the cold category with 'oysters with oyster emulsion, pickled Connemara seaweed and Exmoor caviar.' This year there were two winners after a tough deliberation process.
He commented: "I'm thrilled to have been crowned the winner of this year's Best Dressed Irish Oyster 2019. Competing against so many talented chefs was never going to be easy and there were some incredible dishes leaving the pass but I'm delighted that my dish proved popular with the judges."
Along with the converted title of Best Dressed Irish Oyster 2019, the duo have won a trip to Ireland to meet seafood producers who supply high-end restaurants throughout the UK.
Donal Denvir, general manager at Bord Bia, added: "Irish oysters have long been hailed as some of the best in the world, with every region in Ireland producing their own unique variants.
"It's great to have this opportunity to celebrate such a staple Irish food each year and it's always a pleasure to see the creativity and expertise that's on display on the day.
"This year's competition really set the bar high and we were overwhelmed by the number of entries that we received from some of the UK's top seafood restaurants – congratulations to Dean and Simon for coming out on top!"