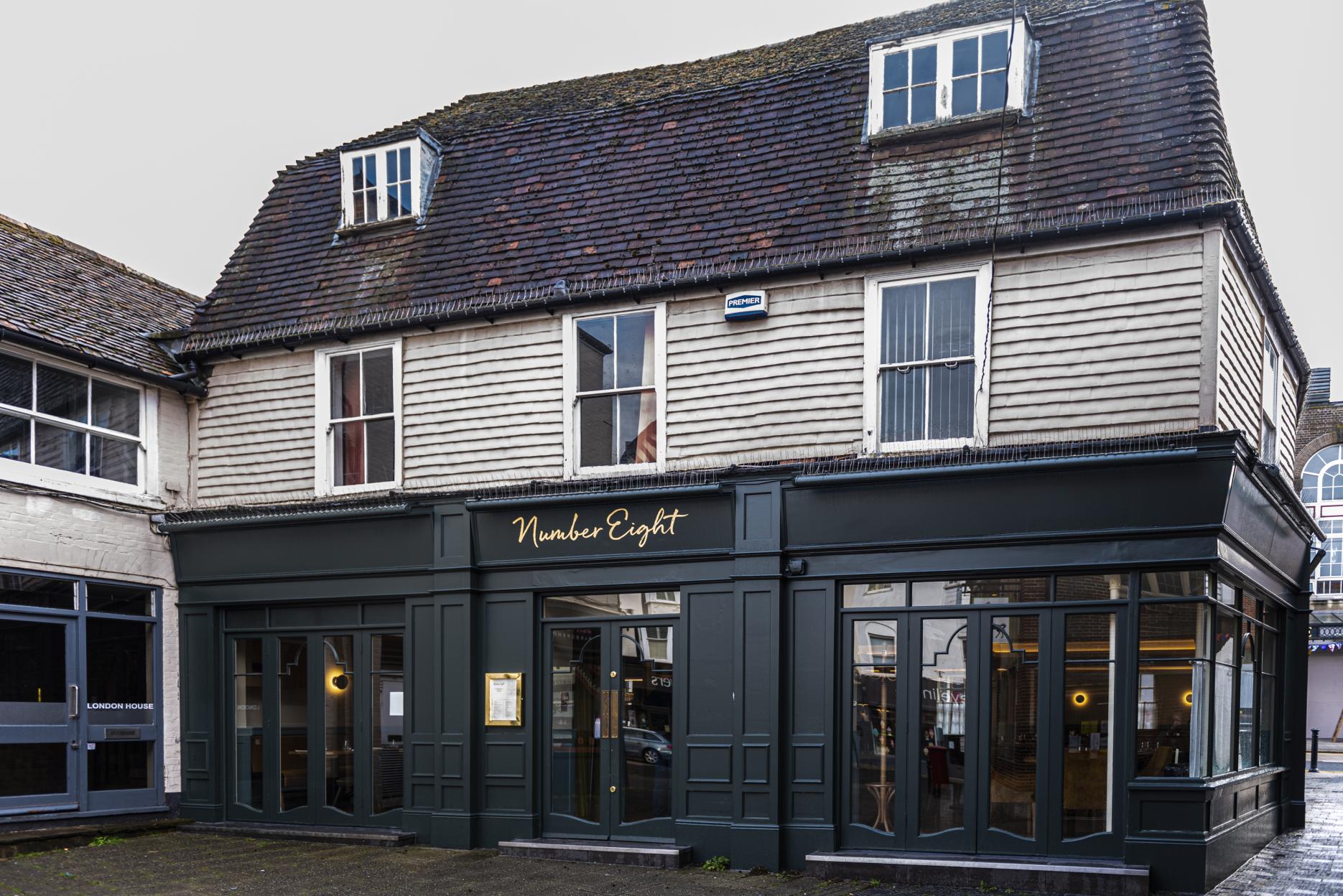 16th November 2023
Stuart Gillies - a culinary journey to Number Eight
During an exclusive interview with Craft Guild of Chefs reporter Edward Waddell, chef Stuart Gillies discussed using cooking as a tool to travel, the 'relentless' drive of former NCOTY winner Gordon Ramsay and the importance of using local products at his family-run 96 cover restaurant Number Eight in Sevenoaks.
Culinary awakening
Gillies, who wasn't brought up in a 'romantic food household', was introduced to the culinary world by his brother but gained inspiration from one of the early cookery books he purchased.
He said: "My brother suggested it and I did a trial day. I liked the camaraderie and the fact that it was a team effort. I liked that everybody was working together and that you could eat and taste food.
"The first cookery book I bought was French Culinary Art which was by Henri-Paul Pellaprat. That book I thought was amazing. I would read that book every single day and I would look at pictures and read the stories about classical French cuisine and that I fell in love with."
Cooking as a tool to travel
Gillies earned international acclaim as a chef at restaurants around the world including Riche in Sweden, Lord Byron Hotel in Rome and Daniel in New York.  
Gillies explained: "I always used cooking as a tool to travel and to see the world. Chefs either worked in hotels or restaurants or they went on cruise ships but they basically travelled the world. It was an amazing career to have where you could go anywhere and cook."
Sweden
In Sweden Gillies got a job at Riche, which was owned by Tore Wretman who created French fine dining food that was influenced by Swedish peasant cooking.
Gillies noted: "The restaurant had an amazing gueridon service trolley with two chefs who did all the service at the table, which I had never seen before. They were immaculate. For them to do that in a restaurant so packed was an education to me.
"Working there was a brilliant foundation for me because they were so knowledgeable and they were so disciplined in technique, tasting, flavour and attention to detail. That was probably one of the singular most important things that early foundation. Their quality and attention to detail and ingredients was phenomenal. Working with them at that level there was an amazing opportunity for me."
Italy
Gillies went to Rome in the late 1980s and worked in a two michelin star Hotel the Lord Byron. He said: "The produce in Italy was just incredible. Tomatoes that just tasted out of this world. The staff food was as good as I have had in one star michelin restaurants around the world. It was the most romantic journey of what cooking and what hospitality can be and it never left me for my whole career of how amazing it can be and how amazing food can taste.
"It was about technique, creativity and discipline in Sweden but Italy was definitely way less organised but the food was just incredible, the quality of ingredients were second to none. That was an amazing experience for me. It made me an ingredient led cook. That changed me from being a cook chasing technique and michelin accolades to one that really focussed on incredible ingredients that taste amazing."
America
After travelling a lot early in his career, Gillies moved back to the UK where he went on to work at Gravetye Manor and Le Caprice where he was a sous chef. Rather than just taking a head chef job in London Gillies thought he needed 'something that would set me apart'.
Gillies explained: "I heard about Daniel Boulud who was 'the best in the world'. He was creating a new incredible mix of French and American cuisine. He was doing food that was really out there. It was the finishing school for me. It was a massive education that you can use all kinds of flavours and ingredients to enhance a classic or traditional dish. 
"It was an amazing platform to test myself and see how I did. If you are ambitious and you want to get somewhere you have got to test yourself against the best at some point and that's pretty intimidating no matter how good you are. Because you almost need to fail to learn how to rebuild."
From chef to CEO
Gillies was chief executive of The Gordon Ramsay Group for seven years and before that he worked with former Craft Guild of Chefs National Chef of the Year winner when he launched the Boxwood Café concept within Ramsay's business in 2003.
He said: "I had known Gordon a long time anyway because we knew each other from when we were commis chefs in London. I became a director of the business and that was me really running a business as a chef partner. I had run a lot of kitchens by then and developed menus and run teams so that was then the next step up which is really taking responsibility for the whole business."
When asked about the most important thing that he learned from Ramsay, Gillies replied: "The time under Gordon was incredible because he drives you to do more because he is so driven himself and he always wants more. Gordon will never stop. He will always drive to do more. When you work with Gordon Ramsay at senior level, the drive and the competition and the pressure for one of a better word to keep going and do more is relentless. It's intense and it never ever stops.
"The statement of talent that Gordon garnered was just incomparable. In that era when there was me, Angela [Hartnett], Marcus [Wareing], Jason [Atherton], Mark Sargeant, Mark Askew and Bjorn van der Horst. No one had ever done that before in London not even Marco Pierre White.
"Did I lean a lot? Absolutely the drive and determination that if you want to get it done you just go and do it and you keep going. I then became CEO which is a completely different job. Don't think they are the same job because they are dramatically different. It was a big step up."
Life beyond the kitchen
Gillies is a regular on TV shows, having appeared on several including Saturday Kitchen, Hell's Kitchen and Great British Menu.
He explained that he preferred doing live shows: "The fact that you had to get it right, you had to execute it well that was normal day to day. The fact it is going out to millions of people is what it is. But if you just get on and do what you do. It's your craft it's what you do and trained for and what you have learnt."
When Gillies was doing live demonstrations with Ramsay at shows he stated the most important thing was to remember to put your head up and talk as well as cook. He noted: "People are there to be entertained and they are looking for a bit more than just cooking. The interaction with the audience was great because that's our craft.
"For me cooking is a craft. It is less of an art form. I think you have to put in thousands of hours to get good at it. I think that if you don't put thousands of hours in, I don't think you will necessarily well enough honed and tuned to deliver that consistently."
Inside Number Eight
In March 2022, husband and wife team Stuart and Cecilia Gillies brought their 'passion and unique experience' from the world's biggest restaurants to Number Eight, their own Modern European and traditional British dining destination in the heart of Sevenoaks.
Number Eight emphasises the use of local and artisanal products. Gillies prides himself on sourcing meat from local butchers, creating seasonal menus and providing diners with a unique culinary experience.
Gillies said: "Inspiration comes from the product, the guests and the team. That gives us the energy to keep on going. Especially at the moment when it is really hard to keep on going. It's been the toughest time in hospitality no doubt. It's never been as hard as it is now that's for sure."
Three of their fours sons have worked at Number Eight. Gillies commented: "They saw how fun the environment was and they saw that it was really hard work. But they also saw the flip side that it was really good fun talking to people.
"James, our eldest, has gone into food photography. He does all our content and he does a lot of restaurants in London [www.lensmansltd.com]. That as a family experience has been probably the most rewarding experience we under anticipated because it was never planned and it just happened."
Challenges and future plans
Acknowledging the unprecedented challenges currently facing the hospitality industry, Gillies worries about the impact of rising food costs and staff recruitment difficulties. But despite the hardships, he remains optimistic about the future, stressing the importance for the business of training and developing teams. Gillies envisions expanding the business, with plans for at least one more venture by the end of 2024, focusing on growth when the market is ready.
Discussing the current recruitment problems in the sector, Gillies said: "Everyone struggles with recruitment right now. I think our ethos is we would rather recruit younger and develop and train. It is making people feel part of something.
"There is a big onus on the businesses to ensure that the conditions are good. The chefs work four days on and three days off. It means that they can catch up on sleep, they can go eat out and it just gives them more focus to be committed and inspiring when they are in the building."
What's on the menu
Restaurant offers seasonal à la carte menus, weekly changing set menus of classics, weekend Sunday roast and brunch menus. There is a semi-private dining area for up to 14 guests in The Gallery, which doubles as an intimate space to showcase work by up and coming artists.
Gillies spoke about his favourite items on the Number Eight menu. He said: "That's tough because we change our menu quite a lot. We do a great slow braised beef short rib, truffle mashed potato, crispy shallots. 
"We put in two pizza ovens so that it would give us some more diversity to the menu. We run a number of different flatbreads here that we just love. We can change the topping every day if we want with just whatever we have. The crab linguine that's a favourite because the crab is such high quality meat because we use the local fish shop here."
New venture and future ambitions
The team now provides the Number Eight experience to external events, tailoring bespoke catering for special occasions, from weddings to award ceremonies.
Gillies explained: "We quite like the potential of that market. We haven't overworked it because we are pretty busy in the restaurants. I think for the spring/summer next year we will be gearing up a lot more."
Bank House in Chislehurst was the first restaurant launched by husband and wife team Stuart and Cecilia Gillies after 40 years at the top of the hospitality world.
Gillies added: "We have actually created two businesses that are really closely linked and a lot of the structure and the engine is very similar but we create a different experience for the guests which is really important for us as we grow and as we do more we want to add a USP and an individuality of each one."
When asked about his future ambitions, Gillies replied: "A recent thought that is in my mind more and more is giving back more. I think that when we set up our businesses five years ago with these restaurants it was to grow really good hospitality businesses. We will be giving back and training for the next 20 years."